All I want for Christmas… is Radio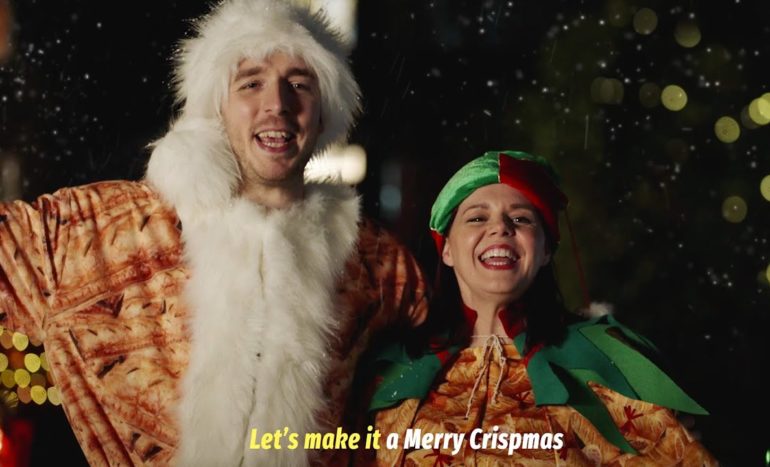 Last week both Marks & Spencer and Walkers made something about how they were using radio this year for their festive campaigns. First look and that doesn't sound out of the ordinary – lots of brands make use of radio's remarkable reach at this time of year. However, dig a bit deeper and it turns out radio is not just an add-on to the media mix, but a vital strategic component.
M&S won't have its blockbuster clothing telly campaign this year. With the ever shifting restrictions it makes it hard to commit to a big TV shoot. Also, will we be buying dresses for the office party? Possibly not. Instead they are moving their clothing advertising to exploit the flexibility of digital and radio. In promoting this development, M&S pointed directly to Radiocentre research which shows that 38% of commercial radio listeners increased their consumption during lockdown as reason for their focused investment in the medium. Our Covid-19 research this year has looked into the changing media and spending habits of commercial radio listeners. It demonstrates how, with people listening for longer as well as being more open to trying new brands than non-listeners, now really is the time for brands like M&S to take advantage of commercial radio audiences. Radio is also great for reaching people on the move. M&S has said it will still have a TV campaign for its Christmas food but will invest in radio there too.
For its clothing, M&S is using dynamic audio technology to create local tailored radio ads, with location callouts and regional accents as part of a wider drive to turbocharge growth online, which already accounts for 40% of sales. Radio's reputation as an online driver can be underestimated, but listeners are 52% more likely to include a brand's name in their internet browsing when they are exposed to radio advertising and the effect is immediate.
Walkers has also decided to do something different this festive season. Last year the brand invested in a high profile TV campaign featuring global megastar Mariah Carey. This year it has turned the "Big" idea on its head by not using TV. Instead it is using a social media-led idea with YouTuber Mark Hoyle – aka LadBaby – to promote its seasonal sausage roll flavoured crisps. (If, like me, you don't know, LadBaby scored the Christmas No.1 two years in a row.) Importantly, radio will play a vital role in boosting awareness. Hearing how this giant snack brand has tuned in to the power of radio really does makes sense. It's a music-led idea, so perfect for radio. LadBaby has turned Christmas carols into "Sausage CaROLLs" with a festive medley of tunes switching to lyrics about sausage rolls. It's a nice touch that Walkers will also be donating 5p from every bag to charity. Radio will significantly expand the reach of the campaign, hitting those audiences and hard to reach demographics who may not see it on YouTube but will still want those crisps.
Global has previously reported 160% growth year-on-year for the food category alone, as many FMCG brands turned to radio for the first time during lockdown earlier this year. And yes, you can create brilliant food ads without the need for visual – just listen to Knorr's current campaign featuring The Hairy Bikers if you don't believe me.  
Radiocentre launched some research this year that proved how much of an influence radio is when it comes to the weekly shop. Building Shelf Awareness proved how radio ads heard in-car on the journey to buy groceries helps brands get noticed, increasing visibility on shelf by 11%, encouraging brand switching, with purchase intent among people who don't usually buy the brand increasing by 39%.
And as we are now a week into a second month-long lockdown here in England (with other restrictions in place around the UK) during the crucial pre-Christmas period, there are lessons to take from the first. Supermarkets in particular took advantage of commercial radio's cut-through, agility and speed to air to communicate important messages in the spring, reminding customers that stores were still open for essentials and sharing how they were making the experience COVID safe . To this end, Tesco's latest ad sets about reassuring customers by explaining how they are installing a traffic light system to ensure a safe flow of customers into the stores.
Research from audio intelligence platform Veritonic, shown by Global at our Tuning In Back to Business event, showed that the top six grocery retailers who were advertising on radio in early lockdown performed above all previous benchmarks, being deemed more authentic, more trustworthy, and more reliable by listeners. Little wonder that Asda's Christmas ad will also see some radio activity, because they already know that adding radio to the media mix pays dividends.
Marketing plans have been ripped up time and again this year as we constantly respond to the latest Covid scenario. The beauty of radio is flexibility. With the ease of production, even when working remotely, and speed to air, it's not too late for brands to join the audio revolution and get messages to the ears of 36 million people on radio this Christmas.
Lucy Barrett is Client Director at Radiocentre