Terms and conditions or Ts&Cs, also sometimes referred to as "legals", "caveats" or "tags", can get added onto the end of radio ads for a variety of different sectors. However, unlike other media, for radio they have to be read aloud in real-time, which can be an issue if they become too long and complicated.
So why are they needed, what effect do they have and are there ways of reducing their length? This guide is not intended in any way to compromise the regulations which necessitate Ts&Cs, but to clarify their purpose and illustrate ways of making them work as effectively as possible for both brand and consumer, as well as compliant with current regulations.
How are radio ads regulated?
The UK Code of Broadcast Advertising (BCAP Code) sets out the standards and regulations with which all radio ads must comply
The Advertising Standards Authority (ASA) is responsible for enforcing the code and can take steps to have any ads which breach the code removed or amended
Radiocentre Clearance are responsible for checking that advertising messages on commercial radio stations comply with the BCAP Code
The Financial Conduct Authority (FCA) is responsible for the regulation of financial promotions, including radio. Their rules are set out in their Handbook.
Why do we need Ts&Cs in radio ads?
In a nutshell Ts&Cs are there to make sure that ads don't mislead consumers by omitting important information.
All radio advertisements must comply with the UK Code of Broadcast Advertising (BCAP). The Code states that advertisements must not mislead consumers 'by omitting material information' and explains that 'material information is information that consumers need in context to make informed decisions about whether or how to buy a product or service.'
Financial advertisements must also comply with the Financial Conduct Authority's Handbook and Principles for Business. Whilst this does set out mandatory information for certain types of promotions[1], their overriding principle is that all financial promotions must be "clear, fair and not misleading"
These principles are really important when considering not just what is said in the ad but also what additional qualifying information might be needed without which the consumer would be misled. Radiocentre Clearance will check compliance with the BCAP Code and can also give general guidance on FCA requirements. Ultimately the advertiser must decide what information is needed to ensure compliance with FCA rules.
[1] For example FCA CONC 3.5.3 relating to requirement for a representative example where an amount relating to cost of credit is given in a credit ad
The reality of working with Ts&Cs
For the majority of radio ads, Ts&Cs aren't an issue. But long and complicated Ts&Cs become problematical for three reasons:
Firstly, lengthy Ts&Cs cost money in additional airtime, or at the very least they leave less room for the ad itself and restrict creativity.
Secondly, they "switch listeners off" (see figure 1), and can even negatively affect brand perceptions.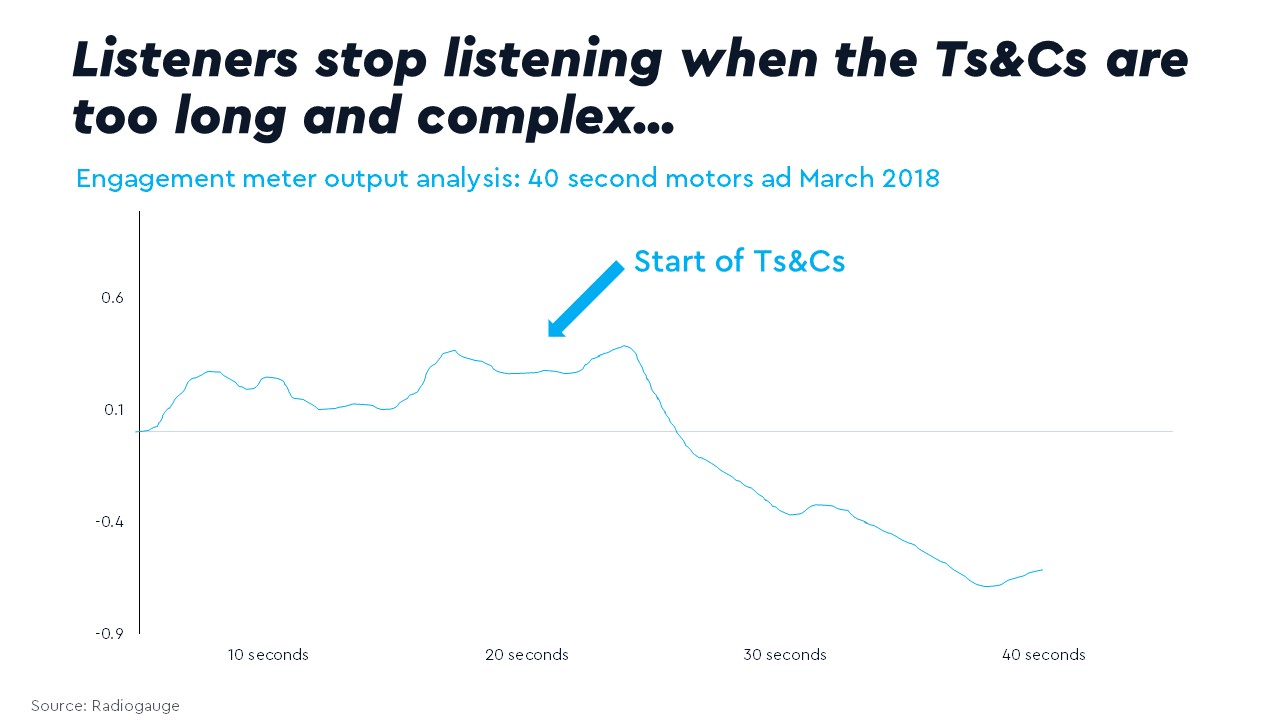 Finally, and most importantly for regulators and company compliance or legal teams, when the Ts&Cs are too long they fail to do the job they are there to do in the first place, which is to ensure listeners make informed choices on whether to act or not.
Over a number of years, Radiocentre have commissioned a lot of research into the effectiveness of Ts&Cs on radio. The focus has been on financial information, but the same general principles can be applied to other sectors. Further information can be found here, but below are just some of the reasons why long and complex Ts&Cs on radio fail to hit the mark on consumer protection:
98% of radio listening is in real-time, so Ts&Cs read out on air have to be heard and processed there and then
Consequently the vast majority (over 72%) of listeners would prefer to read Ts&Cs in their own time where they have a better chance of absorbing and understanding them.
Over 60% of listeners (and 70% of 18-24s) believe the terms and conditions are merely there to protect the advertiser, so they just zone out and stop listening.
Recall of figures can be particularly problematic and a challenge for sectors such as finance, motors and telecoms. When important figures are embedded in long and complex Ts&Cs, recall is less than 4%, even immediately after listeners have heard the ad, and, worse case, can drop to zero when radio listening is accompanied by other tasks (9 out of 10 listening occasions).
However on a positive note, research also demonstrates that when Ts&Cs are reduced to focus on critical information only, the likelihood of listeners recalling important figures can treble or even quadruple.
The challenge for advertisers and their legal or compliance teams is how to comply with the rules to ensure listeners are adequately informed, but in a way which doesn't overload the listener and render the Ts&Cs ineffective.
2. What you need to do
If your ad is just a branding message or a simple offer which needs no qualification then you won't need any Ts&Cs. And some Ts&Cs are fine if they are relatively clear and simple. But what about when those Ts&Cs get longer and more complicated (a general guide would be longer than 5 seconds)? How do you comply with the rules whilst ensuring your Ts&Cs are as clear and simple as possible so listeners can absorb and understand them? Below are some suggestions:
3. Need further help?
For a general introduction to copy clearance on radio, Radiocentre's clearance team run courses which will take you through everything you need to know to get scripts cleared.  Click here for more information.
For product category information, our copy guidelines cover a whole range of product sectors. Click here to find out more.
For specific issues or questions, our clearance team can offer advice. Email clearance@radiocentre.org
Bespoke workshops. We are able to run workshops for specific product sectors across marketing and compliance or legal teams. Currently we are offering bespoke workshops to motors advertisers exploring the implications of our FCA Confirmed Industry Guidance. However if you look after another sector and are struggling with long and complex Ts&Cs in your ads, do get in touch. Email Judith.spilsbury@radiocentre.org