Diversity
Commercial radio's mix of music, news, travel and local information is listened to by 36 million people each week. With such a diverse audience it is important to understand the make-up of our industry.
In their 2015 Employment Survey the sector skills body Creative Skillset found that across the whole radio industry 46% employees are women and Black, Asian and Minority Ethnic (BAME) employees make up 9%.  This compares to 10.9% BAME employees in the rest of the UK workforce.
The diversity of output is important and specialist music stations now play a bigger role than ever in making available an unprecedented volume and breadth tracks with choice from dedicated Asian stations like Sunrise and Panjab Radio to London Greek Radio and Capital XTRA.
According to the latest (Q1 2018) RAJAR figures, our sector reaches 60% of the BAME audience, compared to a 45% reach by BBC services.  It also reaches 67% of listeners considered to be in a lower socio-economic classification (C2DE), compared to 57% reached by the BBC.
While overall share of hours for all adults is 52% at the BBC compared to 45% at commercial radio, for BAME audiences it is 33% for the BBC and 56% for commercial radio. In addition, a quarter of local commercial radio listeners (7 million) do not tune in to any other type of radio service.
However, there is recognition from the commercial radio sector that more could be done to encourage greater diversity within our industry and so Radiocentre is helping to drive a positive change.
Creative Access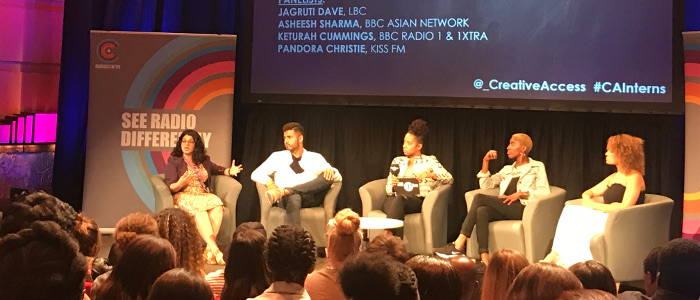 Our most recent Creative Access Radio Masterclass was held on June 2017. Panellists included (pictured, from right to left): Jagruti Dave (Producer at LBC), Asheesh Sharma (Asian Network), Yasmin Evans (1Xtra host), Keturah Cummings (BBC Content Producer), Pandora Christie (Kiss FM DJ).
Radiocentre has been working closely with Creative Access to try and improve representation of young people from BAME backgrounds.  In addition to taking part in their internship programme we have now joined forces with the BBC to co-host a number of Radio Masterclass for Creative Access interns who are looking to start careers in the Creative Industries.
Diversity at Radiocentre
Here at Radiocentre we value the diversity of our team, yet until recently we didn't hold any data on our employees. In order to address this over the summer we conducted a comprehensive staff survey, with all new employees automatically given a survey.  We were keen that the survey was as broad as possible and so it covered the following important characteristics: age, race, gender, faith, sexual orientation, disability, as well as social mobility.
A few headlines from our survey are included below.
The majority of our organisation is female, including the senior management team (67%)
Almost three quarters of our team attended state school (74%)
Our team is made up from across a broad range of ages
Employers Network for Equality & Inclusion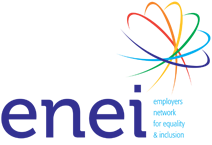 Radiocentre is a member of the Employers Network for Equality & Inclusion (ENEI). We are working with them in order to provide an industry strategy and statement on diversity, along with best practice materials for our members.
Industry monitoring
In 2016 Ofcom launched its Diversity in Broadcasting monitoring programme. We have been working with industry ahead of this on the details of the programme. Ofcom began monitoring commercial radio at the beginning of 2018 and the first report on the sector was published (here) in June 2018. There are a number of resources available on the Ofcom Diversity and equality hub here.
Diversity statement 
In conjunction with the Employers Network for Equality & Inclusion, Radiocentre has drawn up a diversity statement for the commercial radio industry.  The statement is available here.