Valuing Radio, a report by the All-Party Parliamentary Group on Commercial Radio, report highlights new data on the regional impact of commercial radio and the important return on investment enjoyed by local advertisers, as well as a summary of the sector's role in providing news and information; charity and community work; and the investment in new technology and the workforce.
Headline findings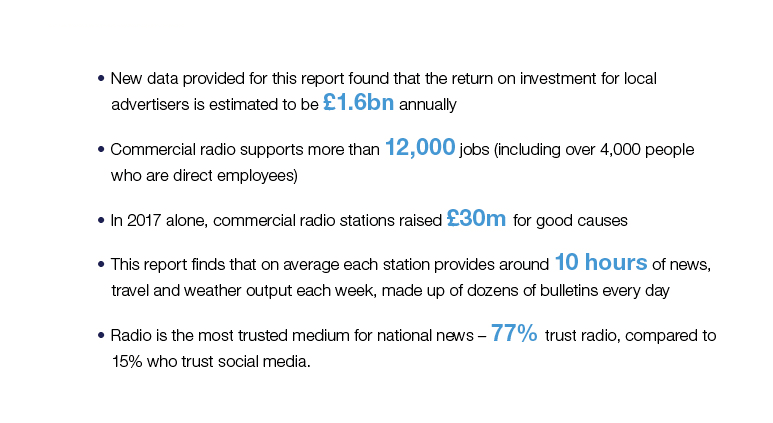 Recommendations 
The APPPG makes four recommendations to DCMS, Ofcom and industry.
Commitment to local news
We recognise commercial radio's important contribution to providing local news and information. Therefore we support the Government's commitment to make changes to commercial radio regulation which will protect local news for the future and support the viability of local stations. DCMS should commit to a clear timeframe for a package of legislation to be introduced, making the necessary changes before 2022.
Operational freedom
We welcome the changes to Ofcom's Localness Guidelines (October 2018) which will give operators more freedom to use technology and focus on providing the best service for listeners. We call on the regulator to carry out a further review in 12 months' time, to consider the impact of these changes and explore options for exercising further flexibility under the current rules.
Digital world
We note the planned DCMS review of the radio market, now that combined digital listening has reached 50%. Digital radio provides significant benefits for listeners and audiences and its growth should be welcomed. However, radio will continue to be multiplatform for the foreseeable future so there should be no premature switch off of FM. Should there be a switchover in future, we urge the Government to confirm that small commercial stations will be given freedom to choose when they stop broadcasting on FM.
Embracing diversity
We welcome Ofcom's Diversity and equal opportunities in radio report and call on the entire radio industry to work together – building on a number of successful initiatives currently underway – in order to address Ofcom's recommendations and better reflect the diversity of the UK.
Local return on investment (ROI) — £1.6bn
Radio advertising revenue is the principal income stream for commercial radio, enabling its content to be provided to listeners for free. This advertising spend also provides a substantial boost to the UK economy and businesses. Part of this boost is through the return on investment (ROI) that advertisers enjoy as a direct result of investing in the medium.
Previous research has found that radio provides an average return on investment for advertisers of £7.70 for every £1 they spend. Applying this to advertising revenues for the entire industry means that the total ROI is £5.2bn.
New analysis conducted for this report has also sought to break this down to the local and regional level for advertisers, providing a summary of the ROI provided across all parts of the UK. It found that the total annual value for local advertisers alone was over £1.6bn, underscoring the benefits of local radio advertising around the country. These results are particularly important for SMEs looking to invest in advertising.