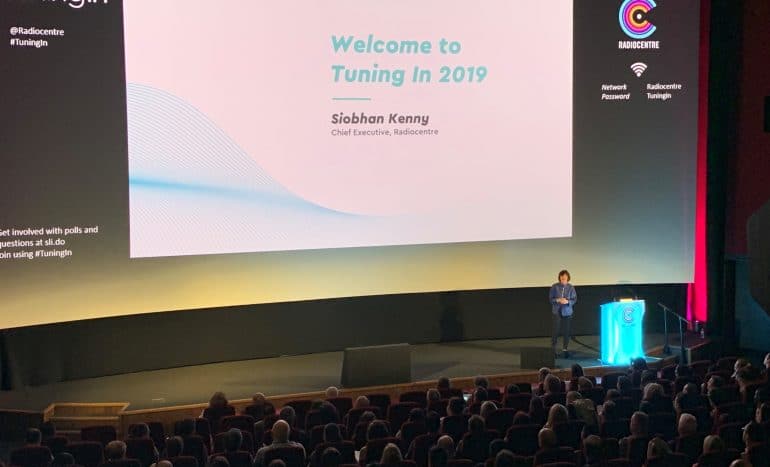 Radio is going through a renaissance as audio listening surges and radio ad revenues reach record highs. Some 89% of the UK population tune into radio every week, radio's record ad spend has passed £700m, and the Government has announced a review into digital radio ensuring the future success of the industry. These were some of the headlines from the last 12 months presented by Radiocentre's Chief Executive Siobhan Kenny when she opened Tuning In.
Some 350 delegates gathered in London at Picturehouse Central in Piccadilly on May 14th for Radiocentre's Sold Out Tuning In 2019 conference to hear a series of inspiring talks about the radio industry. Topics ranged from boosting ad effectiveness to the role of radio in enhancing emotional well-being.
The commercial radio industry's fourth annual symposium brought together well known presenters, clients, radio executives, media planners and creative agencies, and a top rap artist to discuss some of the industry's biggest issues. Presentations tackled themes such as seismic regulatory changes and the launch of classic music station Scala Radio.
Siobhan Kenny also talked about how the industry was changing models, adapting to the shifting media landscape and how Radiocentre is supporting new diverse talent at its first ever Young ARIAs awards on Friday 17th May.
The headline act was a live interview on stage with rapper, song-writer and television personality Professor Green. Radio has launched the careers of countless music stars and Professor Green revealed the medium's role in his success.
He started out as a DJ on a pirate radio station in Hackney and got his first big break on Radio 1Xtra when he took part in a rap battle – which he lost. But the star, who has had several hit songs and has made some celebrated TV documentaries about mental health, said that radio holds a special place for him: "'Til this day, for me to put out records and for anyone to give a record that first play and people still care, that is a monumental moment for me," he said.
Professor Green also talked about his struggles with bereavement after his father's suicide and how depression and anxiety have influenced his song writing. The trauma can sometimes well up when he performs. "You learn to disengage with the moment when you felt that trauma but sometimes you can't, it does bring a lot to the surface. It's emotional putting your heart on the sleeve."
The issue of emotional openness is an important theme for UK radio, which broadcast the Mental Health Minute on 13th May simultaneously across more than 300 stations. The one minute broadcast was led by Radiocentre and the Royal Foundation featured the voices of HRH The Duke of Cambridge along with Katy Perry, Alesha Dixon, Stephen Fry and Jameela Jamil encouraging people to listen when talk about their emotions and mental health.
Radio's role in providing companionship and helping listeners – and presenters – improve their emotional wellbeing came up in several talks. Capital Radio DJ Vick Hope, who co-hosts the Capital Breakfast show with Roman Kemp and Sonny Jay, explained why listeners turn to radio rather than just listening to playlists on Spotify: "We're a community – with Spotify you don't have friends. It feels like three mates down the pub," she said. "That's what we are there for, we get so many texts and tweets, we are telling our audience these stories. That interactivity is so special. When you grow up and you listen to breakfast presenters, you feel like you know them."
Meanwhile Jordan Banjo, who found fame as part of dance group Diversity which won TV competition Britain's Got Talent in 2009, and today works as a presenter at Kiss with co-host and fellow dance troupe member Perri Kiely talked about why radio is a natural home for them both.
Jordan said working on radio allows them both to be more natural than TV. "No matter how hard you endeavour to be yourself, the nature of TV paints a picture of you straight away, you can't help but have that whereas as soon as we went to Kiss, as soon as we recorded a demo, we found that we could have as much fun as possible," he said. "Something like Kiss gives you the outlet to be yourself."
Tuning In also examined some of the main industry issues to affect radio. The past year has seen a sea change in the regulatory landscape for radio, with rules changed by Ofcom so local programmes can be broadcast nationally.
Adam Johnson, Director of Marketing at Global, said the new rules were the biggest regulatory shake-up since 2003. Commercial radio can finally compete on a level playing field with the BBC, which for 50 years has broadcast national breakfast shows on Radio 1 and Radio 2. Global has launched Capital's breakfast show nationally, replacing local shows across the country. It will soon launch national breakfast shows for Heart and Smooth FM.
Going national allows investment in "amazing content "in the mornings, said Johnson. Global can offer brands "a proper huge national footprint" to address the huge new audiences. "It has been a significant tipping point in the makeup of commercial radio," he added.
Ben Jeffries, Chief Executive at marketing agency Influencer talked about how social media influencers could help enhance radio advertising.
Flora Williams, Connections Planning Business Director at OMD UK, discussed radio as the emerging star performer in media plans. Audio is growing, and she used the example of an increasingly complex marketplace and showed the audience how OMD UK's connection planning team made sense of it. She proved that audio, in all its forms, is best placed to deliver brilliant interconnected media plans. She also added that radio presenters were the original influencers and more cost effective and proven.
Meanwhile, Radiocentre's Planning Director Mark Barber teamed up with Heather Andrew, CEO of research agency Neuro-Insight, to unveil research showing that a high degree of relevance can significantly boost radio ads. The "Hear and Now" study used neuro-science to show that radio advertising that matches activities that listeners are engaged in is considerably more effective than less relevant executions. Ads for road safety were most effective while listeners were driving and an ad about a fitness related product had more impact when listeners were working out on an exercise bike.
The effects of situational relevance were highlighted by Highways England head of Marketing and Events Alison Holliday, who gave a presentation about the Space Invaders ad campaign which she commissioned. This encourages drivers to avoid the dangerous practice of tailgating other cars and advises them to keep their distance with the line: "Don't be a Space Invader. Stay safe. Stay back."
She said: "Radio was really important for us because it meant we could access our audience while they were actually doing the behaviour. We up-weighted the media around drive time in the morning and evening and hoped as a result people would change behaviour immediately as they went along." The results of the research confirmed this. Radio had the largest recall for the ad of any of paid channel with 46%, ahead of TV with 32%.
This year has also seen Bauer launch classical radio station Scala Radio which went on air in March. Bauer Group Managing Director Steve Parkinson explained that it was aiming to appeal to classical radio listeners, cultural explorers and "dabblers".
Presenter Angellica Bell, who is also hosting BBC TV's The One Show and is a BBC-trained presenter, said she had enjoyed making the switch from the BBC to commercial radio. "When you are at the BBC for a long time, you can't talk about any brands," she said.
But she said she was pleased to work with brands "as long as you bring in a brand and it is in your own speak and so it doesn't sound like a public announcement."
"If a brand is going to invest in your programme," she said: "There is always some way that you can relate it to yourself so that it is natural and authentic."
Other speakers included Radioplayer MD Michael Hill, who announced that the scheme – which unites the radio industry to develop cross-platform radio apps and interfaces – is launching in Denmark, its tenth market globally.
Philip Collins, columnist on The Times, gave an amusing presentation on the state of current politics.
Radio is a modern medium which is attracting increasing attention from audiences, performers and advertisers. It is benefiting from the boom in audio listening which has seen the rising popularity of podcasts, digital streaming and voice assistants.
Radio also has a credibility which is not always present in other media. As Professor Green quipped: "I've been on (TV chat show) Loose Women. Nans ******* love me. But my street cred has gone."