Each week commercial radio stations reach 36 million listeners – 2.5 million more than the total number of listeners to BBC radio services. These stations provide an important public service role for this huge audience. This report examines new research on these listeners and their views about news.
In Beyond the Bubble four groups of news consumers are identified: Super-seekers, Enthusiasts, Outsiders and Avoiders. Commercial radio's broad reach and impact is unrivalled, connecting well with all groups. However, our sector is uniquely strong in its ability to reach Outsiders who are less likely than the other groups to seek out news.
Outsiders make up around a third of the commercial radio audience – around 12 million listeners – and have come to rely on bulletins from commercial broadcasters for their news updates. Yet this group is often overlooked by those in the traditional political bubble. This may be a missed opportunity, as Outsiders are significantly more likely to vote than average.
During the Covid-19 pandemic commercial radio has provided an essential role, with listeners finding the regular updates a reliable source of information. As news fatigue inevitably set in, commercial radio was the source least likely to be avoided by all audiences, ensuring that vital government messages still cut through.
Put simply, commercial radio connects with parts of the population that other media cannot reach in the same way. As a result, commercial radio audiences should not be underestimated and public figures should seek to harness the opportunities it provides to connect with Outsiders beyond
the bubble.
Key take-outs
Commercial radio connects with parts of the population that other media cannot reach in the same way.
With 36 million listeners each week, commercial radio is one of the biggest
providers of broadcast news in the UK
Its news reaches four distinct audience types: Super-seekers, Enthusiasts,
Outsiders and Avoiders
The 12 million overlooked Outsider news consumers value commercial radio
news especially highly
Outsiders are less engaged in political news but significantly more likely to vote
than average
Outsiders are more likely than other groups to rely on commercial radio in the
morning, for regular updates and during emergencies
Outsiders are twice as likely to rely on commercial radio over the BBC for
regular news updates
Outsiders are least likely to avoid commercial radio news, but most likely to
avoid news on TV or social media
Radio is the most trusted source of news among all audience groups, with 77%
saying they trust radio
Eight out of 10 listeners (80%) found radio a reliable source for regular updates
Seven out of 10 (72%) realised how they relied on radio to provide news
relevant about the area they live in
Three quarters (74%) relied on radio to provide vital national news
By contrast, half (50%) avoided social media as its information was seen as
inaccurate or misleading
What we set out to do
Commercial radio delivers an important public service by providing news and information to listeners across the country. We knew from previous research that radio retains its enduring popularity partly because of its ability to inform, entertain and address multiple 'need states' for listeners. Radio provides everything from the personal and emotional to broader social and information needs.
In 2017 we published Breaking News which explored specifically how listeners valued commercial radio's news provision. Breaking News recognised the multiplatform world in which we live, but underscored certain strengths of radio, such as high levels of trust and its value in providing regular news updates delivered at convenient points throughout the day.
Not all news consumers are created equal. People have different needs and requirements and so we wanted to understand more about the different types of news consumers who listen to radio. 
This new report seeks to build on our understanding of our audiences with three key objectives:
• Assess the value of commercial radio news and information for audiences beyond the highly-engaged metropolitan bubble – and its role with those who don't necessarily seek out news in an active and consistent way
• Explore how this influences attitudes to trust, fake news, the role of radio especially during emergencies and at peak listening times (for different listening groups and overall)
• Understand more about how that has played out in practice, particularly in terms of attitudes and use of radio during the Coronavirus pandemic
We asked Differentology, a leading market research company, to conduct a comprehensive survey of over 2,000 radio listeners, made up of a nationally representative sample.
The survey sought to understand more about different listeners groups and how they value commercial radio news, including during the pandemic.
Distinct listener groups
Through the course of the research we were able to identify four distinct listener groups based on their preferences for news consumption, including a very small group (around 1%) that actively avoids news. These groups are broadly categorised as Super-seekers, Enthusiasts, Outsiders and Avoiders. All have very different attitudes and behaviours when it comes to consuming news.
Super-seekers – Love staying up-to-date on news and are constantly checking for the latest updates on different media.
Enthusiasts – Have a keen interest in news and check for updates regularly.

Outsiders – Like to stay informed, but do not usually go out of their way to stay up-to-date. They will listen to or watch when news comes on the radio and TV, but do not usually seek it out.

Avoiders – No interest in news and avoid it if they can.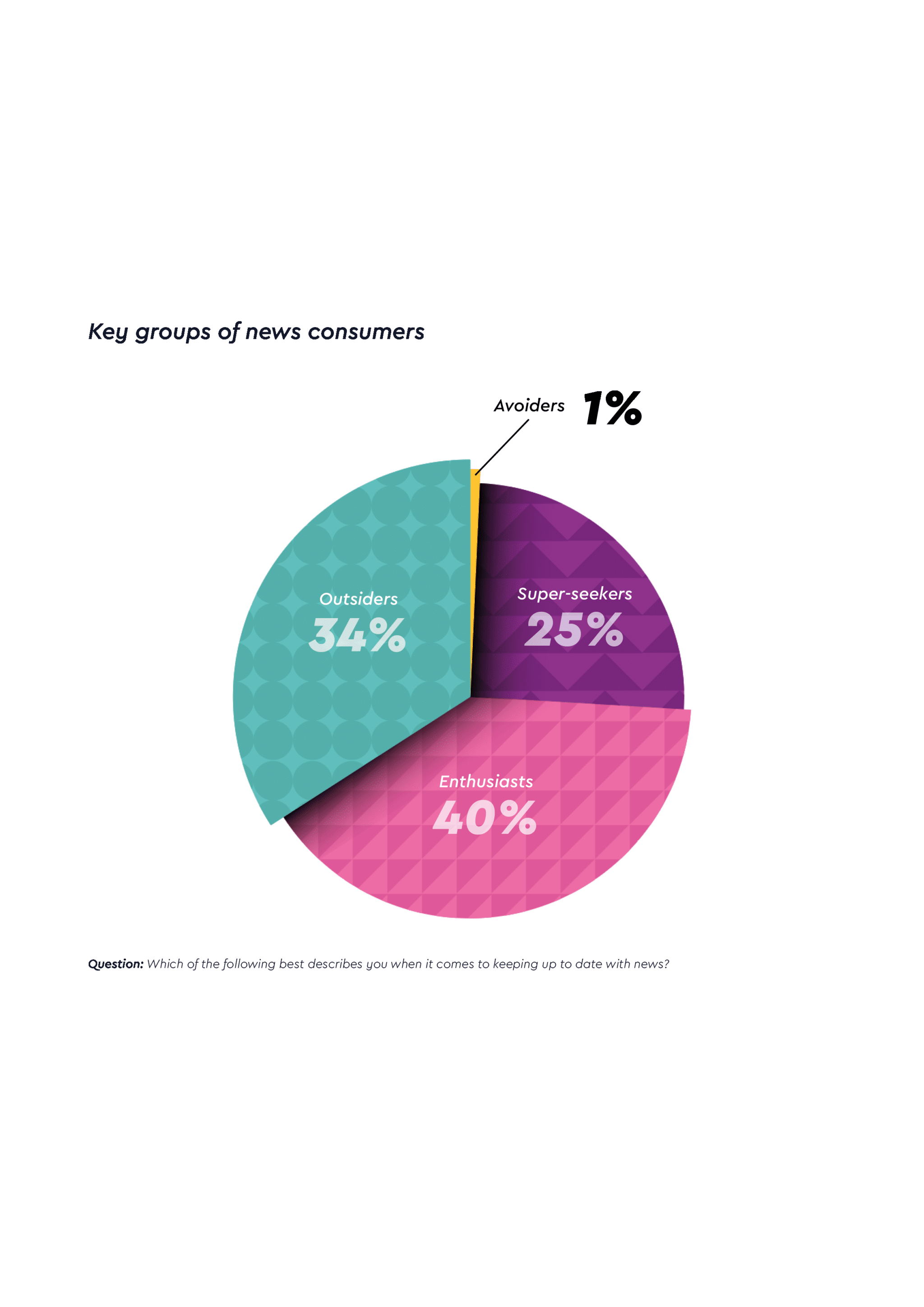 Audiences Beyond the Bubble
Through the research questions we were able to build up a picture of the different audience groups. Some of their key characteristics of Outsiders are listed below.
• Outsiders are more likely to be female, with women representing 59% of this group. In contrast, Enthusiasts are split evenly by gender and the majority of Super-seekers are male.
• The majority of Outsiders (53%) are from the C2DE socio-economic group. This is not the case in the other audience groups, where the majority are ABC1.
• Outsiders are less likely to be from London or the South East of England. Super-seekers are twice as likely as Outsiders to live in Greater London.
• Politically, Outsiders are less likely than other groups to say that they are aligned to the traditional view of left or right. This may suggest they are floating voters.
For political stakeholders, there is a significant opportunity to use commercial radio to connect with this large section of the population that is often overlooked. As this research highlights, Outsiders are much less likely to watch or listen to in-depth political news programmes like Newsnight or the Today programme.
Instead they are more likely to get their news from commercial radio bulletins that are short and to the point. Outsiders are also more than twice as likely as other groups to say they never read a newspaper at all – and significantly more likely to say they never use social media.
1 of 3
1. Still politically engaged
The research provided a unique insight into the attitudes and behaviours of our listeners. As well as asking a series of questions on news consumption across media, we sought to understand the political views of listeners, both in terms of general allegiances but also in terms of political news consumption.
A significant proportion of Outsiders (19%) prefer not to say how they vote compared to just 7% of Super-seekers and 9% of Enthusiasts. Outsiders are therefore nearly three times more likely not to wish to disclose a party affiliation than Super-seekers.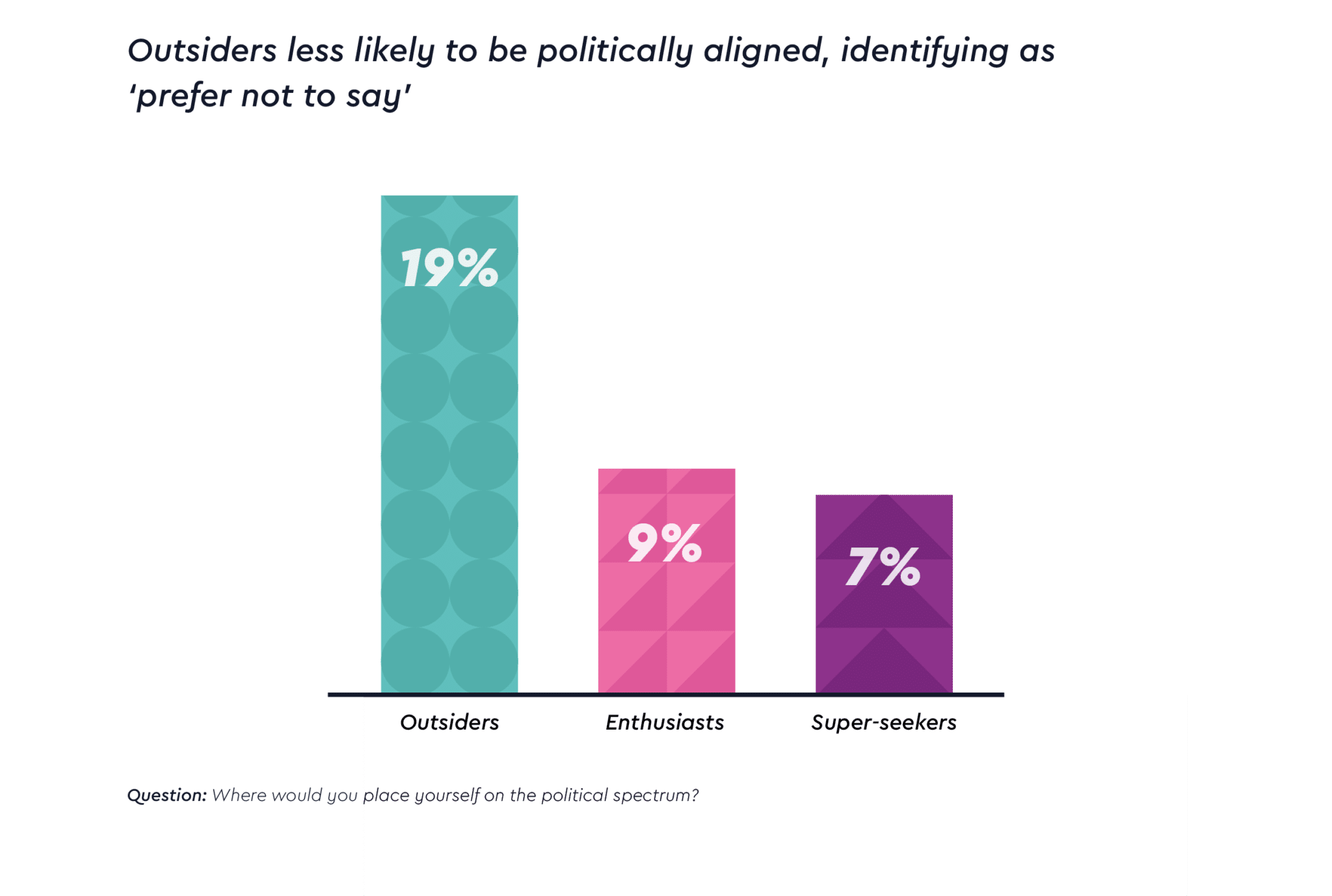 2 of 3
Only 11% of Outsiders prioritise news about politics when reading newspapers in print or online – compared to 29% of Super-seekers and 19% of Enthusiasts. This is a key result as it underscores the significantly lower likelihood of Outsiders to actively consume political news.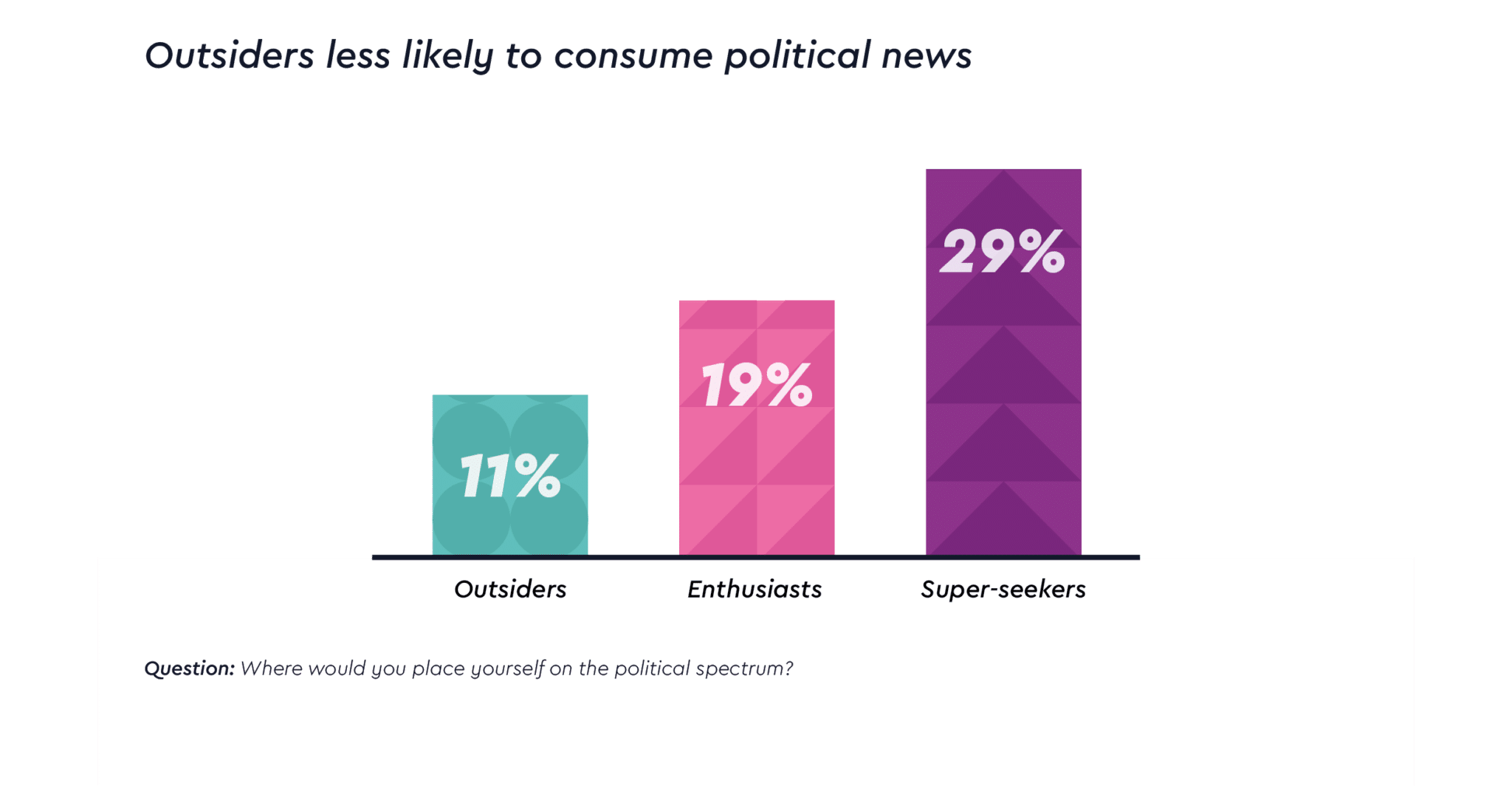 3 of 3
Perhaps unsurprisingly given the relatively low engagement with news about politics, only 10% of Outsiders say they ever watch Newsnight and 6% ever listen to Today programme on Radio 4. This is much lower than the other listener groups.
But when it comes to turning out to vote, eight out of ten (77%) of Outsiders said that they voted in the last general election – significantly higher (a 15% uplift) than the total turnout (67%). Clearly this is a group that political stakeholders should seek to engage with and the next section of this report highlights how commercial radio plays a unique role in communicating with Outsiders.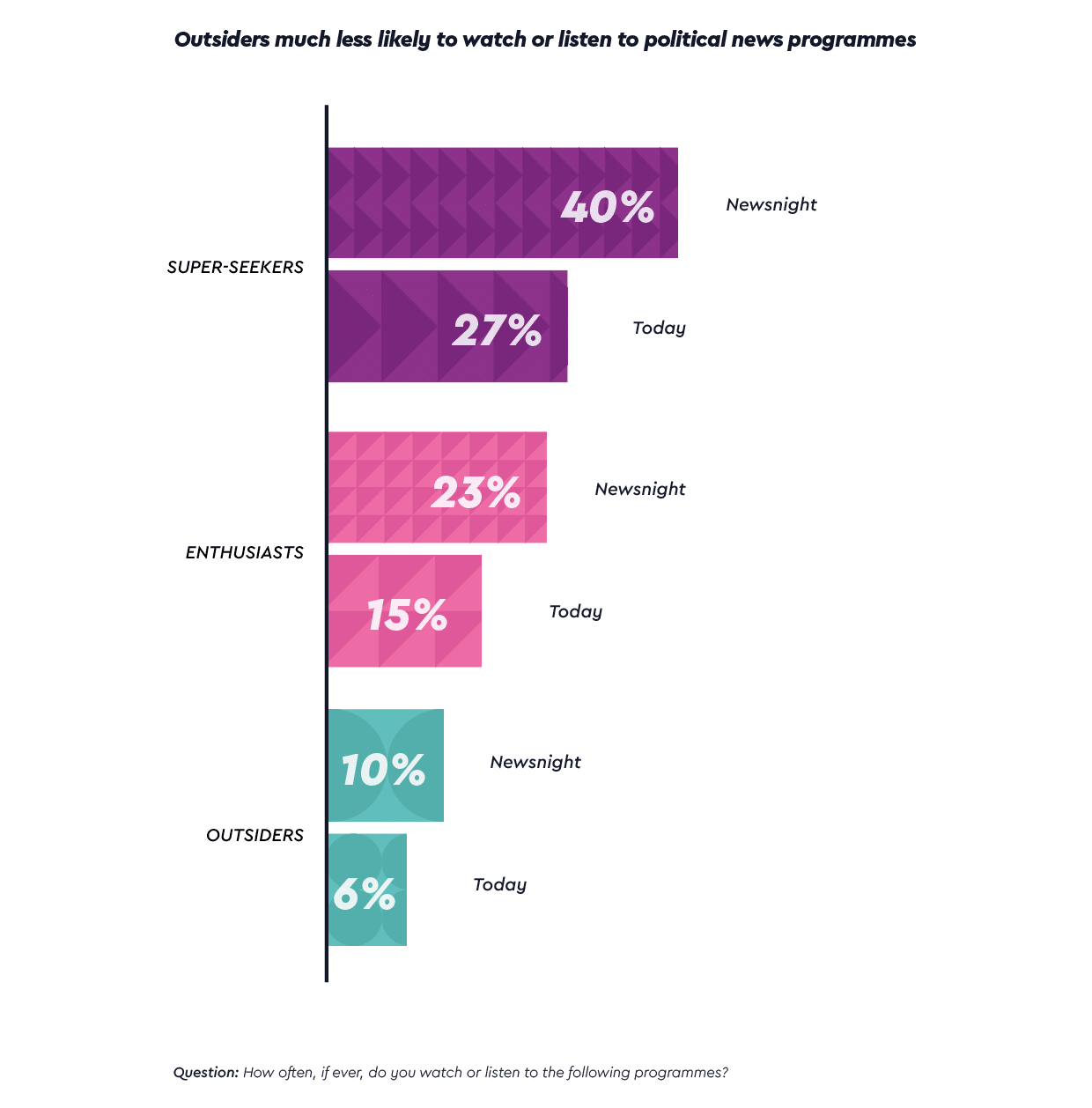 Commercial radio's unique role
It is clear that Outsiders are a large and important group of news consumers –
representing around 12 million people. We know that this audience will get their news from other sources as well, but commercial radio plays a unique role with this group.


1 of 5
1. Avoiding news yet still connecting with audiences
Outsiders are more likely to avoid news than average news consumers, but commercial radio is the source they avoid the least – and nearly four out of 10 (38%) Outsiders have heard radio news bulletins for most days in the last month.
TV was the most avoided news source – with Outsiders more than twice as likely to turn-off or avoid TV news, compared to commercial radio news.
This highlights the strengths of commercial radio in connecting with a large group that actively avoids news at times and its role in ensuring that vital updates are heard by a broad cross-section of the population.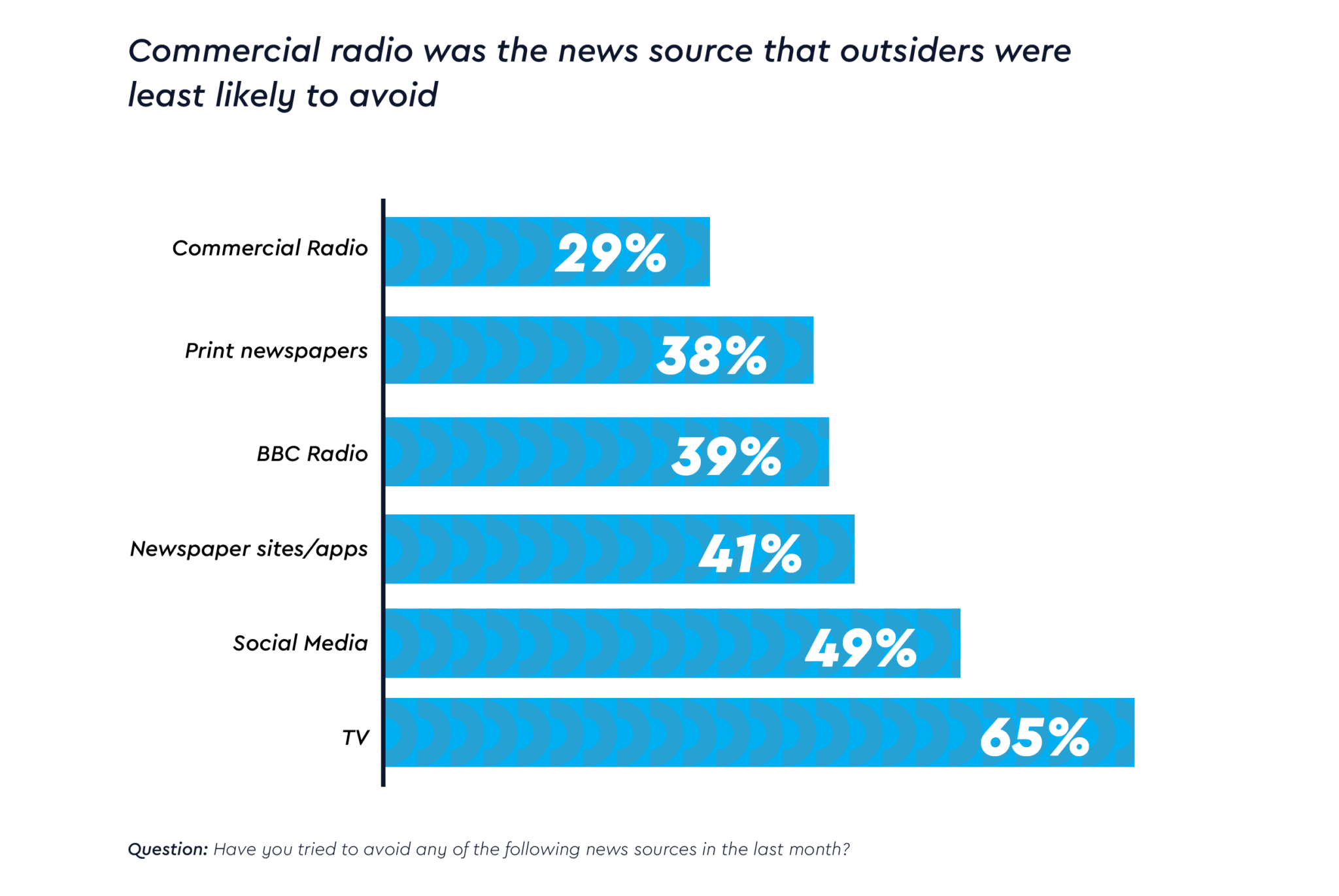 2 of 5
2. During the day
Commercial radio is also the top source for Outsiders for news in the morning – both for national news (27%) and local news (29%). Super-seekers are more likely to turn to newspaper websites or apps, while Enthusiasts prefer TV in the morning.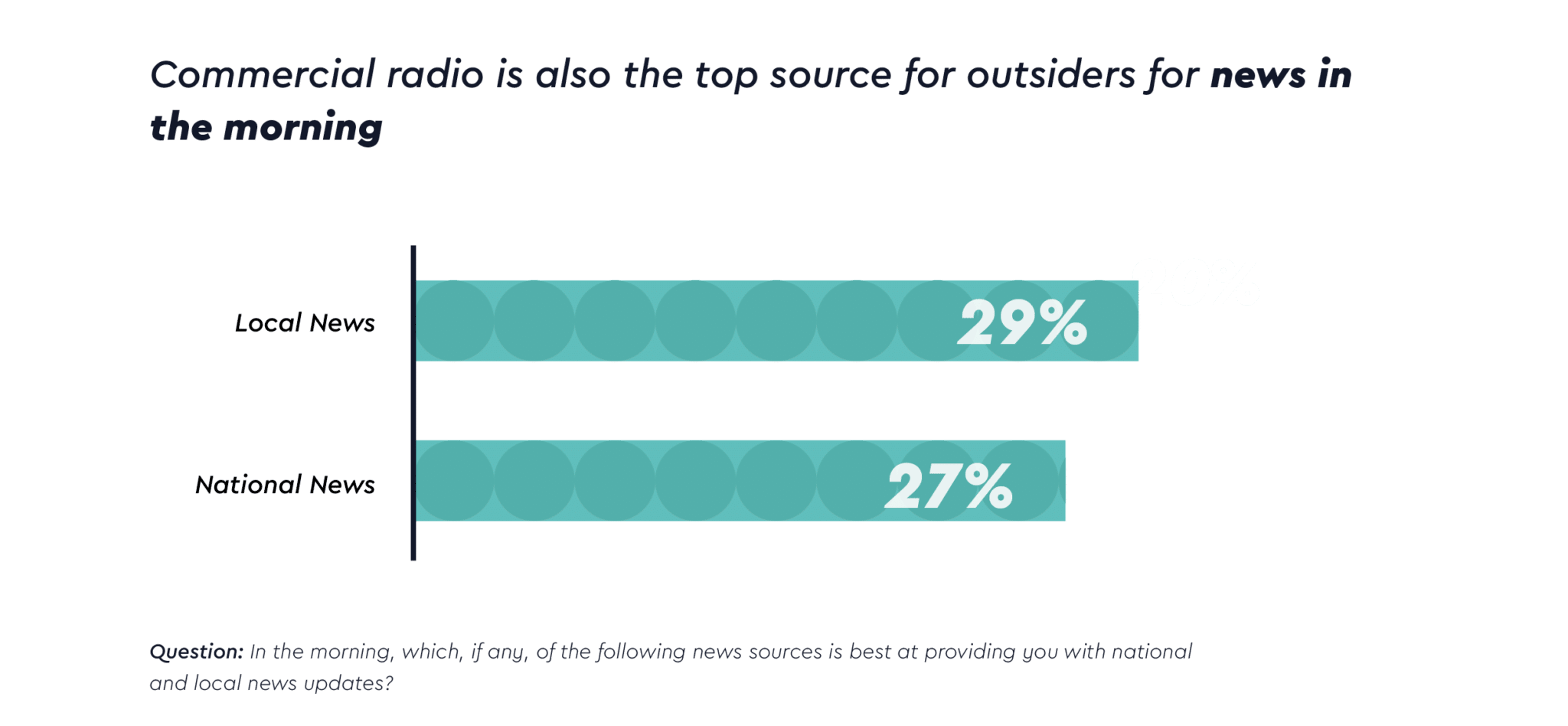 3 of 5
When it comes to comparing the most useful sources of news overall, 20% of Outsiders picked commercial radio as the source that they rely on for regular updates throughout the day.
This compared to a 15% average for all listeners, 10% of Super-seekers and 14% of Enthusiasts. Outsiders were therefore twice as likely as Super-seekers to find commercial radio as the most useful source of news overall for regular updates throughout the day.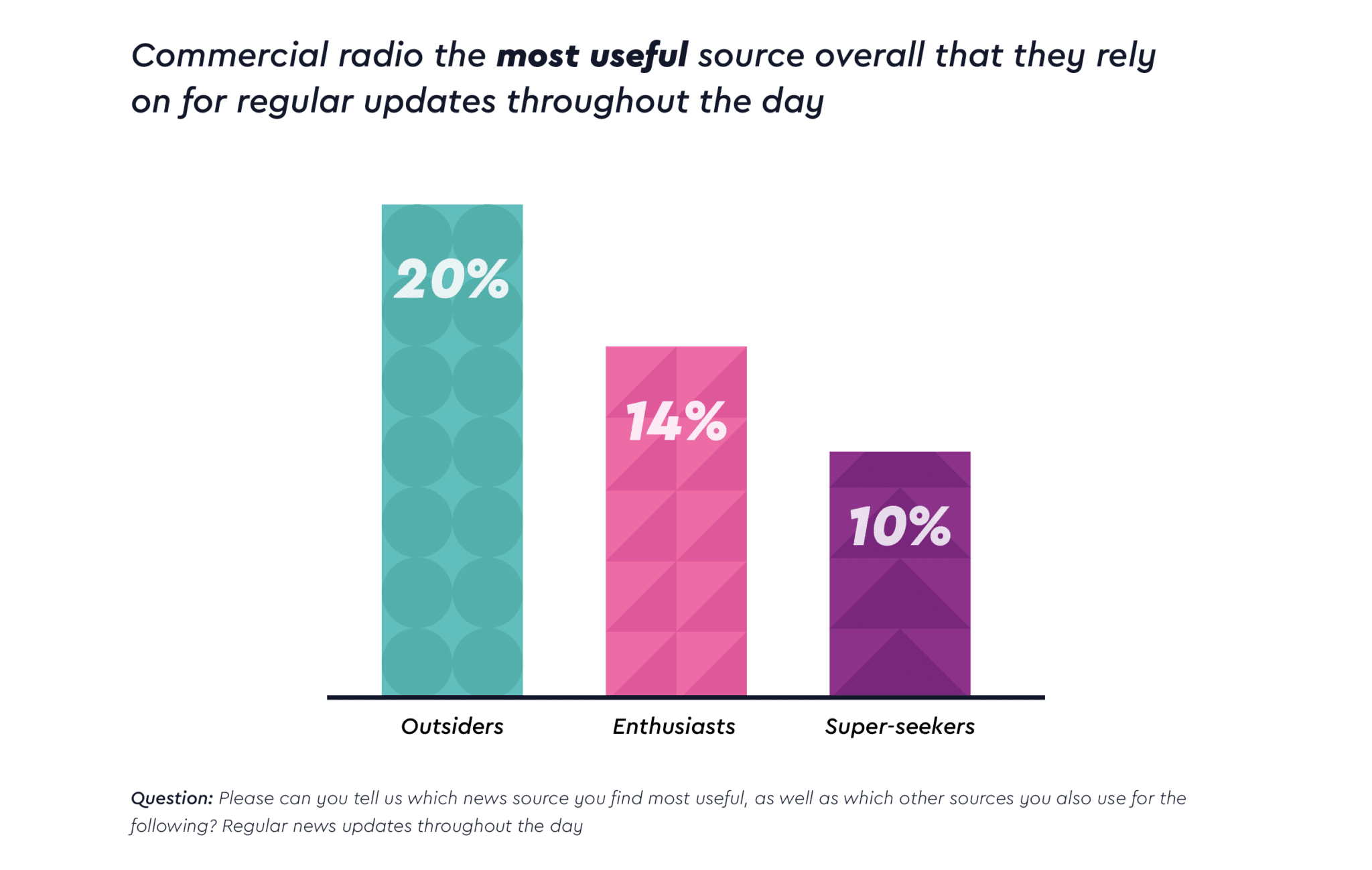 4 of 5
4. During Emergencies
Despite being less likely to seek out updates or follow breaking news than other more engaged news consumers, Outsiders do particularly appreciate the important role of commercial radio during emergencies. In national emergencies Outsiders are the group most likely to use commercial radio for regular updates.
In local emergencies, Outsiders are more likely than both Super-seekers and Enthusiasts to rely on commercial radio for keeping in touch with breaking news. As outlined below, the same applies for regular updates throughout the day.
On average, the research found that listeners were more likely to think that commercial radio (30%) is best for regular updates than BBC radio (23%) during local emergencies such as flooding. In total 46% agreed that radio was best for regular updates during these times, more than any other media.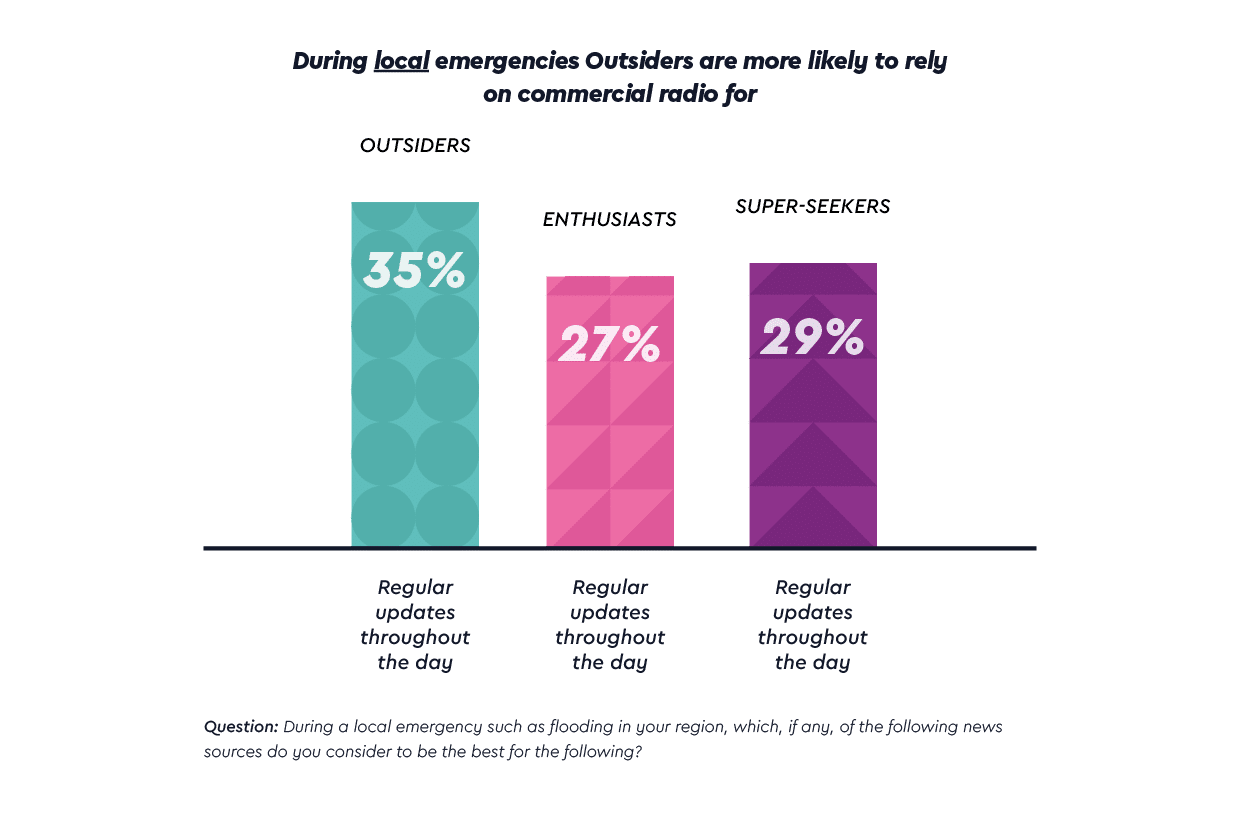 5 of 5
When it comes to the most useful source for regular news updates, Outsiders are more than twice as likely to identify commercial radio (20%) than BBC radio (9%). This is perhaps a reflection of the demographics of Outsiders, as commercial broadcasters appear to cater well to this group which is ultimately revealed in the audience data.
Radio's strong performance among all listener groups (including Outsiders) translates into consistently high levels of trust and value overall. Our research found that eight out of 10 listeners (77%) said that they trust news on radio, more than any other medium. This is consistent with other sources, such as the European Commission's annual trust Eurobarometer, where radio has been the most trusted media for more than a decade.
On the whole Outsiders tend to trust all media less overall. However, it is striking that the levels of trust in radio appear to stand up strongly. Radio is also the most trusted medium for Outsiders for national news (69%) and local news (66%) ahead of TV, newspapers and social media.
1 of 2
1. Radio's important role during the day
Radio is the number one source of news updates in the morning (74%) and in the afternoon (59%). Interestingly, this result is driven by high commercial radio scores and not the BBC, with commercial stations significantly more likely to be
identified as a news source of choice at these times.
Commercial radio's high ratings at these crucial points in the day are likely to be a reflection of the very focused purpose and value that it provides. 
We recognise that radio is not the most popular source at all times during the day and for all types of news. For example, TV is strongest for evening news (75%) and best for in depth analysis (45%).
During emergencies a significant proportion of all listeners will turn to radio for regular updates during national emergencies (41%) and local emergencies (46%).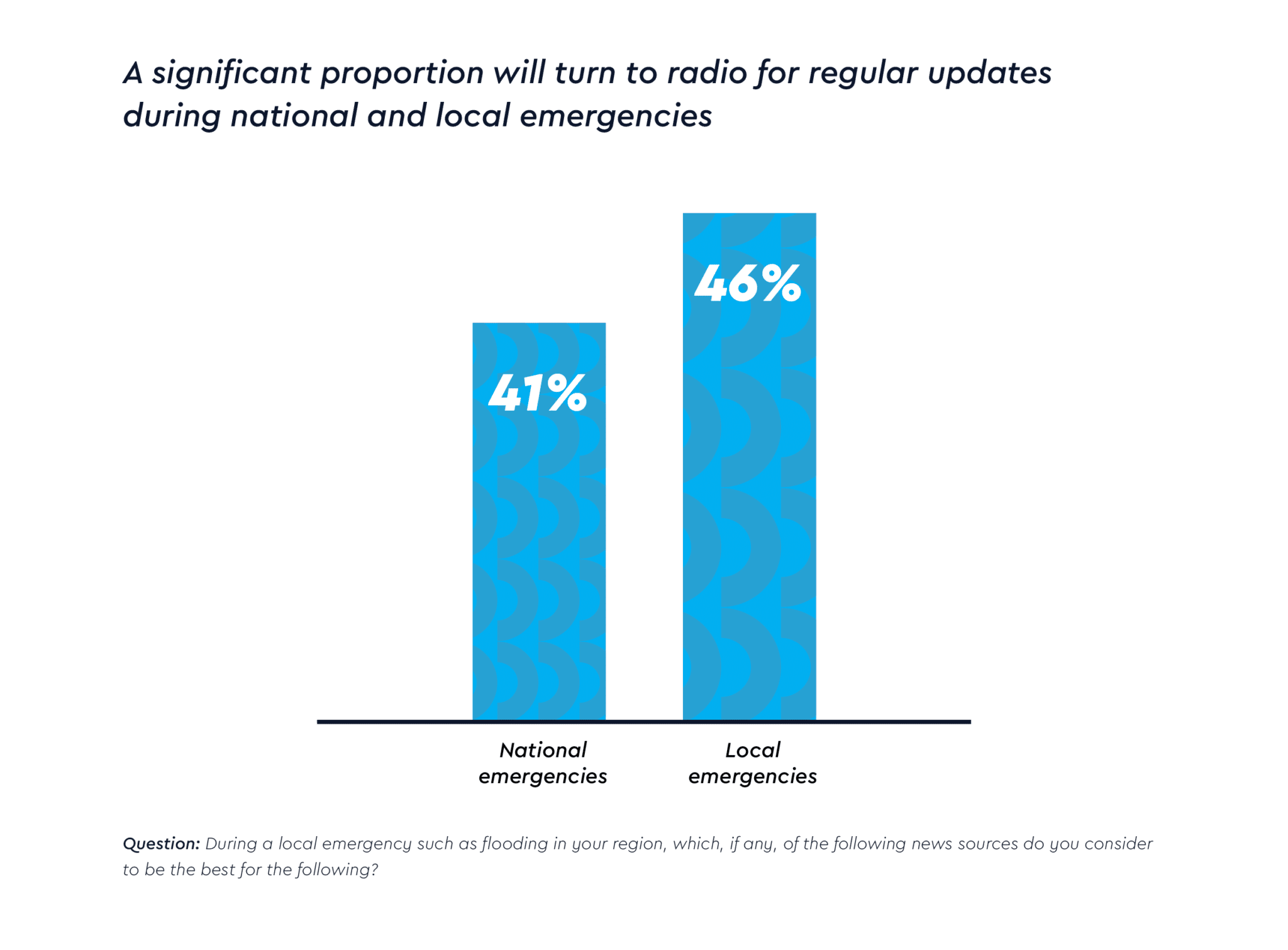 2 of 2
2. Fake news and regulation
One of the reasons radio ranks so highly as a trusted news source is its professional journalism, which ensures it is reliable and free of fake news. Almost seven out of 10 listeners (67%) said they were concerned or very concerned about the rise in fake news. This is up from six out of 10 (61%) when we asked the same question as part of our Breaking News study in 2017.
Social media and online news sources remain unregulated and awareness of regulation is generally low. Around half of listeners (49%) did not know commercial radio is regulated by Ofcom. Of these listeners, a third (34%) said that knowing Ofcom regulates commercial radio made them trust it more.
Interestingly there is a direct correlation between trusted media and those that are regulated by Ofcom.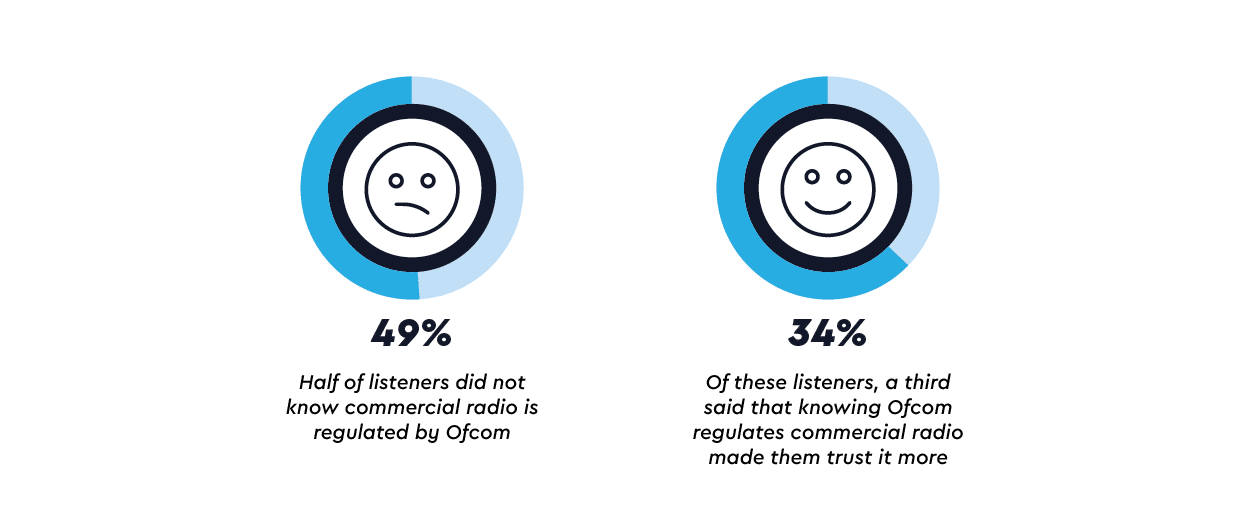 Radio news during Covid-19
1 of 4
Commercial radio has played an extremely important role during the pandemic and continues to deliver vital updates as localised approaches are taken and likely to continue following national lockdowns.
Despite the operational issues of newsgathering in a pandemic, we know that commercial radio has gone above and beyond during this period. Providing valuable output even in the height of lockdown, with uninterrupted access to news and information.
In fact, the reaction of commercial radio has been to invest more time and resource in informing listeners. A survey we ran earlier this year (following the first national lockdown) found that commercial stations were broadcasting 25% more news bulletins and for 28% longer.
This additional output and other ways in which broadcasters supported listeners through the initial lockdown and beyond were showcased in our Commercial Radio: A Force for Good report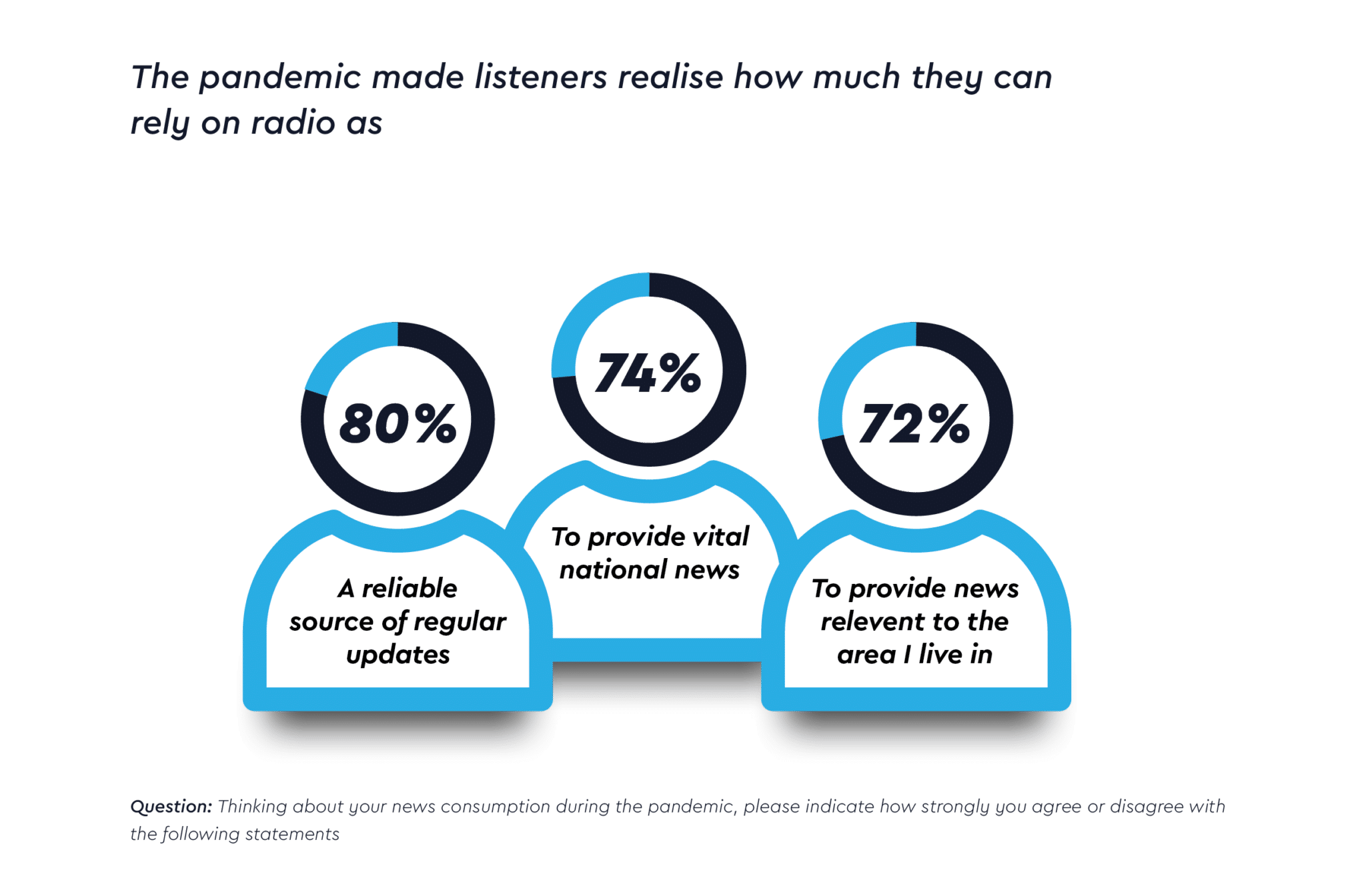 2 of 4
This has fed through to general positive attitudes to radio during the pandemic. It is also worth noting the way that news provision on commercial radio has evolved in recent years. While the mainstay of radio news remains the bulletin at the top of the hour, radio journalists are increasingly comfortable providing video news – whether on location or in the studio, through interviews or pieces to camera that are clipped and shared online. Providing radio stations with another way of disseminating news and extending audience reach.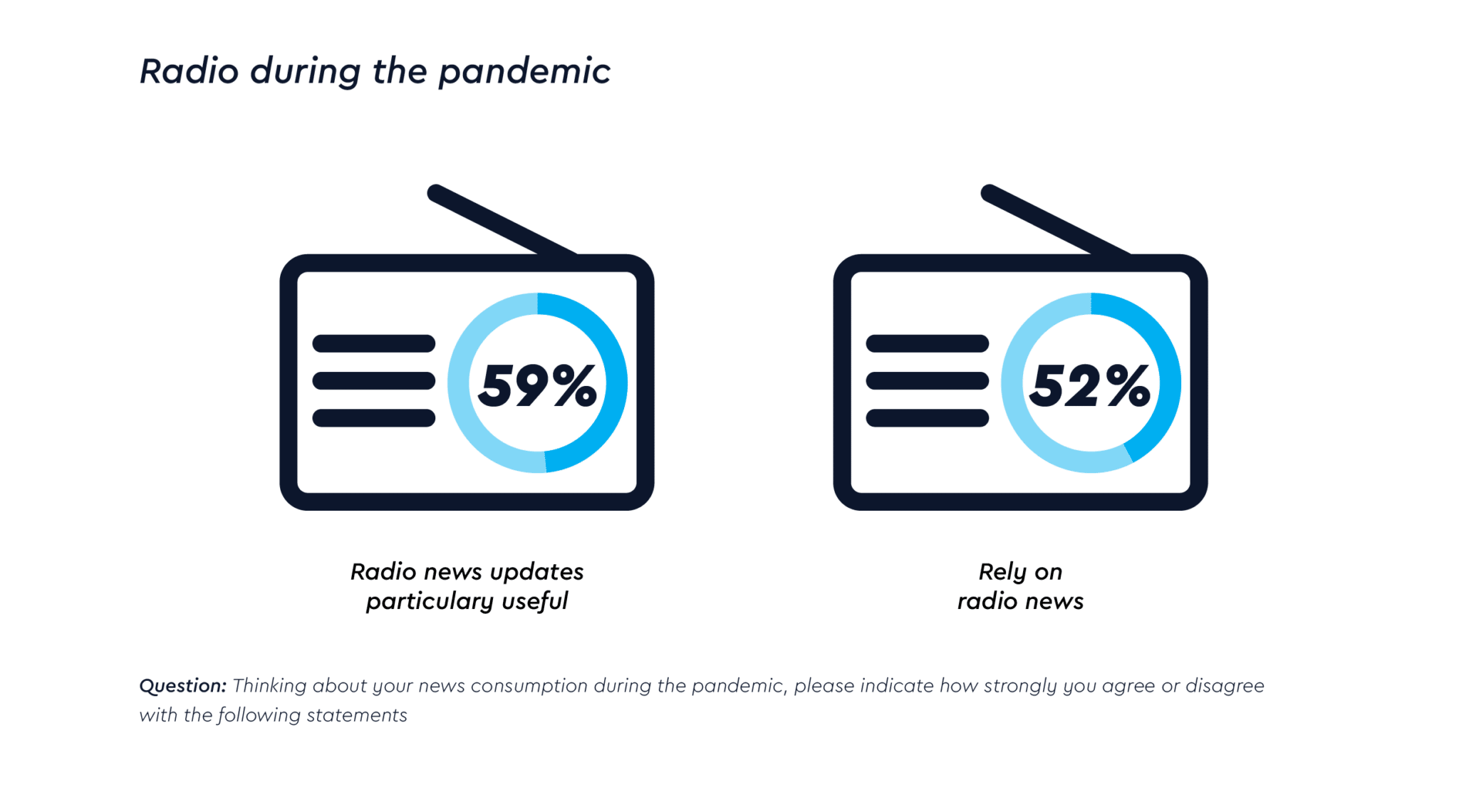 3 of 4
There has also been a significant increase in those who find radio to be the best source of regular updates throughout the day – up to 39% during the pandemic (from 25% usually) which marks a 56% increase.
4 of 4
4. Listening more while avoiding other sources
With more people working at home and changes to regular travel arrangements, there have notable shifts in the way people are listening to the radio during the pandemic. Most people are listening to the same amount of radio, but a sizeable proportion are listening significantly more. Research from November 2020 highlights that more than a third of commercial radio listeners (38%) are tuning in for an extra one hour and 53 minutes each day compared to the period before the April lockdown.