Industry News
26 September 2019
Radio masterclass for BAME youth lands in MediaCity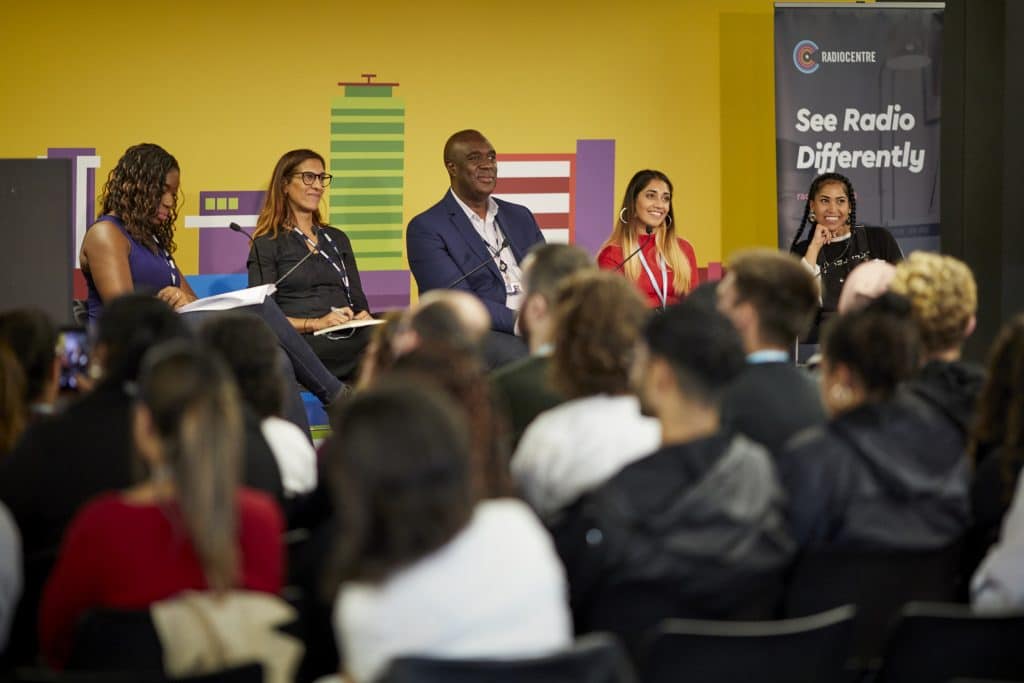 With more and more opportunities in the media appearing outside London, on Tuesday 24 September, Radiocentre, Creative Access and the BBC took their radio masterclass, hosted by The Sista Collective's Jessie Aru Phillips, to the BBC's Northern HQ at MediaCity in Salford.
Opening the event with a video about BBC radio, panellist Rozina Breen talked to an audience of eager young radio enthusiasts about the greatness of the medium, saying: "I love it for its agility, for its intimacy and the ability it gives us to connect with audiences."
Siobhan Kenny, Radiocentre CEO, took to the podium next, to introduce a video on commercial radio and discuss an idea that many of the panellists referred back to during the evening: the relationship between luck and hard work. She said: "You'll see all these amazing people here on stage and go, 'Wow, they're so lucky, they've got these fantastic jobs.' And then as the evening emerges, and you get to talk to them afterwards, you'll realise a massive amount of hard work has gone into achieving their ambitions, one way or another."
With a wide spread of panellists, from presenters to those working behind the scenes in radio, and those in hiring positions like Tim Pemberton and Rozina Breen, to younger professionals like Free Radio Assistant Producer Shreni Yajnik and KISS Breakfast Presenter Swarzy, there was a wealth of advice as well as personal experiences of the different ways to enter the industry, and how diverse backgrounds can be a strength, not a weakness.
Rozina, who recently became Head of North, BBC England, moving from her position as Head of News at BBC 5 Live, mentioned coming from a single parent household in North London. Asked what she looks for in potential applicants, she said: "For me, it's potential, and determination. You can have all the qualifications in the world, but that's not going to make you a great storyteller. It's life experience."
Tim, Managing Editor at BBC Radio Gloucestershire, added that there are more avenues to getting experience in today's media world: "There are so many tools at your disposal. It's very different from when I started. What's stopping you from making your own show? Make use of the full range of outlets out there – start your own podcast, show, or whatever else."
KISS FM presenter Swarzy, who got her first break by winning 'The KISS Chosen One', talked about the moment she visualised herself being in radio for the first time during the competition, noting: "My dad's a chef, my mum's in HR. I'd never seen inside a radio studio. But the minute you see yourself in somewhere, you can almost picture your job there. So I went in, and thought, 'I'm going to try to ace this.'"
Now Assistant Producer for Free Radio, Shreni got her first introduction to radio through student media. Talking about how that experience inspired to get into producing over presenting, and how it helped her in interviews, she advised: "You have to make yourself stand out. Even if you're not sure if what you're saying's correct, just put your hand up and tell them what you know. Justify why you think that, because that's more important."
Dotun Adebayo, Presenter of 'Up All Night' on BBC Radio 5 Live, appeared at the event via Skype, offering not just his own advice, but a nugget of wisdom from BBC Group Managing Director Bob Shennan. He said: "The easy way to get to use your ideas, is to keep listening. If you want to know how radio works, there isn't a guide book, but there are loads of radio channels, loads of programmes, and each one has its own little twist.
"You'll start understanding what works on radio and how to tell a story on radio, by listening to radio. If you listen to Radio 4, you'll get an idea of who Radio 4's audience will be. Bob Shennan said to me: If you want to be successful on radio, you've got to be on radio."
Photos are available on Facebook now.
After the event, Swarzy shared a thread answering more questions on Twitter that's well worth a read. And for even more advice, our partners at Creative Access have also put together a round-up of the radio masterclass.
Radiocentre has hosted three previous radio masterclasses in conjunction with the BBC and Creative access. Read more about them below: