Industry News
27 June 2017
Creative Access Radio Masterclass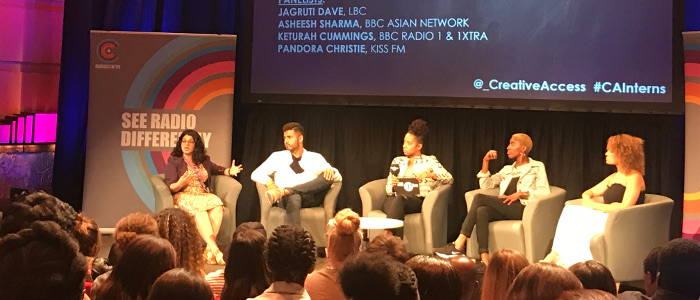 Striking the fine balance between imparting factual news and entertainment, and other things we learned at the Creative Access Radio Masterclass
Radiocentre has been working with Creative Access for a number of years now. The organisation is a fantastic conduit for young people of Black, Asian and minority ethnic origin and we have had the enormous satisfaction of mentoring a couple of interns at Radiocentre, and then seeing them secure full time employment in the creative industries. Our most recent intern, Aidan Cheng, is now working at Soho's Fever PR agency.
So we were very pleased to team up with Creative Access and the BBC for a second radio masterclass at the BBC Radio Theatre in Broadcasting House last night.
Radio 1's Ben Cooper kicked off proceedings by demonstrating how a great deal of professional success is down to luck. But it's not quite that simple: you make your own luck to some extent. One lucky audience member won a coveted day's work experience at 1Xtra: you have to be in it to win it. Then Radiocentre's Siobhan Kenny took to the floor and spoke about the hugely collaborative relationship between commercial radio and the BBC: although we are fierce competitors a lot of the time, we also come together as one family a great deal too. Siobhan pointed out that the funding models of the two sectors are of course different, and that as such, the commercial sector offers a myriad of career options in fields like advertising. Opportunities in areas such as sponsorship and advertising are transferable across the media industry as a whole. As in so many sectors, there is much more to radio than meets the eye – or ear.
Creative Access's Josie Dobrin then made a moving tribute to Khadiya Saye, the photographer who was among the victims of the Grenfell Tower fire. Khadiya was on the cusp of recognition at the time of her death, having taken the Creative Access journey herself. Her work is currently on display at the Tate Modern. Creative Access have started an internship in Khadiya's name and are raising money here.
Host for the evening, Yasmin Evans of 1Xtra then led a lively discussion about how to break into radio with panellists Keturah Cummings, Content Producer at the BBC Pop Hub, Asheesh Sharma, Assistant Producer at the Asian Network, Jagruti Dave, Senior Producer at LBC and Pandora Christie, Presenter at KISS.
Pandora described her early days as a promotions girl at Heart, blowing up balloons and the like. Of course she was keen to break through to presenting and she achieved this, ultimately, by keeping her eyes and ears open to every opportunity and by shadowing – in her own words – EVERYONE. Asheesh came up through Creative Access himself and the contacts he made through the organisation were invaluable. "Creative Access got me out of the hood," he said.
Jagruti spoke about how networking events reveal everything that goes on behind the scenes in the world of radio, shedding light on production as well as presentation roles. Both she and Pandora stressed that everything you do in life counts: Jagruti had worked in call centres prior to her career in radio. That tough graft taught her a great deal about handling people and turning confrontational scenarios around. "By the end of the call, they were apologising to me!" she joked.
The panel took a number of excellent, probing questions from the audience: someone asked how to cope with knock backs and feeling that you are not achieving anything. Jagruti and Yasmin both advised that working in the creative industries requires self-belief and tenacity, you have to trust yourself, have patience and keep knocking on doors time and again. Trial and error play a big role. Keturah observed that the very speed of social media makes it easy for a person to feel left behind and that they are not getting anywhere, but you have to keep plugging away and use criticism constructively.
Another member of the audience asked the eternal question: how do radio presenters strike the key balance between imparting factual information and entertaining their listeners? Jagruti used politics as an example of how to do this: listeners aren't necessarily going to respond to a dry speech by Chancellor Phillip Hammond. But if you ask them whether they feel they will be richer or poorer post-Brexit, then that information has been transformed into the personal, into the sort of thing that people are talking about in the pub.
After the session in the Radio Theatre everyone moved into the Media Café for a chance for the students to ask the panellists as well as staff from Radiocentre and the BBC one-on-one about their backgrounds and experiences. Yasmin, Pandora, Asheesh, Keturah and Jagruiti all continued to give brilliant advice for the rest of the evening, sharing contact details in order to give further tips on how to get ahead in radio.
It was a huge privilege to listen into the thoughts and questions of such an intelligent group of young people at the radio masterclass. The future felt positive after hearing their views and Radiocentre looks forward to a continued partnership with Creative Access.