Young Audio Awards back for 2020
|
RADIOCENTRE NEWS Press Releases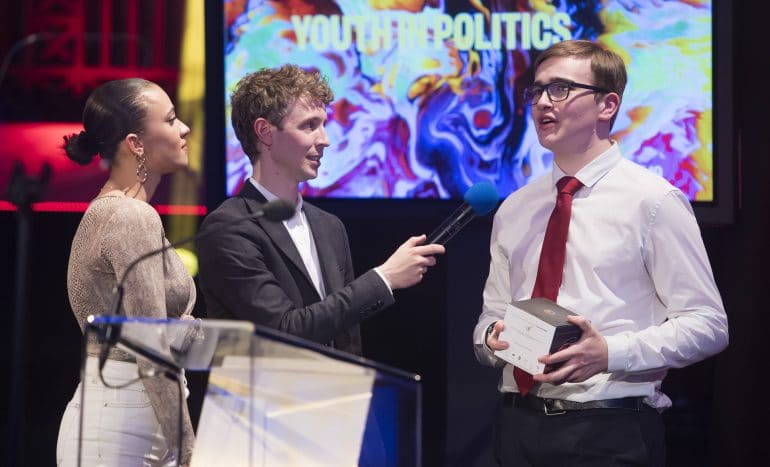 The Young Audio Awards, the national competition for under 18s to discover the next generation of audio talent, is returning in 2020 and entries open in two weeks.
The awards, which also recognise the work done by schools to encourage kids to discover audio, will open for entries on December 2nd. Judged by experts from across radio and podcasting, those lucky enough to be nominated will be invited to an exclusive award ceremony at the iconic BBC Radio Theatre in Central London in March. These future stars of audio will meet today's top names in radio and winners will pick up inspiring prizes including shows on national radio, mentorships at radio stations and new audio equipment for their school.
Stars from KISS and BBC Radio 1 will be Ambassadors for the 2020 event, promoting the awards, talking about them both on air and on social media. The awards will be supported on-air across BBC Radio 1 & 2, commercial radio and podcasts.
The Young Audio Awards are open to school radio stations, podcasts, homemade audio projects, community radio contributors and DJs, and provide young talent with a chance to gain exposure to, and a better understanding of, the audio industry. This year there will also be two new categories: Best Podcast and Best News, Sport & Documentary, in partnership with BBC Young Reporter.
Winners of the 2019 competition, then called the Young ARIAS, were handed their prizes by radio stars including Sara Cox, Reece Parkinson, Swarzy and others, with live music on the night from Tom Grennan. They have since been given the opportunity to try their hand at presenting a national radio show on Fun Kids, received mentorship from famous radio presenters and toured BBC Radio 1's studios. They were also invited to a very special event at Parliament where they got to meet some of their favourite radio presenters.
Launching today during Creative Careers Week, a new week-long event which will see hundreds of employers from across the creative industries opening their doors to young people to inspire and inform the next generation of workers. Arqiva, BBC Sounds, Broadcast Bionics, Fun Kids and Schoolradio.com are returning as sponsors.
William King, who won the Best Factual category this year, said: "Winning in the first year of the Young Audio Awards was a dream come true for me. I don't live near a large city with a big media industry, so the YA's have given me the opportunity to start building a network, host a show on national radio, and continue building on my skills. It's given me the confidence to pursue my dream career and I'd highly recommend anyone making audio to enter."
James Purnell, Director, BBC Radio & Education, said: "We want to encourage young people from across the UK to take part and show us what brilliant and captivating audio content they can create. These awards are a launch pad for future stars and I'm delighted that we have joined forces with the commercial radio sector once again to shine a light on some incredibly talented and passionate young people."
Siobhan Kenny, Radiocentre CEO, said: "The memory the last Young Audio Awards still gives me goosebumps. It was so amazing to witness the sheer joy of 200 excited under 18s, not to mention the incredible budding radio and audio talent on display. I hope everyone will get busy entering for the chance to be part of the audio revolution."