Matt Payton
28 September 2023
Stronger than ever: a landmark year for commercial radio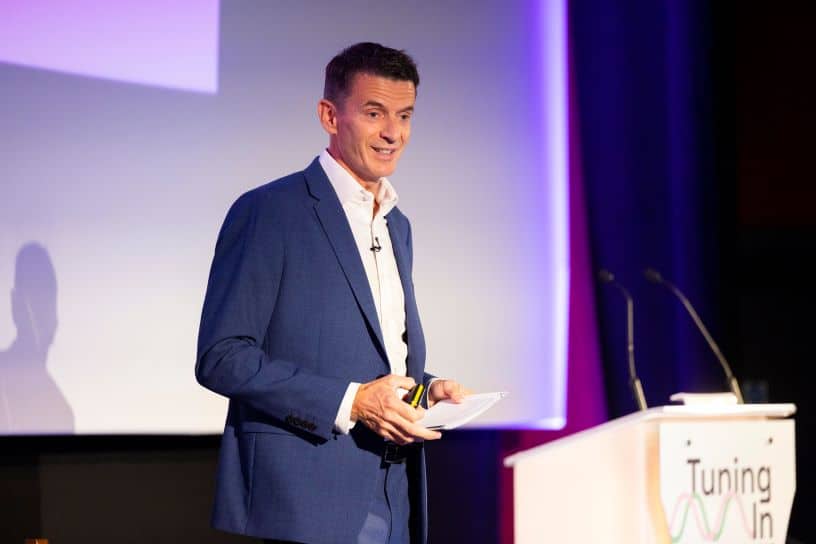 As published on Radio Today
Just over a year ago I had the privilege of taking over as Chief Executive of Radiocentre. It's a fantastic job, working with brilliant and interesting people, representing the innovative UK commercial radio sector.
Since taking on the new role a few people have been asked me if I've enjoyed a bit of a honeymoon period. I was reminded of this when I heard an interview recently with Ange Postecoglu, the new Tottenham Hotspur football manager. He was asked a similar question and his response was "Look, I don't know what your honeymoon was like, but mine certainly wasn't anything like this! It was actually quite relaxing".
Now I'm not usually in the habit of comparing myself to Premier League football managers, but that struck a bit of chord with me for some reason, because while the last year has been many things it certainly hasn't been relaxing!
In fact, it's been a year of real landmark moments for commercial radio and for Radiocentre. Not only have we been celebrating 50 years since the first commercial stations went on air, but we have also marked new milestones in audience, revenues and in shaping the future. Radiocentre has been changing too, reflecting the focus of our members, beyond traditional radio. At our Tuning In conference, I took the opportunity to reflect on some of these milestone moments of the past year.
Marking 50 years
The most obvious milestone we wanted to acknowledge was of course that 2023 is the 50th anniversary of commercial radio in the UK. The first legal commercial stations – LBC and Capital – were launched in October 1973. We owe so much to those early pioneers who founded, ran and presented on these stations, along with the services that followed across the country. Without them we simply wouldn't be where we are today.
We've thought very carefully about the best way to honour that legacy, but reflect the industry as it is today. We have to acknowledge that most of our audience wasn't even born back when those first stations were launched. As a result, our main focus has been on celebrating the success of commercial radio and its growth and innovation over the years. It's amazing to think how far we have come since those early days of highly regulated, full-service radio stations, broadcasting to a captive local audience.
So we held a celebration in parliament to mark the 50th anniversary, but we also published our new report, called Stronger than Ever, looking at where we are today; where we aspire to be in future; and what needs to happen next. While we're never complacent, there's a real confidence behind this stronger than ever message, as it genuinely reflects the data on where we are as an industry.
Record revenues
Despite unprecedented competition and disruption, commercial radio has had an extraordinary run over the past ten years. Advertising revenues bounced back strongly after the pandemic, reaching a new high of £740 million in 2022. While digital audio advertising also grew to a new record of £186 million. Looking ahead, we know that the overall ad market remains under pressure, reflecting the broader economy. That's one of the reasons why Radiocentre continues to support advertisers and commercial teams with effectiveness evidence, including new tools and insight for clients.
We understand that planning media campaigns is an increasingly complex and data driven exercise. So Radiocentre has focused on providing new tools to help with this. Including the award-winning Radio Planning Optimiser and the recently launched Audio Need-states Navigator.
Record audiences
Thinking about audiences more broadly, we also know that listening remains incredibly strong overall, hitting new milestones every quarter. In live radio alone, commercial radio now reaches a record weekly audience of 39 million people. While its share of listening time versus the BBC has never been higher, currently standing at 54.5%.
At the same time, we know that competition for listening is intensifying. With other types of audio, like podcasts and music streaming, growing in popularity all the time. But for advertisers who are considering the best way to use audio, it's also worth remembering that radio represents by far the biggest proportion of commercially accessible audio hours. By that I mean hours where you can actually buy advertising, including non-BBC podcasts free streaming services; and commercial radio. With commercial radio accounting for 84% of these hours, you can see why it remains the centrepiece of those audio advertising campaigns that deliver the biggest impact.
Nevertheless, the way people are listening to radio and audio is changing. In the case of live radio we've seen a surge in online listening over recent years. This has more than doubled since 2019 and is also at record levels, now accounting for 25% of all listening hours.
What's driving this? Well, we know that there is a clear correlation between this rapid growth in online radio listening and the growth of smart speakers, like the Amazon Echo. We've only had official audience data on smart speakers since the start of last year, but it already accounts for the majority of online radio listening, generating more listening hours than mobile and other IP connected platforms put together.
Smart speakers and the Media Bill
In some ways this shift in listening should come as no surprise. According to RAJAR MIDAS, the vast majority of listening time on these devices (around 70%) is to live radio. But this shift in behaviour creates both opportunities and risks. For example, in many ways radio has embraced the opportunities and potential of partnerships with companies like Amazon. Providing more choice and functionality for audiences, while also looking at new ways that connected listening can help create more sophisticated advertising solutions, including more targeted and actionable ads.
But there are also clear risks, if radio becomes too reliant on third-party tech platforms to reach audiences. That's why we've been asking Government to set ground rules on how radio is offered, accessed and commercialised in future. We still have a long way to go to achieve this, but earlier this year, following some intensive lobbying led by Radiocentre, the Government published its draft Media Bill. This also felt like a big milestone in the battle to secure the future of UK radio online, as it includes specific powers to support radio's place on smart speakers and voice assistants.
We're now working to try and turn this draft Bill into reality, which won't be straightforward given the limited amount of parliamentary time between now and the next General Election in 2024. But the good news is that politicians and civil servants instinctively get it. They understand that UK radio is trusted by audiences and provides real public value, which they don't want to lose. However, we also know that passing a draft Bill into law is a marathon, not a sprint, so we're taking nothing for granted.
Role of Radiocentre
The final landmark moment I wanted to highlight is a bit closer to home, but also reflects some of the shifts I've been describing. When I was appointed as CEO last year, I said that Radiocentre couldn't afford to stand still. We couldn't just keep telling the same story. Don't get me wrong, it's a good story. We punch above our weight in demonstrating the value of radio and we have a team of highly committed, talented and respected people.
Our mission and strategic focus is also really clear. We're here to get industry influencers and decision-makers to See Radio Differently, by demonstrating effectiveness, highlighting innovation and representing the sector. However, in doing this we wanted to make sure we were fully reflecting the exciting changes happening in the world around us. So as part of our Action Plan report we set out a formal change in Radiocentre's remit, to represent and promote all forms of audio provided by commercial radio.
What does that mean in practice? Well just look at our recent and future work. In particular, our thought-leadership and research output, including our Generation Audio research; our Audio Need-states Navigator tool; and our new project with System 1. All of these are focused clearly on radio but are presented in the context of the broader audio world.
Similarly, our policy work (especially on the Media Bill) is all about securing radio's future online. While our clearance team now offer advice on digital audio scripts, not only those on broadcast radio. In addition, our marketing and events, like Tuning In, continue to have radio at their heart, but also now reflect the leading role of commercial radio in digital audio and podcasts.
As a result, we had a great line-up of speakers at Tuning In whose sessions all related in some way to our main strategic pillars, including creativity and effectiveness; evolution and innovation in audio; as well as the broader operating environment. Our job for the next year is to continue thinking about these issues, both from the perspective of radio and audio more broadly, in keeping with our new remit.
Matt Payton
Radiocentre CEO