School students discover audio careers with Radiocentre and The Global Academy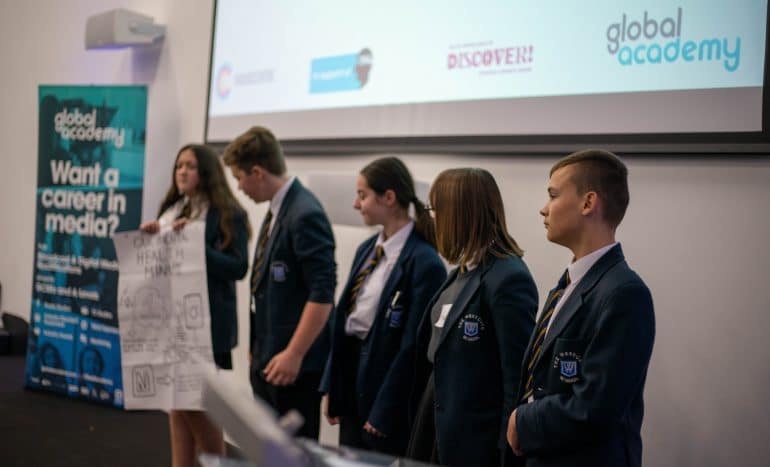 Radiocentre teamed up with The Global Academy for a day of inspiration for secondary schools, showing students the many routes into a media career and the opportunities available to them.
Speakers from advertising and radio came to present to students from four local secondary schools. Global Academy sixth formers were also on hand to offer their support and lead brainstorming sessions.
The day was part of an exciting new initiative led by the Creative Careers Programme. The first ever Discover! Creative Careers Week started this week, with more than 500 organisations offering young people the chance to learn more about careers within the creative industries.
Mediacom's AV Associate Director Mesha Williams, and Anishka Sharma, Senior Editor, Head of Arts and Factual at Whistledown Productions, were interviewed by Radiocentre's Head of Marketing George Butler, to discuss their own paths, from student media to interning during the recession, as well as explaining the range of roles in the industry.
Mesha advised: "Never give up. If you get a no, try again. Even if you get told no nine times, the 10th application could be a yes. It takes a lot of character to be able to realise that it's not you. If you don't get that job, or that work experience, it just wasn't your time. That time will come, you just need to persevere."
Anishka added: "My main route was through saying yes to pretty much every opportunity. When I was at university, I was part of the radio station, but I also did work with the TV station because I didn't want to narrow my focus, even though I knew I loved radio. It's all transferrable skills."
Both were then joined by Capital XTRA's Shayna, who provided insight into live in front of the mic – including the less social hours of hosting a breakfast show!
Offering career suggestions as well as routes into the media industry, the panel answered questions ranging from how to avoid running out of creative ideas, to whether university is the only route into a creative career. Shayna gave her top three tips for a career as a radio presenter, saying: "It's very important to just be yourself, and to know yourself, and to portray yourself as well.
"As a presenter, with a forward-facing job, that's what you're presenting: you. Know your field as well – whatever you're going into, whether it's radio presenting or music producing, know what field you're in so you can be the best in it. And be nice to everyone! Not just because anyone can help you on your way, but also because being a nice person is a good thing to be."
As well as learning more about careers in the creative industries, the students were able to pick up other skills throughout the day, including teamwork and presenting. The educational outing also included a pitching competition based on Radiocentre and The Royal Foundation's Mental Health Minute, which saw groups of six students planning ideas for the 2020 broadcast and what content they could produce to promote it.
To help with the competition, audio agency Radioville's Managing Partner Sean Carnegie gave the audience pitching tips. Sophia Sullivan, Digital, Marketing and Communications Manager from The Royal Foundation also provided inspiration by outlining how HRH The Duke Of Cambridge's charity works with Radiocentre on the Mental Health Minute, and explained more about the foundation's Heads Together initiative and the free crisis text service Shout, launched earlier this year.
Student groups presented their ideas to a panel comprised of Sean, Sophia and Radiocentre CEO Siobhan Kenny.
Presentations included using drivetime radio to reach the right listeners, a giveaway competition, podcasts, fundraising, live music events, and even the reformation of a broken up band, with some students also sharing their personal experiences with mental health.
Ultimately, the winning group's idea was to run a music event with artists who had spoken about the importance of mental health, with all three judges praising the group's use of music in their presentation.
The whole day was also filmed by one of The Global Academy's students, Will Blackburn. Watch it below now:
Siobhan Kenny, Radiocentre CEO, said: "All of us at Radiocentre are blown away by the next generation of audio talent that is out there. We can't wait to see what this year's Young Audio Awards delivers. This was an inspiring day and I hope it has given all the students a clearer perspective on the many creative careers available in media."