Radio's triple win at the Campaign Big Awards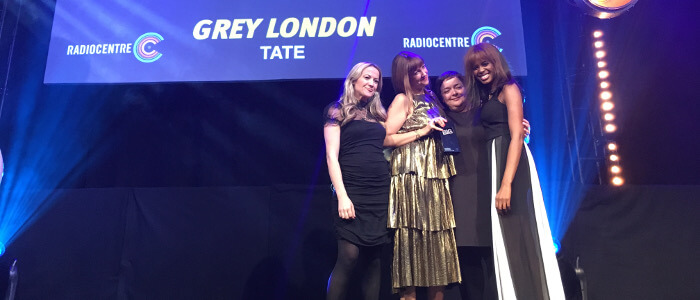 Two radio ads have won three awards at the 2017 Campaign Big Awards.
The awards, which honour the best commercial creativity and agencies in British advertising, took place at Old Billingsgate Market and for the first time featured a 'Best of the Best Radio' category, which was won by Grey London for their ad Gin Lane for Tate Britain. The ad, written by Tracey Emin, also won in the Sport, Travel and Leisure Category. It brings to life Hogarth's famous painting featuring 'Judith', voiced by Imelda Staunton, telling her own story in a striking and powerful monologue.
AMV BBDO's radio spot Keys – Nice Problems to Have won in the Media & Entertainment category. The ad, written by Paul Burke, spins a lottery win on its head listing the many places you might lose your keys having won the lottery. It is the first time a radio ad has won at the Campaign Big Awards since 2013.
Campaign's Global Editor-in-Chief, Claire Beale said: "I love the fact that radio had a real presence on the Big Awards stage this year. There's been some really strong work in the medium this year and it was great to see that recognised and rewarded. Hopefully this will inspire more great work and more winners next year."
Radiocentre's Client Director, Lucy Barrett said: "The truth is, writing for radio is not for everyone. Only those with real talent get it right. A beautifully crafted radio ad will always stand out on air and it is great to support the Big Awards and see three radio winners getting the recognition they deserve within the industry. This haul for our medium signals the improving quality of radio work we have seen over the last couple of years, championed by Radiocentre."
Radiocentre was a partner of the Campaign Big Awards and also run the monthly Aerial Awards in partnership with Campaign which celebrate the best ads on air each month. To enter your work and see the winners, go to www.aerials.co.uk
Hear the two winning ads here:
Gin Lane by Grey London for Tate Britain
Keys – Nice Problems to Have by AMV BBDO for Euromillions