Radiocentre takes Silver at Media Week Awards 2019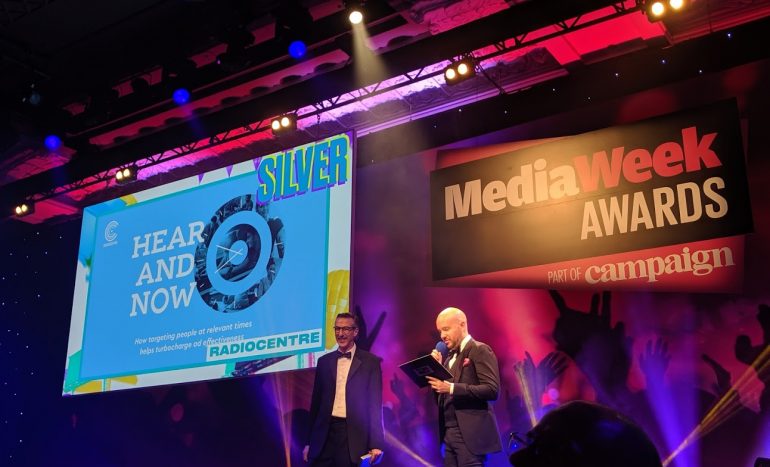 Radiocentre was awarded Silver in the Trade Body Research category at the Media Week Awards for Hear and Now.
The research study, carried out with Neuro-Insight, demonstrated how targeting audiences as they carry out relevant activities can significantly boost the impact of advertising effectiveness in engagement, memory encoding, and recall. Thinkbox's research, The Age of Television: How Revealing our Video Needs Revealed TV's Bright Future, took Gold.
Mark Barber, Planning Director, said:

"Hear and Now is playing an important role in shifting perceptions of radio's targeting credentials. It's great that this success has been recognised by the media industry with this award."
Media agency M/SIX won Gold in the Best Use of Audio category, which was sponsored by Radiocentre. Their campaign for Toyota Hilux "You'll be fine", had also previously won an Aerial Award for its well-scripted drama, transporting the listener into a zombie apocalypse.
Best Use of Audio recognises innovation, creativity, planning, use of data and consequent business results through having an effective and smart audio strategy, with the judges looking for examples that creatively and intelligently use the medium and put ambitious use of audio at the heart of a campaign. Carat UK took Silver for their campaign for Kellogg's Corn Flakes "Turning the nation into cereal daters" and Acast and Blue 449 went home with Bronze for "Introducing Acast's first ever… comedy partner!" on behalf of iD Mobile.
The big winners of the night were Manning Gottlieb OMD, who were crowned Media Agency of the Year, and ITV, who won Sales Team of the Year and featured in several other categories.
View all the winners on the Campaign website.