Radio Bite: Get your motors running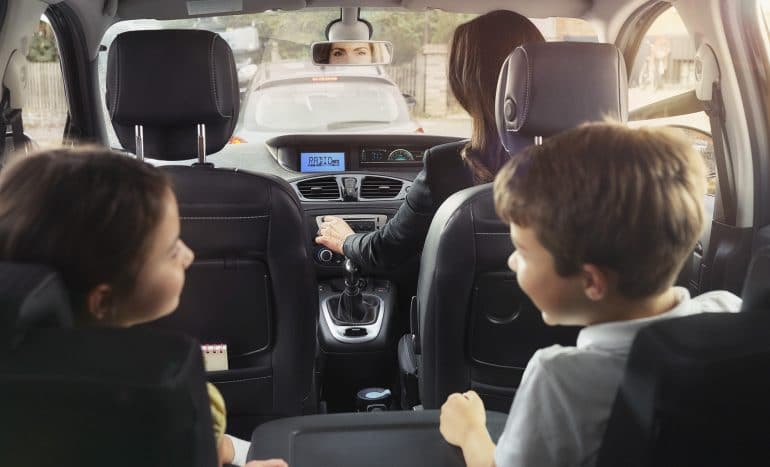 Radio is a powerful and often underutilised platform for advertisers. During these unprecedented times our Radio Bites series will give compelling reasons for brands to continue to be heard on the airwaves and why consumers will be listening.
The automotive category is complex: unlike fashion or other retail sectors, even though people regularly use the web to research cars, purchase cycles are longer and people rarely buy online. However, 35% of listeners exposed to radio campaigns are more likely to browse advertised automotive brands. The highest motors performer in our research achieved an 87% uplift – well above the average.
With radio, automotive brands have the opportunity to reach people while they are driving or travelling in-car – 78% of media time when travelling in car is spent listening to live radio and radio reaches 56% of in-car journeys, according to IPA Touchpoints data. We already know from previous Bites that reaching people during related activities improves ad engagement by 23% as a result of the ads being more personally relevant.
Radio has a significant uplift effect across all metrics for automotive brands – our ongoing effectiveness research study Radiogauge underpins how radio improves on awareness, brand relevance, and consideration.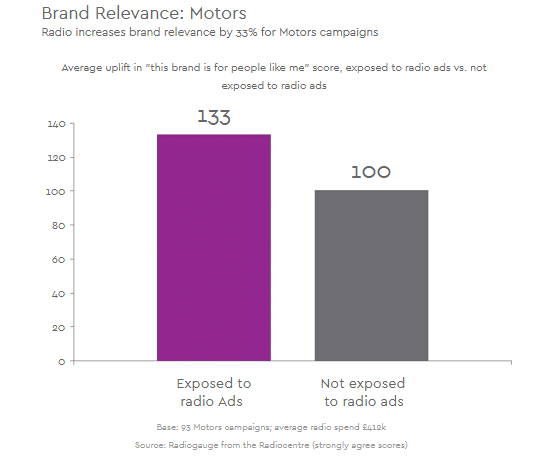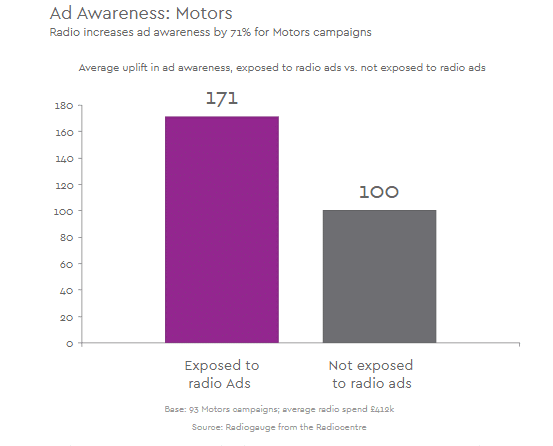 The ROI for auto brands on the radio is also strong, with previous research showing that it had an average ROI of £6.00 across 42 campaigns. It's no surprise that it's been one of the top sectors advertising on radio for over 20 years.
Radiocentre's Tuning In: Automotive webinar will explore how radio can help the sector recover post-pandemic, with speakers from across the motoring and media worlds. It's free to attend and tickets are available now. Sign up here.