Radiocentre News
11 June 2020
Pent-up desire to spend will benefit short-term bounce back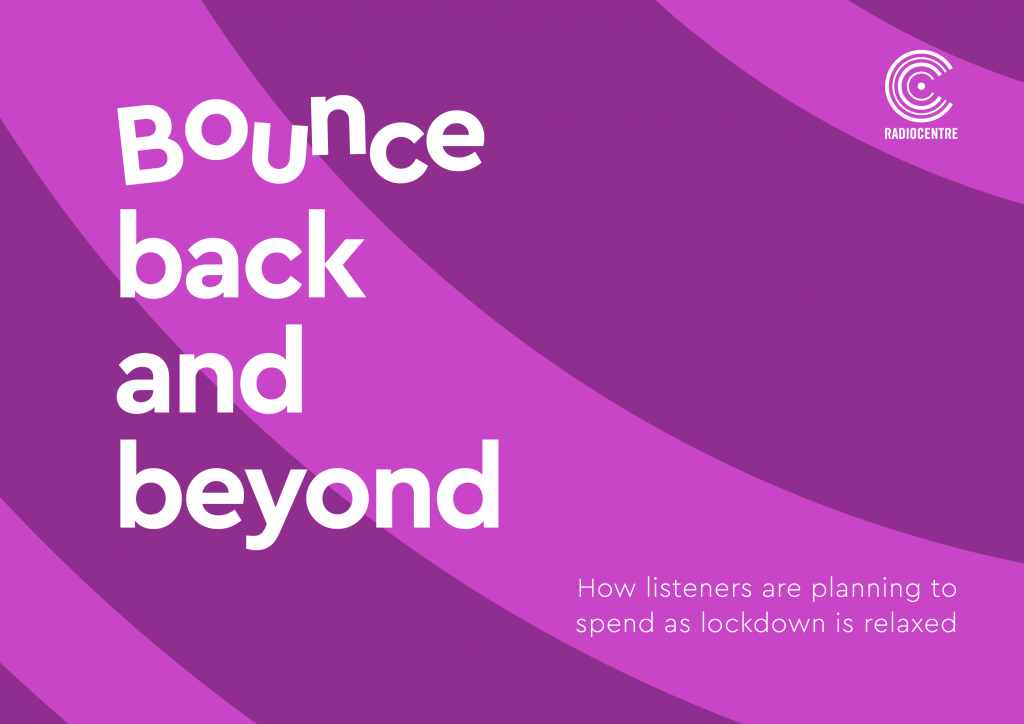 With shops preparing to re-open their doors, car dealerships back in business and some limited leisure activities available to the public, a consumer spending bounce-back can be expected, according to new research published by Radiocentre.
A new report from the industry body for commercial radio, Bounce-back & Beyond, explores how radio impacts decision making across different groups of listeners, and what audiences are most keen to spend on. Activities that have been most impacted by the lockdown, such as eating out at restaurants or socialising in bars or pubs, and travelling both within in the UK and abroad, top the list of things respondents are looking forward to spending money on again.
But when asked whether they will be spending more or less than before lockdown, people's priorities change significantly. More than half of respondents (53%) are looking forward to spending money on going to restaurants, but when asked how much they would be spending compared to pre-lockdown, the predicted net increase in spending on restaurants (4%) was much lower than on domestic travel (31%) and DIY & gardening (19%), suggesting a more pragmatic outlook with most spenders.
Similarly, longer-term spending intentions are less extravagant, with fewer people intending to spend more across the board. Sectors that buck this overall pattern suggest a trend towards more practical, home-centred lives reflected in spending intentions relating to DIY & gardening, groceries, and domestic travel.
Research agency DRG spoke to more than 1,000 nationally representative commercial radio listeners. The analysis focused on three groups within this: the newly WFH, key workers, and newly at home (but not working). Having spent much more time indoors than prior to lockdown, those identified as newly working from home are more likely to increase spend on social distanced purchases and to decrease spend for social mixing activities, potentially as a result of becoming used to their environs, or developing a fear of going out. The large increases in spending predicted in furniture (50%) and technology (36%) for this group could be due to setting up a home office in the expectation that working from home will become the norm.
On the other hand, key workers who have been out on the frontlines and as a result are more psychologically immune to concerns around social mixing are due to increase their spend in that area in the short term, with 25% expecting to spend more money on outdoor entertainment.
Radio plays an important role in purchase decisions, particularly among the Newly Working From Home group. Radiocentre's previous research, Staying Connected During the COVID-19 Crisis, showed that 38% of commercial radio listeners were tuning in for an extra hour and 45 minutes each day during lockdown, with the uplift driven largely by those newly WFH. In this new study, the newly WFH group were also found to be more receptive to, and influenced by, radio advertising. While 34% of respondents agreed that they often search for more information on products because they heard them advertised on the radio, this figure rose to 44% for the newly WFH.
Similarly, the amount of respondents who said radio advertising gives them ideas on what to spend money on was 39% for those in the newly WFH group, compared to 29% in total; and the percentage of those agreeing that they had bought things in the past because they heard them advertised on the radio rose from 28% for the full group to 35% for the newly WFH.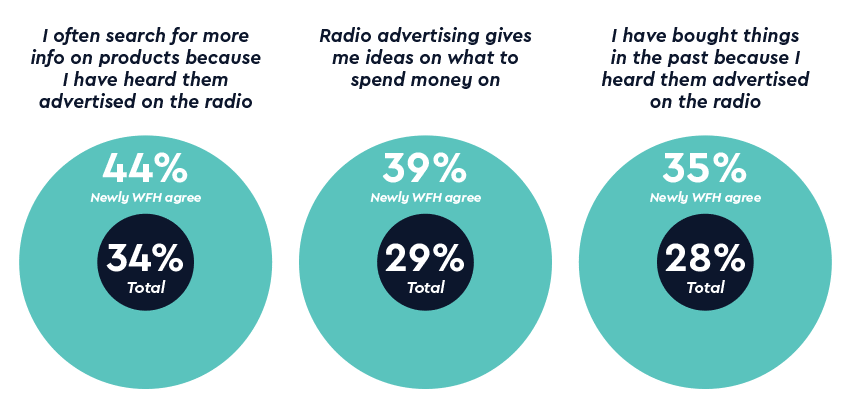 Mark Barber, Radiocentre Planning Director, said: "With many companies currently exploring how – and whether – to return to the office as lockdown eases, those of us working home may continue to stay where we are. Radio provides a great opportunity for brands to have their message heard by this huge, captive and receptive audience."
Radiocentre is providing a full PowerPoint presentation of the new research via its website, to make it easy for people to add relevant facts to their own decks.  A pdf of the research is also available to read now.