Radiocentre News
8 February 2023
Matt Payton speech on Media Competition and Regulation in the Digital Age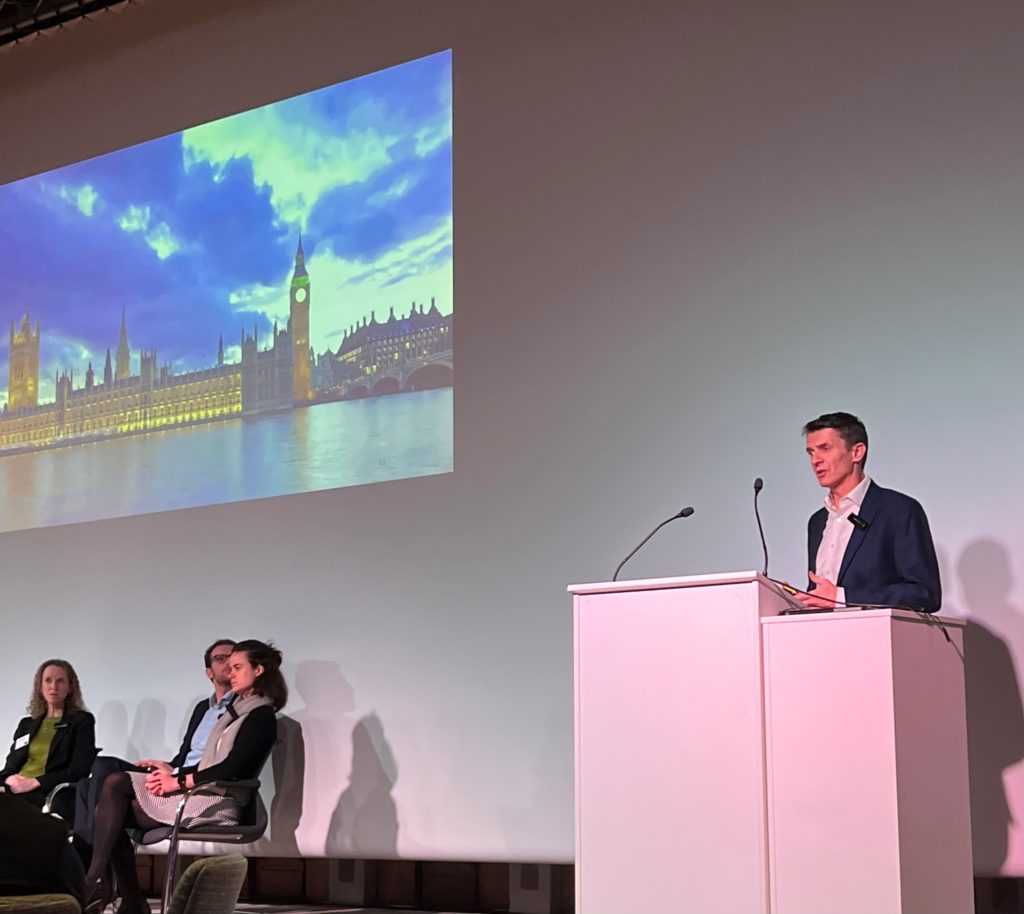 This is a version of a speech delivered by Matt Payton, Radiocentre CEO, at the Compass Lexecon/ Geradin Partners conference on Media Competition and Regulation in the Digital Age on 8 February 2023
Good morning everyone. I'm here today as Chief Executive of Radiocentre, the industry body for commercial radio in the UK. At Radiocentre we're the voice of commercial radio. We represent broadcasters of all shapes and sizes, who provide a huge range of music, news, information and entertainment.
Commercial radio, as the name suggests, is almost entirely reliant on advertising revenue generated by its radio and audio services. Enabling it to provide a broad range of content for audiences – and providing advertisers with the opportunity to connect with these audiences in a trusted and brand safe environment.
Radio remains incredibly popular in the UK. Despite the explosion of media and entertainment options, radio listening is at record levels with 50 million people (or 9 out of 10 of us) tuning in each week, with new audio formats like podcast and music streaming playing largely complementary roles so far.
The enduring strength of radio is also clear from the growth in advertising revenues for commercial radio over the past ten years. Radio ad revenue is still relatively small compared to TV or online, but it's bounced back strongly after Covid and is now ahead of pre-pandemic levels.
Of course, we're in no way complacent about this and the future is definitely uncertain, but the broader point stands. Radio has been remarkably resilient and adaptable, despite unprecedented competition.
This success has been possible through a combination of significant investment in content, new services and talent; clever marketing and a shift toward national brands that have even greater resonance with audiences and advertisers; and crucially, the widespread distribution and coverage of radio, which is free at the point of use, available on multiple devices and in different locations.
It is this last point that's particularly relevant for our discussion this morning, given radio's increasing reliance on online platforms and connected devices to reach audiences.
That's because what we've seen in recent years is a surge of radio listening online and on digital platforms, opening up new opportunities in radio and audio.
Although most radio is still consumed on broadcast platforms (like FM and DAB), the share of listening on connected devices has practically doubled in the last 3 years. Online platforms now account for around a quarter of all listening time to live radio.
Of course, radio stations have been available online for many years, but better internet connectivity and technical innovation, as well as changing habits post-Covid, have really started to shift behaviour.
It is widely accepted that the biggest single change has been the launch and growing popularity of smart speakers, like the Amazon Echo and Google Nest. It is estimated that more than 50% of UK homes now have at least one of these voice-activated devices and in many cases they're ultimately being used as clever radios.
The radio industry only started measuring smart speaker listening separately in 2022, but it already accounts for the majority of listening time on connected devices. Making up around 14% of total listening share.
This shift towards online listening is expected to accelerate even further in the next few years and not only on smart speakers. That's because around quarter of all radio listening takes place in cars.
This environment is also changing rapidly due to the growth of connected cars, with over 60% of new vehicles globally expected to be internet connected in 2023. This is a fundamental shift, which turns an in-car audio system into a connected entertainment and control hub.
The days of new cars with a simple radio button and six station pre-sets is certainly a thing of the past. Instead, cars are developing new interfaces, some of which integrate directly with platforms like Apple CarPlay or Android Auto; others which use proprietary systems that might have broadcast and IP; and some that might not have a radio tuner at all.
What all of this illustrates, is that advances in technology and consumer behaviour clearly present both opportunities and risks.
For example, there are a number of clear benefits for audiences and radio broadcasters from more listening on connected devices. It undoubtedly means that consumers have more choice than ever. It also provides broadcasters with a greater ability to offer new services and content, without the limitations of the broadcast world. This choice, along with ease of use, helps radio to remain relevant – and supports audience reach on new devices. The added prospect of richer audience data can also help support an enhanced consumer experience and potentially provide a better advertising yield.
Crucially, this new lease of life for radio on connected devices also supports its public service role, as force for good in society. Providing trusted news and information, as well as entertainment and companionship for millions.
However, there are also a number of potential risks or problems that are a cause for concern. These risks generally stem from the power of platforms as an intermediary or gatekeeper to UK radio content, both commercial and BBC. This raises serious questions about the future.
For example, will the platforms consider charging for carriage? And how would they do that? Will domestic UK radio content be findable, discoverable and served to audiences when they ask for it? Or will users be pushed to music streaming services operated by the platforms, through so called self-preferencing?
And will the integrity of radio content be respected, or will there be a move towards unauthorised ad insertion or ad replacement, undermining the business model and viability of commercial radio? That's even before we even consider the question of access to audience data generated by radio services.
While these risks are real, I should stress that so far, on balance, there have definitely been more benefits than problems. That's because of some great partnerships with companies like Amazon and Google.
However, we don't know how this market will develop. Especially as connected radio listening becomes more important for us and potentially less important for the platforms. So the radio and audio sector has been seeking safeguards for the future.
At European level there has been some progress and first steps. The Digital Markets Act confirmed that voice-assistants were in scope as a core platform service, meaning that designated platforms will need to comply with its obligations. This includes welcome powers to prevent self-preferencing, along with greater access to data and barriers on platforms using our data to develop competing services. All of which are welcome.
But the process of designating voice-assistants under the DMA is not yet complete and its impact on UK businesses unclear.
So once the Digital Markets Unit has been granted it full statutory powers in the UK, we think it should move quickly to develop similar safeguards, with an early set of conduct requirements covering voice assistant platforms.
But not everything will fit neatly within the DMU remit. That's why we've also been advocating changes to support the availability and access to radio as part of the Media Bill. We think this can be done simply and effectively, by adapting some of the provisions that support the carriage of PSB television and applying this to voice assistant platforms. Supporting free access; integrity of service; and ensuring the findability of UK radio.
This initially seemed to be put in the 'too difficult' box by the Johnson Government in its Broadcasting White Paper last year, but we've since had really strong support from Ministers, officials and politicians of all parties. And I think it's fair to say that the case for securing radio's future online has now been made and is largely accepted.
We just hope that continues following the latest changes to Government departments and responsibilities. That's important as we can't afford to wait much longer, as the audio market continues to 'tip' towards even greater dependence on the platforms.