Keeping the nation smiling: the week in radio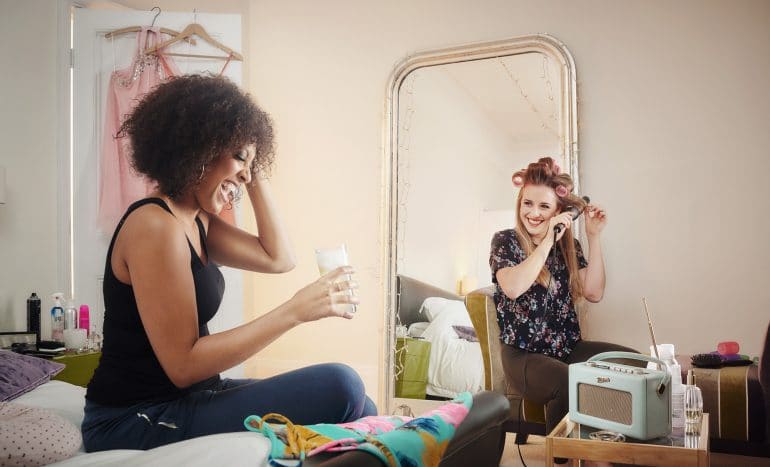 We're currently living through challenging times. Whether you tune in for the news, entertainment or a bit of companionship, it's never been more important for radio to support its listeners.
You might be working from home, social distancing, or on the frontlines. Radio offers audiences a few moments of distraction, a voice in the room, and a bit of joy in a time when it's needed more than ever. Some good songs, funny content and a few moments of collective positivity can all have an impact on your day.
Every week, we round up some of the best moments in commercial radio from the last seven days for your enjoyment. Whether you caught them live or want to listen back, check them out below.
Mount Rockmore
All this week whilst Toby Tarrant cover's the Chris Moyles breakfast show for 2 weeks, he has been talking about creating the UK's very own Mount Rushmore with the biggest rock stars, Mount Rockmore, and has been asking the listeners which rock legends deserve to have their faces featured. With the polls running on Twitter, the semi finalist's will be announced soon.
Who's getting the last places in the semi finals? Get your #MountRockmore votes in!

— Radio X (@RadioX) August 21, 2020
United across Asian radio
A special six-part series, 'Monty Panesar In Lockdown With', supported by the Audio Content Fund, has been broadcasting on various Asian radio stations in the UK. Former England cricketer Monty Panesar speaks with some of the most notable members of the Asian community, offering insights into their lives. Last Sunday Monty chatted with former Eastenders star Nina Wadia on Asian FX.
#Eastenders vs. #GoodnessGraciousMe according to @Nina_Wadia ? .. listen to the full interview this Sunday @ 1pm on #AsianFX!@MontyPanesar in Lockdown with Nina Wadia

Produced by @AudioAh
Funded by @AudioFund @Radiocentre pic.twitter.com/9e5OssAVZt

— ????? ?? ????? (@AsianFXRadio) August 11, 2020
Little Quiz
Celebrating 9 years of Little Mix, Heart arranged a Little Mix quiz with the girls playing along. Can you believe Jesy couldn't remember how many #1's they've had!?
Celebrating our faves @littlemix with a lil Lockdown Quiz! Play along with the girls and tell us how you score! ? ?#9YearsOfLittleMix pic.twitter.com/2YkiauhUBh

— Heart (@thisisheart) August 19, 2020
Breaking Bread
Absolute's hometime host Richie Firth chatted with Breaking Bad's own Bryan Cranston about bingeing Tiger King, recovering from COVID-19 and his new skill, baking sourdough bread!
The man, the myth, the LEGEND @BryanCranston just spoke to @RichieFirth on Hometime about how he's gone from Breaking Bad to breaking BREAD! ? pic.twitter.com/d9WmkkSy3X

— Absolute Radio (@absoluteradio) August 20, 2020
Fesity one you are
Jordan and Perri have been thoroughly entertaining us with their new breakfast show on KISS but poor Perri has been receiving a lot of insults, this time from a caller. The listener, a newly converted KISS listener, claimed Perri sounds exactly like Will from the Inbetweeners, although now he's mentioned it…
If you close your eyes, Perri sounds just like Will from The Inbetweeners right?! ?

#KISSBreakfast with @Jordan_Banjo & @perrikiely back tomorrow from 6am! ? pic.twitter.com/7iQo5wZd3t

— KISS FM UK (@KissFMUK) August 20, 2020
20 years later
Danny Mylo, presenter at Pulse is celebrating his 30th birthday and what better way to bring in the next decade than on-air embarrassment. Danny's co-host Rosie Madison has shared this video of Danny DJ'ing when he was 10 years old, it's safe to say he was meant for radio.
? The video @DannyMylo NEVER wanted you to see!
Thanks to @RosieMadison we can all enjoy it!! ???

Happy 30th Birthday Mylo! #pulse1 pic.twitter.com/74imSnwJpI

— Pulse 1 (@Pulse1Radio) August 21, 2020
Has your station launched a new segment, had someone interesting on a show or done something else great this week? Let us know by contacting coral.williamson@radiocentre.org