How L'Oréal's Hugh Pile rocked it on radio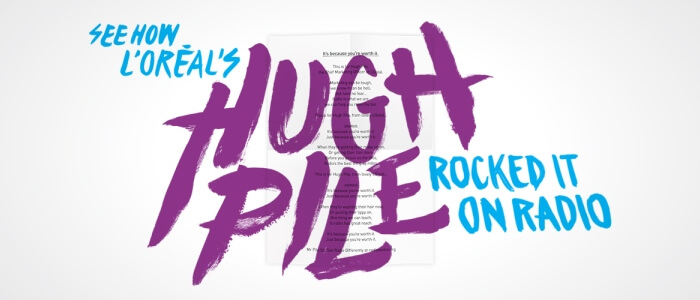 New Radiocentre ad reminds L'Oréal's Hugh Pile that Radio Is Worth It
L'Oréal's CMO High Pile is targeted in the next execution of Radiocentre's bold marketing campaign which makes famous marketers the focus of a song in a radio commercial.
The new ad, taking its inspiration from Indie Rock music, tells Pile that "Radio will help you raise the bar" and reminds him that radio has "great reach" especially when his target audience are washing their hair, or getting ready for a night out. The ad is part of a campaign, created by Lucky Generals, which launched in May with a hip-hop rap dedicated to Keith Weed, the CMO of Unilever.
All targets, including Pile, have been deliberately kept in the dark until the first spot aired to help demonstrate how radio advertising can create fame.
The 60" and 30" L'Oréal spot will run across national commercial stations including Absolute and Kiss. It will also run on a number of local stations around the UK. It ends with a call to "See radio differently at Radiocentre.org." The campaign is supported by outdoor, online, plus PR and social media. It also has a dedicated microsite at radiocentre.org
Last month Keith Weed name checked the campaign during his keynote talk at Cannes Lions International Festival of Creativity. The FMCG giant also created a rap back to Radiocentre performed by the PG Tips Monkey. The trade body's campaign to John Lewis' Customer Director Craig Inglis led him to respond by hinting on Twitter he would spend more money on radio in the future.
Radiocentre's client director Lucy Barrett says: "This campaign has had an amazing response so far. We know there are plenty of rational reasons why people should use radio but with this campaign we are going for a more emotional sell. It's July, so Hugh Pile may be on holiday for all we know but even if he is he will find out very quickly that radio is a powerful driver of fame."