Radiocentre News
2 March 2021
Here's what you missed at Tuning In: Advertising In Uncertain Times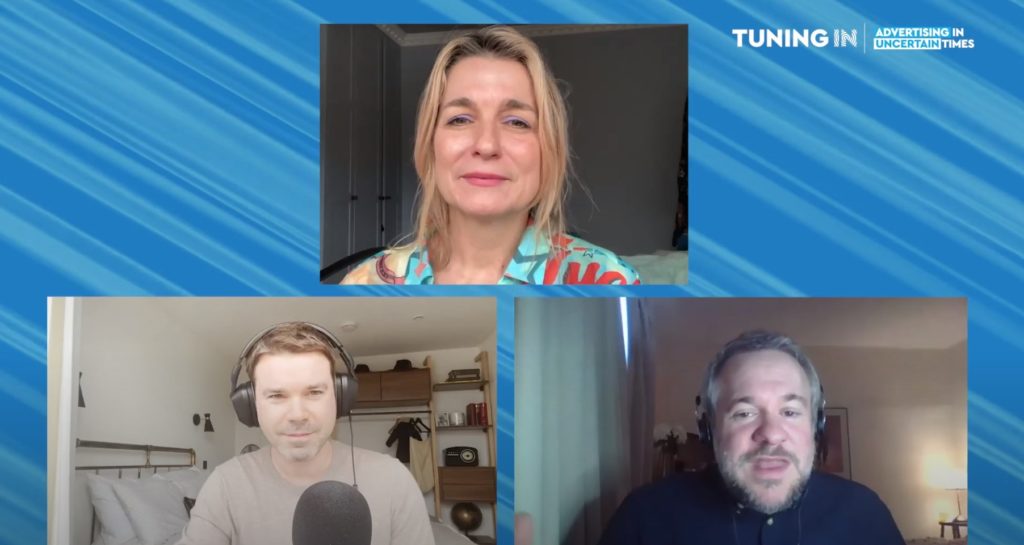 We live in uncertain and volatile times, but there are good reasons for optimism, according to Radiocentre Chief Executive Siobhan Kenny. Introducing Radiocentre's Tuning In: Advertising in Uncertain Times, Kenny told the audience that the worst of the pandemic may be behind us.
"We have a vaccination. We have falling infection rates. Schools are reopening on March 8th. I really think that we're heading in a great direction now. Let's hope that as an industry, also as a society, we can use this difficulty, use this disruption, to come out even stronger on the other side."
The event was hosted by Heart morning show presenter Pandora Christie and during the two hour event many famous faces alongside members of the public made appearances to thank the radio industry. After an open call for support, members of the public from around the UK joined Chancellor Rishi Sunak, Dame Judi Dench and Health Secretary Matt Hancock in the #ThankYouRadio campaign, launched at Tuning In.
David Miliband, former Foreign Secretary and president of the International Rescue Committee. A political overview in uncertain times.
Addressing the event from New York, David Miliband explored the main "contests" facing the world following the pandemic, such globalization versus localism, autocratic governments versus democracies and individuals versus corporations. He called for the regulation of "anti-social media," saying: "I see every day in the US the dangers from the current "anti-social" media. It seems clear that social media is a publisher and needs to be treated as such."
Absolute Radio breakfast show hosts Dave Berry and Matt Dyson, interviewed by Bauer's Lucie Cave, Chief Content Officer at Bauer Media.
The Dave Berry Breakfast Show host told the event that through all the disruption and uncertainty of the pandemic, listeners have been grateful for radio. "It's been a special time to do this job, because a lot of people have been grateful for you just being there. In our case, for them in the morning. And as we say, we are your friends on the radio and the people that are there have become our friends too," said Berry. Co-presenter Matt Dyson said "It felt better, us being at home, I think… it was like we were in the same boat as most of the listeners."
Cazoo – Maximising Performance in uncertain times. Lucas Bergmans, Cazoo's Brand Director. Sam Austin, Audio Group Director, Goodstuff.
Online used-car retailer Cazoo has created one of the most successful UK media launches of the pandemic. Founded in 2018 by Alex Chesterman, the entrepreneur behind Zoopla and Love Film, Cazoo worked with media agency Goodstuff to launch nationally on TV and radio in early 2020, just as the pandemic outbreak took hold. The brand navigated through the lockdowns and uncertainty and sold 10,000 cars in its first full year of trading – the pandemic year – with a turnover of £150m. Brand Director Lucas Bergmans said "Radio has played a key role in our launch plans, and we've been able to adjust and adapt really well both in terms of our creative and our media approach," he says.
Understanding life after lockdown – presenting original research from Global's Voice of the Nation study. Global's Director of Research and Insight Sarah Gale.
Couples are getting engaged again, families are looking to move home and holidays are being researched. A sense of optimism is returning, according to Global's Voice of the Nation study. Global has interviewed 12,000 people since March last year, working with research companies Dynata and Toluna. The latest research has strong lessons for marketers, who need to be agile, adaptable and engender trust. "Understand your audiences, follow their rhythms, and make sure you stay in tune with their needs," she said.
Radiocentre's latest research findings on radio listening during the pandemic. Lucy Barrett, Client Director and Kamilah Kamara, Insight Manager, Radiocentre.
New Ways of Working, New Ways of Connecting found nearly half the UK population has worked from home during lockdown and this is likely to continue for a large group of office workers for some time to come.
There has been a huge increase in radio listening among home workers during lockdown, with 40% of commercial radio listeners listening to an extra two hours a day. The DRG research shows that 83% of the work-from-home audience are aged between 35 to 54, 84% are in the ABC1 socio-economic groups and nearly two thirds own their own homes. Their incomes are 45% higher than the national average. Some 63% of this group have saved money since the pandemic began.  This is an attractive audience for advertisers and one that can be readily reached through commercial radio advertising.
An economic overview in uncertain times. Dr Linda Yueh, former BBC Chief Business Correspondent and Oxford economics professor.
Leading economist Dr Linda Yueh underlined the importance for brands of continuing to advertise as unemployment rises and national output stalls. "In the last recession from a decade ago, firms that spent… and importantly, didn't think about it as spending on advertising, but investing in advertising, in marketing, in R&D, actually did better than firms that cut, because they had positive associations with their products," she says.
How to stack the odds in uncertain times, Andy Nairn, Co-founder of creative agency Lucky Generals which has clients including Amazon, the Co-op and Yorkshire Tea.
Strategic planner Andy Nairn presented ideas from his new book Go Luck Yourself to show how marketers could improve chances of brand success by creating their own luck. Because this was a radio conference, he tapped into the world of music from Dolly Parton to Beyonce to demonstrate his points.
Damian Scragg and Theresa Vallejo, Veritonic – Using your voice in uncertain times.
Audio intelligence platform Veritonic, which advises brands on how get their brand tone right through audio channels such as radio, examined perceptions of supermarket brands during the pandemic. They found that supermarkets which made an effort to reflect the pandemic situation and adopted a sympathetic tone experienced a big increase in intent to purchase.
Laura Rogers, Global Creative Director Adam+Eve DDB
Laura Rogers, Global Creative Director of adam&eveDDB, explained in this session how she has learned from Phyllis Robinson, one of the founding partners of DDB. "Phyllis advises us to be different, but that's not where her advice ends. She goes on to explain the powerful collaboration between art directors and writers."
All sessions from the conference are available to view HERE, and for more information on how to ensure your brand bounces back, visit Radiocentre.org