Here's what happened at Tuning In Livestream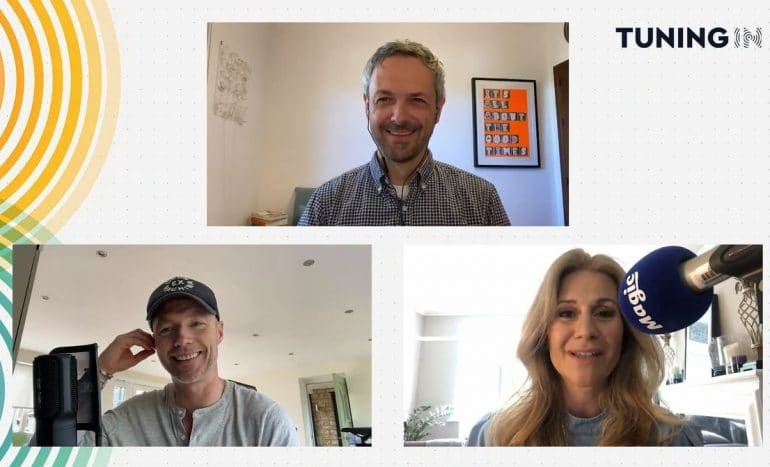 Over 1,000 people watched Radiocentre's unconventional Tuning In event yesterday morning. The unusual circumstances that left attendees swapping the seats of Leicester Square's IMAX theatre for the safety of their own sofa,  were highlighted at the start of the morning conference, by way of a montage showing how radio has been bringing people together and providing comfort and entertainment amid the coronavirus crisis and lockdown.
#TuningIn Livestream begins with a montage of commercial radio during the Coronavirus crisis. https://t.co/F4Do8sog18 pic.twitter.com/fbJxQ5tKSh

— Radiocentre (@Radiocentre) May 19, 2020
Siobhan Kenny, CEO of Radiocentre, welcomed the live audience an introductory talk focused on radio during the coronavirus crisis, and commercial radio's response. Emphasising the likely three stages of the crisis – "shock", "bounce back" and "recovery" – she said: "Advertising is often seen as the engine of the economy and rightly so, and radio as a bellwether within that. If we bounce back strongly that's a really good signal for the industry."
Geoff de Burca, Chief Strategy Officer at MediaCom, followed with a talk focused on "What Next for the Economy, brands and media, and where radio fits in." de Burca provided an update on the nation's attitude – "the positive news is that happiness is beginning to replace stress and fear in the UK – fear has halved since an early peak."
There are signs, he said, that media behaviour is settling down into more normal patterns: "But I think the surge in radio listening will continue as the rise in numbers of people working from home becomes the new normal. As media behaviours rebound so will spend and advertisers returning to the market, making advertising more cluttered and expensive again. Opportunity will change as advertisers come back, there's a real opportunity now to be spending."
Emphasising that advertising is still welcome to most people in the current climate "when it's helpful, sensitive and supportive", de Burca said: "Advertisers are getting a great response when using these messages. Tesco and eBay for instance, which is using radio to highlight support for small, independent sellers, taking advantage of radio's listening hours to connect with customers when they need it most."
Geoff was followed by a talk from Daniel Finkelstein, Times columnist and member of the House of Lords, about the current political climate.
In a humorous yet insightful talk, Finkelstein first advised the audience to watch the film Jaws to reach an understanding of the political conditions we're now in: "The political problem is that people don't feel as good as they used to, and probably won't for some time. That's the 'shark effect', no government wants a situation where citizens are poorer and have to stay inside. All considerations are second to that."
This was followed by an interview with Ronan Keating and Harriet Scott, the hosts of Magic's Breakfast Show, conducted by Tony Moorey, Group Content Director for Magic and Absolute Radio at Bauer Media. The presenting duo covered topics including adapting a flagship radio show during lockdown, working with advertisers on messages that resonate, and being able to relate to more viewers than ever before. Ronan said: "On Magic we're trying to make people feel good, it's positive and if we can connect with our listeners then it's really important. It's about that connection with the listeners and people at home, sharing the stories."
Mark Barber, Planning Director at Radiocentre, was next up to present the findings of new research study, Building Shelf Awareness, highlighting how ads heard in the car on the way to the supermarket have a significant effect on purchasing intentions. Find out more here.
Mark Hatwell, Director of Client and Agency Strategy at Global, explored the potential for advertisers to benefit by growing their "excess share of voice" (or eSOV) during the crisis. How they can secure "an advantage through smart planning" by selecting radio as part of continued investment in advertising because it "imparts on a brand the benefits of huge reach, cost-efficient targeting, and uniquely exciting, empathetic creative effect."
Puja Parmar, Marketing Advisor to the Mayor of London, talked the audience through one of the Greater London Authority's most successful recent campaigns, with radio at its core. The activity focused on addressing homelessness on the streets of the capital. The radio ads, which were triggered when the weather hit low temperatures, featured a voiceover artist who was previously homeless.
The Tuning In live stream concluded with an interview with Grammy Award-winning songwriter Amy Wadge, who told KISS presenter Swarzy Macaly about working with the likes of Ed Sheeran, Kylie Minogue and John Legend. Radio, she said, had played an essential role in the success of many of her songs, including her collaboration with Sheeran on the single Thinking Out Loud: "Radio is still the place where I believe hits are made… For me that's still an incredibly important part of our culture."
Next up grammy award winning Amy Wadge speaks to @SwarzyMacaly about her career and how radio has been a huge impact for her career, and of course discusses the huge hit that is 'Thinking Out Loud' #TuningIn pic.twitter.com/S1byCFsQZ1

— Radiocentre (@Radiocentre) May 19, 2020