Enders Analysis report on radio: When the facts change, change your mind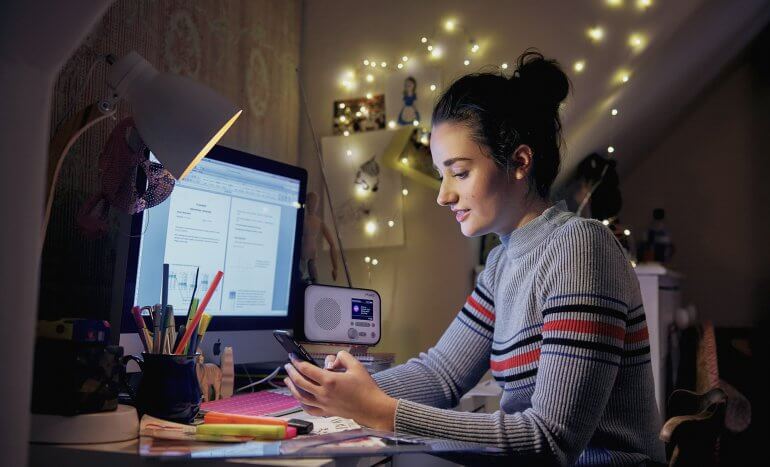 by Matt Payton, Director of External Affairs at Radiocentre
The opportunity to become part of the radio and audio industry is a privilege whatever your role.  I distinctly remember the excitement I felt at starting work at Radiocentre, speaking up for commercial radio stations of all shapes and sizes.  It was a steep learning curve at an exciting time, with new owners investing in new brands and platforms in attempt to grow the medium.
Getting to know my way around this fantastic industry involved many conversations with operators, experts and commentators, as well as lot of background reading.  So I have to admit my heart sank at the end of my first week in the job, when I read a report from the widely respected research firm Enders Analysis predicting the slow death of commercial radio over the next 15 years.  Mmm.  Perhaps joining the radio industry wasn't the smartest move after all.
However, in hindsight the view expressed by Enders (and others) at that time probably failed to take into account radio's ability to re-invent itself as part of the broader audio market, adapt to new technology and invest in brands and content that would help it retain audience and grow revenue.
Fast-forward to 2018 and it is this range of factors that have been highlighted in the latest Enders Analysis report on the radio and audio sector.  This new report (available to subscribers here) strikes a very different note to the doom-laden predictions of the past.
Instead it talks optimistically about radio's flexibility on connected devices such as voice controlled smart speakers, which has seen radio "continue to flourish" despite competition from an almost infinite number of online content players.  It states that "radio listening remains very robust" feeding through to record advertising revenues, alongside relatively high levels of spending from the BBC.  Based on these trends it expects commercial radio revenue to exceed £700m for the first time in 2018 (see chart below).
Weekly reach (000s) v BBC spend/ commercial revs (£m)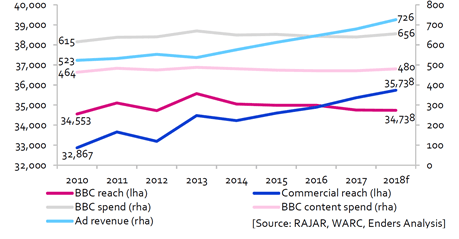 There are also some tough questions in the report.  Not least the challenge of continuing to attract younger listeners, who still listen to the radio more than any other form of audio but for shorter amounts of time.  While it also outlines the opportunities to grow combined digital listening that could flow from a Government review, now that this has exceeded the 50% mark, emphasising the need for collaboration.
Yet overall it is just good to see an influential third-party like Enders Analysis writing about radio and audio in such a positive way in 2018, documenting the way in which "stations have evolved many different touchpoints with their audiences" and found ways to achieve maximum benefit from the "close emotional connection" they retain.  This leads to the welcome and unavoidable conclusion that "radio is in a remarkably healthy state".
What's more it is heartening when you see expert commentators walk-the-walk and genuinely base their analysis on the evidence, even when this means changing their minds to contradict something they have said in the past (such as predicting commercial radio's demise). 
But as the economist John Maynard Keynes supposedly said "When the facts change, I change my mind.  What do you do?".