Commercial radio listening and social media spikes as the Beast hits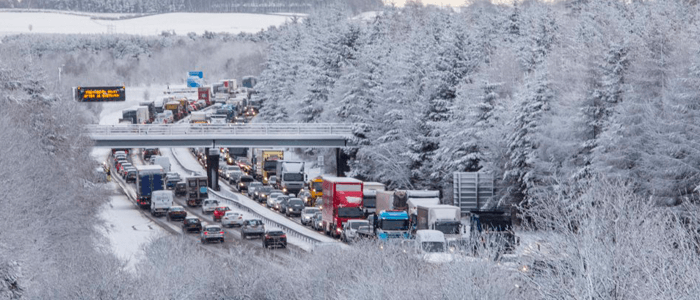 During the extreme weather over the past week, commercial radio stations across the country are keeping listeners updated with vital news and information.
School closures, blocked roads and travel disruption led the headlines, and the radio industry has gone into overdrive to keep listeners informed.  Presenters, journalists and other station staff going the extra mile help explain why commercial radio remains the go-to medium in times of crisis.
Again and again the public turn to local radio during emergencies. Radiocentre's members have reported some of the highest ever spikes in online listening, with record levels of social media traffic in some cases up by almost 10,000%.  Huge numbers of stations extended their breakfast and drive time shows to provide commuters and parents with the latest developments on schools, traffic, travel and weather.
Heroic tales are not limited to the emergency services, with radio stations staff working around the clock. Below are just a handful examples of the extraordinary work from the past week.
In Wales at Nation Broadcasting, local presenters Lee Jukes and Mark Powell slept at the station rather than risk missing their shows and let their listeners down
Reporters from Heart, Capital and Radio Clyde have been camping out in hotels to be on hand with rolling bulletins, providing a lifeline to those stranded on blocked roads
Lincs FM have been running live 24 hours a day since Tuesday, with staff walking up to 6 miles through the snow to get to work
Touch FM are extending their local coverage into the weekend in order to cover cancelled events, travel disruption and stories of local heroes
In addition to news updates, KMFM provided some frozen related twitter relief with a parody video.
As well as being the most trusted medium according to a recent Breaking News report, radio is well-placed to provide regular updates throughout the day, particularly when travelling in car. Radiocentre research has also found that 8 out of 10 listeners believe they get helpful, concise updates on the news throughout the day.
Radiocentre CEO Siobhan Kenny commented: "Commercial radio really comes into its own in times of crisis.  The recent snow storms have highlighted that radio is the place to go to get vital up-to-the-minute trusted local information. We've heard some amazing stories from stations that have gone above and beyond in order to deliver the headlines, so I want to thank all those amazing radio people whose dedication makes commercial radio so special."