Brands that make better creative use of listener context will be part of the Future of Audio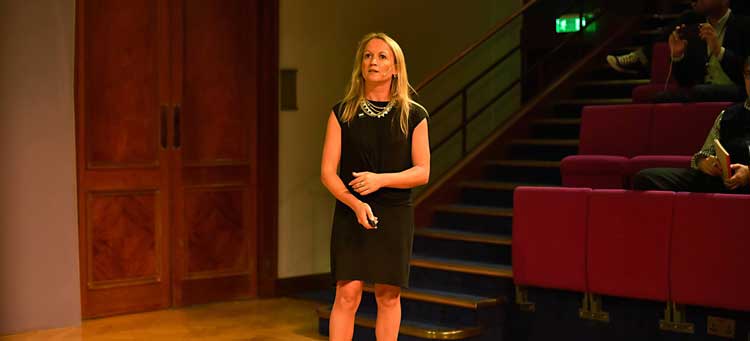 On October 15th, MediaTel hosted their first #FutureofAudio conference at the Soho Hotel.
Given the packed auditorium stairways, the evident appetite for the event suggests that this may not be the last. Ten years ago, the idea of hosting a cross-industry 'Future of Audio' event might have raised eyebrows. Radio and audio were regarded as niche at best and waning at worst.
The reception of MediaTel's event shows how far and how fast perceptions have changed. Audio has blossomed into a diverse family encompassing commercial radio, digital streaming services, podcasts and voice-enabled tech. Everyone now wants a piece of the audio pie.
The agenda was full and varied. Given radio's dominance of commercial audio, Simon Kilby from Bauer and Guy Jones from Global painted an assured picture of radio's sustained growth and future ambitions.
There were creative theatrics from dynamic ad agency 'A Million Ads' who produced 34,000 ads live in the room, at the mercy of the hotel WiFi and presenter Simon Palfrman's über-urban playlist. Fortunately, the technology played ball.
Other speakers and panels tackled diverse matters including voice-activation (Wavemaker), optimising sonic branding (Starcom, Veritonic, DLMDD and Trisonic) and ahem! the slippery issue of Spotify's measurement and monetisation (VP Head of Sales Marco Bertozzi).
Although ads are the bread and butter of commercial audio, it's often struck me that they are infrequently played at this sort of event. To me, this very much about listener context. While appreciation of TV ads lends itself well to a sit-back, arm-chaired environment, radio and audio ads are heard in life as it happens, to real people in real time. Their power comes from their context – you really have to be there. In a conference-room, the context for the ads is invariably off and response to the creative suffers.
I used the findings from 'Hear and Now', Radiocentre's latest research into listener context as a springboard for my creative presentation. I guess you had to be there sought to give practical insights into how brands can capitalise on listener context to generate cut-though and achieve creative standout.
Making no apology for personal taste, I hope the Queen-inspired Flash! ad injected the same energy into the tail-end of a day-long conference as it does the drudgery of housework.
Here is a bullet point summary of my presentation:
Radio is a great way to target audiences at the right place and the right time – at scale
A greater consideration of context can set your ad apart creatively and enforce relevance
Emerging digital brands (Amazon, Uber, Hive etc.) make excellent use of contextual creative campaigns on broadcast radio. If these brands are the face of the future, it's good to hear them embrace 'traditional' radio to drive it!
Our neuroscience experiments showed greater brain engagement with an ad if you're involved in a related task when you hear it
Brands should use that time of increased engagement to reinforce their sonic branding as well as your sales message to increase brand consideration and salience over time
Many speakers cited 'the creative' as the area of audio the most ripe for change. Rather than woolly speculation, I hope the presentation gave some tangible advice on how to get there.