Advertising and radio: taking the longer-term view
|
INDUSTRY NEWS BLOG Tom Stevens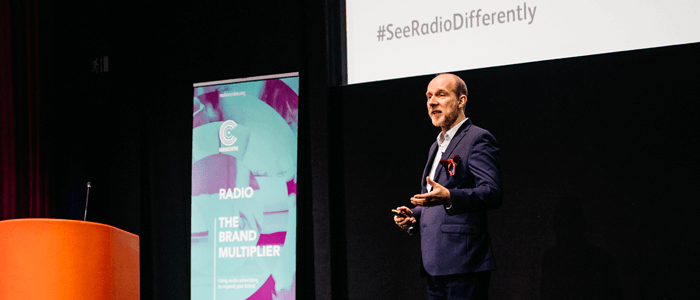 Effectiveness has been front of mind for the advertising industry over the last week. Specifically, long-term effectiveness, demonstrated over years rather than months.
The inaugural Effectiveness Week, run by the IPA, was kicked off by Les Binet and Peter Field's update to The Long and the Short of it. They built on, and reiterated, their findings that short-termism is undermining overall marketing effectiveness.
A hunger for immediate results from digital advertising – clicks, views and likes – compounds this, and brand building – vital to long-term profit – suffers.
Into this context, we launched our latest research project Radio: the Brand Multiplier. It demonstrates conclusively that adding radio to TV boosts brand growth. In short, audio advertising allows brands to expand their network of mental associations in a cost-effective way and build share of mind. Les Binet attended the event and noted the parallels between the findings of the IPA databank analysis and our study. Radio's brand-building credentials are increasingly incontrovertible and should prompt advertisers to reconsider the medium to play a more strategic brand-led role for them.
On the same day, we were pleased to present Unilever with the IPA Effectiveness Award for Dedication to Effectiveness. The IPA Awards reward proven results over time, judged on their returns to stakeholders and clients – on what was achieved, rather than just what was delivered.
In the middle of a busy few days for our Planning Director Mark Barber, Friday took him onto the ISBA Panel making the case for radio alongside representatives from seven other media trade bodies. The theme of the session was 'Total Media Effectiveness', with a focus on delivering both longer-term brand effects as well as more tactical, performance marketing. There was barely a speaker among the pack who didn't reference The Long and the Short of it, and Mark specifically discussed the role of audio in long-term brand-building in front of an audience of senior advertisers.
Mark's week not quite over, Tuesday took him to Brussels to speak at tell a vision, a conference attended by over 300 agencies and advertisers which explored how TV and radio are evolving and examined the unique roles they continue to play for advertisers. Again, the role of audio is crucial in helping understand that. Mark's presentation drew largely on Radiocentre's 2014  Audio Now research, and the pervading role that radio plays in people's listening habits. The rise of streamed music and other on-demand audio services is proving complementary to radio and helping to grow the overall commercial audio audience yet radio remains the dominant audio format with ideal characteristics to help advertisers build their brand.
All of our presentations and research continue to encourage advertisers to See Radio Differently, re-evaluate the role of radio in their plans, and take a broader view of how it bolsters campaign effectiveness, driving brand success both short and long term.