Radio for targeting the right people at the right time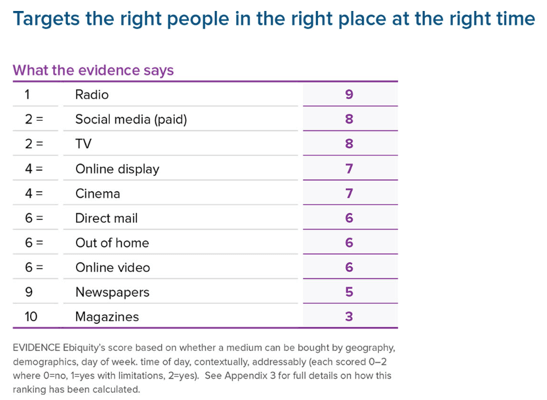 In Re-evaluating Media Ebiquity's analysis of the targeting capabilities of different media placed radio top of the list as the most flexible medium as it can be used to target audiences in a variety of ways:
Geographically: An important factor for many advertisers is selecting stations that focus on specific locations. With a range of national, regional and local stations covering most parts of the UK, radio is highly flexible geographically – providing opportunities for all types of advertisers to precisely target important locations efficiently.
Demographically: commercial radio consists of a wide range of stations with a variety of content and playlists attracting different types of audiences. RAJAR data allows advertisers to analyse which stations are best for reaching their specific target audience.
Time of day/day of week: Radio is a predominantly live and linear medium, meaning that radio ads play out in real time. This allows advertisers to time their advertising to reach people on specific days of the week and/or specific times of day to enhance the relevance and efficiency of certain messages, where appropriate
Consumer context: Research demonstrates that reaching people at relevant times can help enhance cut through and effectiveness of a campaign. As radio is available in a wide range of devices and doesn't require primary attention, listeners often use radio to accompany a range of tasks and activities across the day, from the school run to working/studying through to childcare, allowing advertisers to target audiences in specific contexts. Search for relevant examples in the Radiocentre Case Study Finder. This government ad targeting car drivers (link to COI Speed Bet ad) is a great example of how effective this approach can be on radio.
Addressablility: with more radio listening taking place through connected devices, some radio stations are now able to offer individualised personal data-led targeting of listeners to their streamed content. While still relatively limited in scale this is an important and growing element of the commercial radio offering (links to DAX and Bauer In-stream web content).
Radio's unique combination of targeting opportunities enables advertisers to more efficiently reach their audience and optimise their advertising effects.
Our latest research report, Hear and Now, looks specifically at how targeting people at relevant times helps turbocharge ad effectiveness. You can read the report here.