Tuning In Midlands – Radiocentre is coming to Birmingham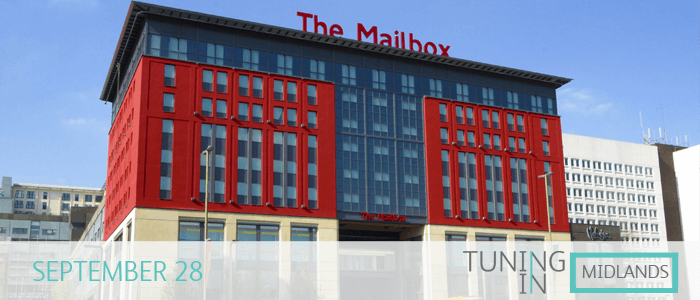 Radiocentre, the industry body for UK commercial radio, is to host its Tuning In Midlands conference in Birmingham. The event will take place on Thursday 28th September at the Everyman Mailbox.
Tuning In Midlands will bring industry leaders and innovators together for a two-hour morning session. The event will give radio stations, agencies and advertisers the chance to hear about the latest trends and opportunities in the rapidly evolving world of radio and audio.
New research on voice activated technology, discussion of the economic and public value of commercial radio and insights into the latest audio technology will all be included in the line-up.
Radiocentre's most recent conference outside of London took place in Edinburgh last March. The sell-out event was a huge success and the Radiocentre team are happy to bring Tuning In to the Second City. Radiocentre CEO Siobhan Kenny says:
"Commercial radio is thriving across the UK.  At Radiocentre, we are anxious to get out and about and hear directly from those working in radio and advertising and to get the chance to share all the latest exciting news in radio and audio.  We have warmed up for the big event with three Tuning In events in Manchester, Edinburgh and London and look forward to heading to Birmingham in September."
Radio is celebrating a highly successful year in which 90% of the population tune in every week.  A raft of new digital stations have launched in the last year, providing much more choice and diversity of content for listeners. Midlands's audiences currently have access to 77 licensed commercial radio stations – 30 national and 47 local – with a combined audience of over 4.6 million listeners (60% of the local population).
The full speaker line-up will be announced shortly.