Tribute to Tessa Jowell by Siobhan Kenny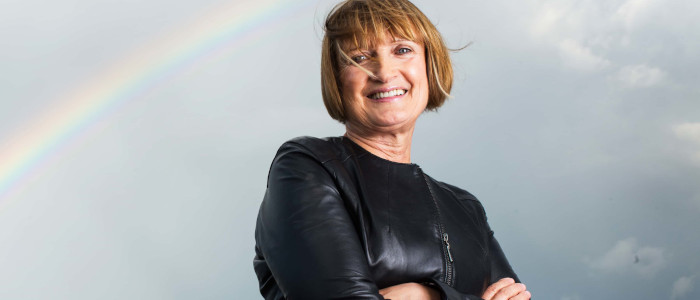 Radiocentre Chief Executive Siobhan Kenny remembers her friend and colleague Dame Tessa Jowell who has died aged 70.
Who can fail to be moved by the incredible tributes to Dame Tessa Jowell who died this weekend, barely a year after being diagnosed with brain cancer? A rare politician and indeed person who garners such extraordinary praise from across the widest of spectrums.
Tessa and I first worked together in the impossibly heady days of 1997 when she became the first ever Public Health Minister, a post to which she was uniquely suited. I was working on a non-news strategy, focusing on women's magazines in Tony Blair's No10. I was immediately struck by her wicked sense of humour and wildly mischievous streak. At odds with her public image as a bit of a Nanny. But then again, she did have some very nanny-ish qualities. She always cared about people, took time to remember the details of their lives, the names of their kids and loved ones.  Sure, she was a nanny but everyone loves them, don't they?
But she was no Mother Teresa and would never have wanted to be seen as such.  She was an attractive woman, stylish and addicted to all sorts of girly things like the latest handbags, shoes, scarves. Oh and the crazy diets too. Coming into politics at the most earnest of times for feminists, she wasn't afraid to be both feminine AND a feminist. She was particularly delighted to get to know the most high-powered and brilliant women editing Britain's top magazines in the late 90s. Her goal was to secure the same access to the Prime Minister for those amazing women as the editors of daily newspapers regularly get as a matter of course. And for a time, she actually succeeded in that. Hashtag MeToo is a million miles from the political environment she grew up in but she blazed a trail for women who are not only fiercely independent and ambitious but also are incredibly caring.  And all with a huge amount of panache and style.
It was brilliantly typical of Tessa that she dealt with her illness in the way she did. Always caring more about how others felt than about herself. When she told me about her condition, unbelievably less than a year ago, she played it down so much I found myself asking her if it really was very serious. I know, idiotic. But the shock was so great and Tessa more concerned about managing my feelings than explaining her own devastating diagnosis, I really couldn't compute the news. We swiftly moved on to the implications of the treatment for her hair. Honestly these things are important.
Like everything else she did, Tessa threw herself into dealing with her illness. What a fantastic legacy that the Government has announced a boost in funding for research into brain cancer. Her amazing family, as just one element of helping her through the last year, invited to a jolly evening in a North London pub, all her closest advisers from her ministerial, political and parliamentary offices. A theme which didn't take too long to emerge was Tessa's monumental and epic lateness. "With you in ten minutes, darling………." always meant at least half an hour, if not more.  Not always comfortable if you had a group of grumpy journalists with a deadline to meet. Or worse still, visiting dignitaries. Sometimes, she would only join you for dessert, long after everyone had given up on her arriving for dinner.  But that twenty minutes alone was always worth it.  Her lateness came from the best possible place. Always thinking she could squeeze in one more call, spend a little bit more time trying to solve that one last thing, do one more deal or get some recalcitrant colleague over the line. And because she breezed in like a tour de force, you just got swept up with the general Tessa aura.
Tessa was a trooper, an amazing woman, a fiercely loyal friend, an inspirational mother, wife and grandmother. I still can't believe I am writing about this incredible vibrant person in the past tense. Much has been written about her fantastic achievement getting the Olympics off the ground.  And she really didn't give up until she charmed her Cabinet colleagues into reluctantly agreeing to bid for the thing. It was massively typical of Tessa that for her, much as she enjoyed the global glitz and hoopla surrounding the Olympics and all that delivered in terms of feelgood for the UK, it was really the amazing Sure Start scheme which made a lasting impact on the lives of so many people which she felt was her true legacy. For Tessa, that was way more important. Like the lasting legacy she leaves for the treatment of brain cancer patients in the NHS. Can anyone remember any other politician whose death was greeted by accolades from across the spectrum in this way? I can't.