The Long Read: How radio benchmarking contributes to better ad performance
Written by Radiocentre's Planning Director Mark Barber, the below piece was first published in WARC's AdMap in March 2018. 
Radiocentre is the industry body for UK commercial radio with a remit to encourage greater use of radio advertising by promoting the benefits of the channel and best practice learning to advertisers and agencies.
Ten years ago, in January 2008, Radiocentre launched a new radio campaign measurement and benchmarking initiative. Radiogauge set out to provide a wide range of individual advertisers with robust evidence of the impact of radio advertising on their brand and, crucially, by benchmarking their campaign performance against industry norms, help them understand how to better harness the effects of the medium for future campaigns.
A decade on, the effectiveness and creative benchmarks it has established have helped to improve overall radio campaign performance for advertisers and as a consequence underpinned revenue growth for commercial stations across the UK.
Why develop radio benchmarks for advertisers?
Radiogauge was borne out of two challenges the industry faced in the middle of the last decade that were preventing advertisers from using radio optimally as part of their wider media mix and radio operators from winning discretionary media budgets more often:
Limited effectiveness understanding
Underperforming creative work
To summarise these multi-layered issues, individual advertisers rarely measured the effects of radio historically and, when they did, poor results were blamed on the medium rather than the often weak creative content of the commercials. These factors combined to undermine confidence in radio's ability to deliver effective results, contributing to high levels of churn amongst existing advertisers and creating a further hurdle to new advertisers considering the medium. The effects were also being felt at a broader level with the industry experiencing a 9.2% decline in radio advertising spend between 2004 and 2006.
Compared to its broadcast cousin TV, where larger media budgets justify advertiser expenditure in detailed tracking studies, radio advertising remained predominantly unmeasured, mainly misunderstood, and its true potential much underexploited.  Radiocentre's response was to develop Radiogauge: a radio advertising benchmarking project with both short and long term goals.
The immediate ambition of Radiogauge was deceptively simple: provide high spending advertisers with free (radio industry-funded) research to help them understand the specific effects they achieve through their radio advertising and guidance on how to improve this through creative development.
 This required a new process to be created for quantifying the strength of creative execution in delivering this campaign performance and demonstrate how future results can be improved by highlighting best practice approaches. Developing relevant benchmarks that could provide category comparisons for each advertiser's campaign effectiveness and creative performance was crucial in enabling Radiogauge to be effective in delivering these objectives.
Beyond these requirements, the transformational thinking with Radiogauge was to plan for the long term, recognising that data from each campaign could be used to build the world's most extensive database of published radio effectiveness benchmarks.  In doing so, Radiogauge has been able to propagate richer understanding about the impact of radio when used to its full potential, helping all advertisers optimise its effectiveness as part of their wider media mix.
Methodology: creating credible radio advertising norms
There were a number of hurdles that the research methodology had to overcome in delivering these ambitions.
Firstly, acknowledging that many radio bookings are made at the last minute, it was decided to run Radiogauge at the post-campaign stage only, meaning that even those campaigns confirmed at short notice could be accommodated.
Secondly, with an ambition of providing the research free of charge to the advertiser, our approach had to exploit economies of scale to ensure that we could provide data for a broad range of advertisers sustainably over time. This challenge was addressed by using a consistent sample and questionnaire structure – which also proved vital in developing performance benchmarks.
The study identifies the effect of radio advertising by comparing differences in awareness, consideration, and brand perceptions between a sample of 567 commercial radio listeners and a matched sample of 233 non-listeners to commercial radio. This data is accessed via an online survey conducted by a third-party research company, Other Lines of Enquiry.
To benchmark the impact of the creative execution, respondents score each commercial against 11 statements which feed into Radiocentre's proprietary 5'i's creative evaluation tool. This uses the data to chart the strength of the commercial in delivering Involvement, Identity, Impression, Information, and Integration for the brand as part of its wider media campaign. Respondents who score particularly high or low on one of these statements are offered an opportunity to explain why, adding a qualitative perspective to creative performance.
While brand level findings remain confidential to the individual advertisers, the results from every campaign are added to the Radiogauge database where they contribute to comparative benchmarks. The data for each campaign is further coded according to its use of 23 individual creative characteristics, such as music, voice, and use of humour – allowing for more nuanced understanding of radio creative effectiveness.
By using a consistent method and reporting structure, and measuring three campaigns in every wave of fieldwork, in combination with the sheer volume and variety of campaigns measured, Radiogauge quickly built a range of relevant effectiveness and creative performance benchmarks for almost every campaign.
Benchmarking individual campaign performance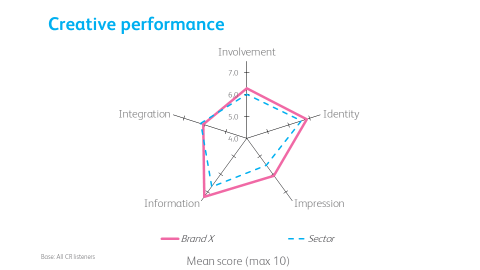 Advertisers participating in the research receive a detailed presentation of results detailing the uplifts in effectiveness outcomes, four of which – ad awareness, brand consideration, brand relevance, and (recently added) brand trust – are compared to relevant sector benchmarks, which provide the advertiser with some perspective on the relative performance of their campaign.
Creative execution is then analysed using a real-time engagement meter and further evaluated against a sector-specific 5'i's-based benchmark, enabling recommendations to be made about how future campaign performance can be enhanced through relatively minor creative development.
These two main elements of the analysis – campaign effectiveness and creative approach benchmarked against industry norms – combine to create a virtuous circle of best practice, increasing advertiser expectations about the effects of radio and helping them to optimise their campaign to achieve these.
Making industry benchmarks widely accessible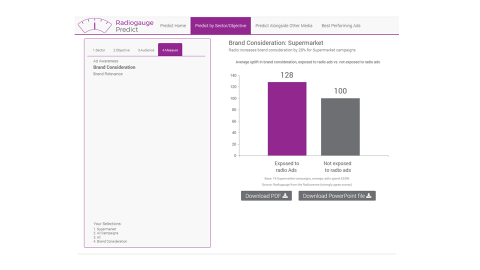 Beyond the individual results presentations, the aggregated data held in the Radiogauge database enables us to unlock additional value by providing all customers (not just those who have had their campaign measured) with easy access to robust radio effectiveness benchmarks via an online tool. Radiogauge Predict is an open access interface which enables advertisers and agencies to source the effectiveness evidence most relevant to their specific situation by searching any combination of four effectiveness outcomes across 26 product sectors, 13 media mixes, three campaign objectives, and six target audiences (a total of over 2,500 data combinations). This data provides highly pertinent benchmarks for any advertiser considering using radio advertising to set expectations and evaluate their own campaign performance against.
By cross-referencing effectiveness outcomes with usage of specific creative features, Radiogauge is also able to provide data-based insight into best practice radio creativity from an effectiveness perspective which – again – is available at the widest possible level. This analysis formed the basis of Radiocentre's 'Turning Art into Science' study supported with additional EEG data demonstrating the impact of different approaches on listener engagement, revealing that when it comes to audio advertising effectiveness, consistency is king.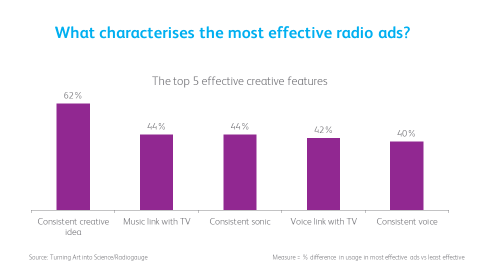 Outcomes: how radio benchmarks are helping to improve advertising performance
Since its launch in 2008, Radiogauge has measured almost 800 campaigns, spanning all product sectors. From the AA to Zoopla, it has demonstrated radio's effect for some of the world's biggest brands: from traditional FMCG giants such as Coca Cola, P&G, and Unilever; through to newer technology players such as eBay and Amazon. Along the way Radiogauge has filled the gaps in a historical patchwork of case studies, creating the world's largest publicly-available database of media efficacy benchmarks. As such, there's no doubt that it has fundamentally changed advertiser and agency attitudes to radio effectiveness.
Where previously radio advertisers would often blame the medium for poor campaign results, the customer feedback survey highlights how Radiogauge benchmarks have helped respondents realise the importance of creative execution in delivering effective outcomes from radio (38% agree). Equally importantly, Radiogauge is increasing customer understanding about the factors that contribute to effective radio creativity (48% agree) – demonstrated by an increase in the average 5'i's creative score from 5.9 in 2008 to 6.3 in 2016. This in turn has led to an improvement in campaign performance – the average uplift in brand consideration across all radio campaigns measured in 2016 was 12% higher than across those researched in 2008.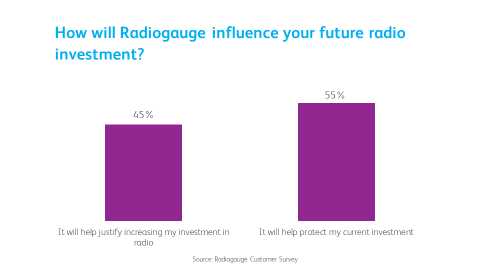 This shift in perspective is underpinning confidence in the medium to deliver results, with customer feedback also revealing how Radiogauge is helping to protect current spend and encourage further investment.
In each year since launch, radio spend amongst advertisers measured on Radiogauge has increased significantly ahead of spend in other media, delivering a total revenue swing to radio in the region of £235m across the last 10 years.
Supported by the impact of Radiogauge, UK radio revenue has grown steadily at CAGR of 3.2% since the end of the global financial crisis in 2009, helping radio attain a record level of ad revenue in 2017.
 What next? The benefits of benchmarks beyond UK radio
Radio faces further opportunities and challenges as the media ecology evolves – and Radiogauge benchmarking has a role to play both in helping advertisers navigate these changes and securing a more advantageous position for their brands amidst these developments.
Firstly, as we move into a voice-activated era brand advertisers will need to consider new strategies that look beyond just screen-based advertising and acknowledge the importance of audio branding. Consistent and distinctive brand sound will soon become paramount for advertisers to stand out in an audio-led world.
The learning from a decade of Radiogauge benchmarks can help advertisers understand how best to exploit the new audio-led landscape. Our data highlights how listeners respond positively to familiarity. Familiar music, voices, constructs, and straplines – used consistently over time and across different platforms – help the listener instinctively recognise who is speaking to them, and drive likeability of and deeper engagement with advertising content.
Secondly, as more advertisers approach creative and media planning on a pan-regional basis, it's increasingly important for them to be able to identify and benchmark radio effectiveness in a consistent and comparable way across markets.
By licensing Radiogauge to run in other markets we hope to develop a consistent set of international benchmarks to further develop radio effectiveness and creative benchmarks on a global level. Radiogauge projects have run in six other countries – USA, South Africa, Ireland, Australia, Finland and Canada (where the initiative is now in its seventh year) – demonstrating the ability for the method to be adapted to meet any market conditions yet still report comparable data.
Over the last 10 years, Radiogauge has been a hugely successful 'win: win' benchmarking initiative, helping advertisers use radio more effectively and encouraging increased spend on UK radio advertising. But there's more to come: as advertisers adapt to the implications of audio-led technology and react to the challenges of a more globalised market, the learning derived from Radiogauge benchmarks will become increasingly valuable.