The Duke and Duchess of Cambridge join stars of sport, screen and music for the Mental Health Minute
|
INDUSTRY NEWS Press Releases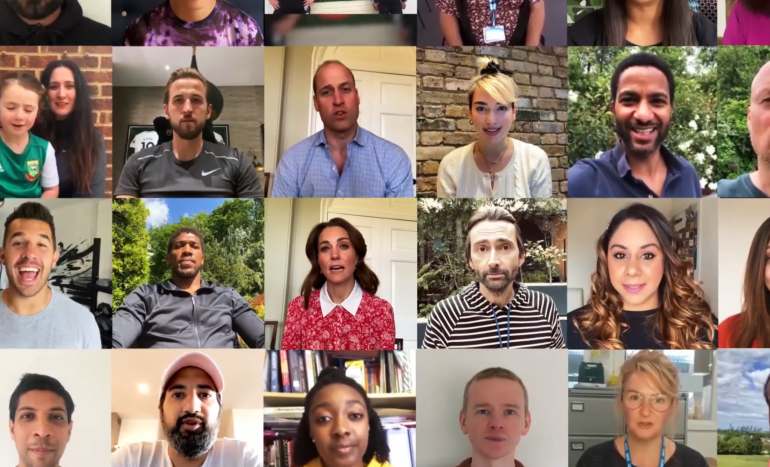 The Duke and Duchess of Cambridge marked the start of Mental Health Awareness Week with a special message, which broadcast to over 20 million radio listeners across the UK at 10:59am on 18th May, highlighting the importance of talking about mental health during the coronavirus pandemic.
The Mental Health Minute is a minute-long message overseen by Radiocentre, the industry body for commercial radio, and Heads Together, the mental health campaign coordinated by The Royal Foundation of The Duke and Duchess of Cambridge. The audio was produced by Somethin' Else.
In the Minute, The Duke and Duchess of Cambridge were joined by stars of screen, music and sport, including England captain Harry Kane, singer-songwriter Dua Lipa, actor David Tennant and two-time heavyweight champion Anthony Joshua. The script focused on how people can support each other during the Covid-19 crisis, highlighting that, whoever you are and whatever you're going through, you are not alone – and it's OK to reach out. Supporters and volunteers from each of Heads Together's charity partners appear at the end of the message to deliver the final line, showing that we are all connected and support is available.
The Mental Health Minute broadcast simultaneously across every radio station in the UK at 10.59am on Monday 18th May. This year's broadcast marks the third annual Mental Health Minute, and this year plays to its biggest ever collective audience, uniting all commercial, community and all BBC stations including BBC Radio 4 for the first time.
Bringing together eight charity partners, Heads Together builds on the decades of work they have done to tackle stigma and change the conversation on mental health for everyone. During Mental Health Awareness Week, Heads Together will champion the work of its eight charity partners, including The Anna Freud Centre, Best Beginnings, CALM, Contact, Mind, Place2Be, The Mix and Young Minds.
It follows the release of the '60 Second Support' radio series from Radiocentre and Heads Together last month, which aimed to help millions of people across the UK deal with issues such as isolation, bereavement, conflict and self-care during the coronavirus crisis. Every day, a new episode was released to radio stations across the UK, offering advice, tips and activities encouraging listeners to adopt easy and practical techniques to support their mental health and wellbeing during the pandemic. Fronted by Professor Green, the series was produced with expert guidance from ten leading mental health charities in the UK, including the Heads Together charity partners.
As part of the Mental Health Minute broadcast, The Duke of Cambridge said: "We're all connected. And sometimes just talking about how you're feeling can make a big difference. So right now, let's join together across the UK and reach out to someone."
The Duchess of Cambridge said: "If you're struggling, it's important to talk about it. Or if someone you know is acting differently, it's OK to ask how they are. Use this moment to send a message."
The Mental Health Minute launched in 2018, featuring The Duke of Cambridge and The Duke of Sussex, along with Lady Gaga, Dame Judi Dench, David Harewood and Dame Jessica Ennis-Hill. Last year, The Duke of Cambridge was joined by Stephen Fry, Jameela Jamil and Katy Perry.
Siobhan Kenny, Chief Executive of Radiocentre said: "It is so apt in this most extraordinary of times that the entire radio industry is uniting behind the Mental Health Minute. We are delighted to be able to use the unique power of radio to highlight this important message to millions of listeners and to continue our support for Heads Together. I would like to thank Somethin' Else for putting a lot of time and a huge amount of effort into this."
Jason Knauf, Chief Executive of The Royal Foundation of The Duke and Duchess of Cambridge, said: "As we feel the effects of Covid-19 on the nation's mental health, we will need to support one another more than ever. We will all need to feel more confident in reaching out for support if we need it and checking in on our loved ones. By bringing together the power of radio and social media, we're delighted to help people connect to one another, and to access reliable, trusted information and resources from our charity partners. These remarkable projects from Radiocentre and Instagram show that, despite being apart, no-one needs to face these challenges alone."
Steve Ackerman, Chief Content Officer at Somethin' Else, said: "We're excited to work with The Royal Foundation and Radiocentre to harness the power of audio and social media to deliver this content at such an important time. The names involved have all been keen to foreground this most crucial of messages and we're thrilled to play our part."
Mental Health Awareness Week runs from Monday 18th to Sunday 24th May. This year's theme is Kindness, in response to the coronavirus outbreak. The Week has been hosted by Mental Health Foundation for the past 20 years, and this year will celebrate the thousands of acts of kindness that are so important to our mental health, particularly during times of stress.
This activity comes days after the one-year anniversary of Heads Together's legacy project, Shout, a free text messaging service which provides 24/7 support for anyone experiencing a mental health crisis. To start a conversation, text 'Shout' to 85258.
For more information about Heads Together and for tips and resources from its charity partners, visit www.headstogether.org.uk.
#MentalHealthAwarenessWeek / #MentalHealthMinute