The Duke and Duchess of Cambridge unite UK radio with an important message for mental health awareness week
|
INDUSTRY NEWS RADIOCENTRE NEWS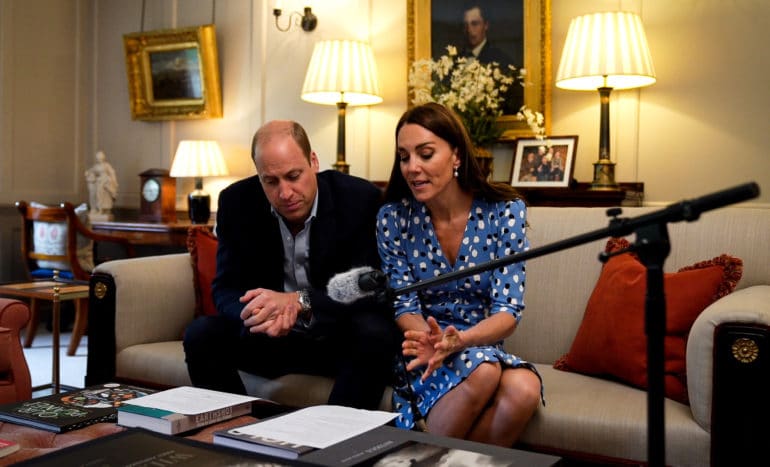 Today at 10:59am, every radio station in the UK came together to play the 2022 Mental Health Minute – an important one-minute message from The Duke and Duchess of Cambridge calling on the nation to 'lift someone out of loneliness'.
The Mental Health Minute, which was created by Radiocentre and The Royal Foundation, has been written by well-known advertising copywriter Paul Burke. This year the Duke and Duchess solely voiced the message together to an estimated 20 million listeners.  
The 2022 Minute is in support of Better Health – Every Mind Matters, delivered by the Office of Health Improvement and Disparities in partnership with the Department for Digital, Culture, Media and Sport, which offers advice to tackle loneliness and provides NHS-approved tips to help people look after their mental wellbeing.
Here's how it sounded across a selection of stations.
The 2022 Mental Health Minute can be downloaded here.
Whilst many people will experience loneliness in their lives, the Duke and Duchess remind listeners that there are simple things we can do and it may feel easier to help others out of loneliness, which can help us all feel more connected. In the message, The Duchess of Cambridge calls on people to "give someone a ring, send a text or knock on their door" and the Duke echoes this sentiment, encouraging people to "suggest meeting for a coffee or a walk" if they think they may be feeling lonely because "these small acts can make a big difference and help us all feel less lonely."
Delighted to be a part of this year's #MentalHealthMinute ?
 
We all have the power to make a difference to someone who's feeling alone, and it's never been more important to support one another: https://t.co/wQd0u1QDuv
 #MentalHealthAwarenessWeek pic.twitter.com/1bzJRAYOEO

— The Duke and Duchess of Cambridge (@KensingtonRoyal) May 13, 2022
YOUGOV data, commissioned by the Department of Digital, Culture, Media and Sport, showed that almost three quarters of young people aged 18-24 (73%) agree there is a stigma attached to loneliness and almost 7 in 10 (67%) young people do not feel that loneliness is a problem that is taken seriously by society.
With radio praised for connecting people and combatting loneliness, the special message was broadcast simultaneously on stations of all kinds including commercial radio, BBC and community radio to over 20 million listeners and encourages people to make small acts of kindness to help someone who may be feeling lonely.
Lucy Barrett, Client Director of Radiocentre said:
"When we recorded the very first Mental Health Minute five years ago, it was clear from the start just how important this topic was to the millions of people listening. Despite reaching a broad audience, radio has a unique ability to bring people together and we hope that this year's message will encourage people to understand that loneliness should not be ignored. We're so grateful to radio stations and their loyal listeners for continuing the national conversation on mental health."
Paul Burke said,
"It was wonderful to be asked to write and record the Duke and Duchess's joint address to the nation, especially for such a worthwhile cause. They were both natural and relaxed in their performances and instinctively understood why radio remains the best and most natural medium to reach and reassure anyone feeling lonely or anxious".  
Andy Ravan, Deputy Director of OHID's Behavioural Programmes Unit said: 
We're delighted to have the support of the Duke and Duchess of Cambridge to help us drive behaviour change on this challenging issue, and radio is a great medium for connecting people. Loneliness can affect us all, but the new data shows that it's a particular problem for young people, and we know that, if it's not tackled, it can have a negative impact on mental health. Our Better Health–Every Mind Matters digital resources offer advice on tackling loneliness, as well as providing NHS-approved tools to help people look after their mental wellbeing.
Find more support and advice for ways to lift someone out of loneliness on the Better Health – Every Mind Matters loneliness webpage or search Every Mind Matters. The website also offers a Mind Plan quiz. By answering five short questions people get a personalised mental health action plan, providing practical tips to help them deal with stress and anxiety, boost their mood, sleep better and feel more in control, plus advice on how to cope with feelings of loneliness.
This year, the minute was translated into other languages connecting the message with more diverse audiences. This includes London Greek radio.