Take That's Howard Donald 'shines' at Tuning In North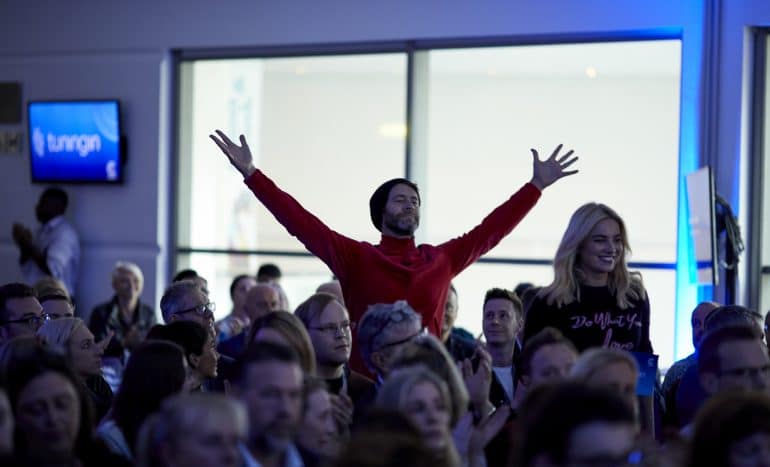 Take That's Howard Donald has revealed that radio was key for the band's comeback after a decade-long break from the charts – because it meant people still knew who they were.
As the group go on hiatus following their huge 30th anniversary Greatest Hits tour this year, Howard was talking this week alongside Greater Manchester Mayor Andy Burnham at Tuning In North, a festival organised in Howard's hometown of Manchester by Radiocentre, the industry body for commercial radio, exploring the latest trends in the rapidly evolving world of radio.
A Take That member along with Gary Barlow and Mark Owen, Howard was being interviewed by Heart Radio star and TV presenter Sian Welby. Of the importance of radio to Take That's career, Howard was emphatic: "Radio was always absolutely massive for us. And when we split up, radio kept playing our music which was amazing, so when we did come back for the second part, people still knew who we were. I think that radio in particular played the biggest part for us. It wasn't TV, it was always radio that was playing the music that gave us that lease of life and the big start for part two."
Knowing the Mayor of Greater Manchester, Andy Burnham, was speaking at the same event, Howard also used his time on stage to call for an exhibition of Mancunian artists, as "there are so many who are amazing".
He also assured fans that the band would be Back For Good after their break.
Howard explained: "The worse thing we did last time in '96 was announce we were splitting up. This time, we've not done that, we're going to keep it open. 100% there's going to be another tour – I'd like to think there'll be another tour in two or three years' time."
"What was fantastic about the last tour we did, it we sold more tickets than the previous tour. After 30 years, I think that's a bit of an achievement. We invest a lot into our tours – it keeps the people coming back I think."
Before that though, he has some other plans. Howard said: "It's the big break right now so I'm doing a book about how not to be a parent. I've not really got any other plans which is great so I'm going to learn how to fly too. So who knows? It might just be Mark and Gary coming back for the next album (laughs)."
Howard has two sons with his illustrator wife Katie Halil, who he married in 2015, and two daughters from previous relationships.
Of learning to fly solo rather than launch a solo career, he said: "Solo flying, yes, but I'm not going solo. I don't feel comfortable doing it. I'm the sort of person that wants to be surrounded with other people and be around other people, mainly for support. I think if I did anything, I'd probably do a dance EP so I wouldn't necessarily be singing it. That's what I'd be more interested in."
And as to whether they would ever all get back together with former bandmates Jason Orange and Robbie Williams, Howard said: "Obviously, we did the Progress album so I think we've been, there done it. Though I'm still clinging onto Jason coming back."
Reflecting on Jason leaving, he said: "Jason left and we had the Three tour and album – it was a very insecure time for all of us. You know, Jason was closest to me and I was closest to him. Having to go onstage as a three and not knowing what it would be like had an effect on everything. That was a very scary time, but it all worked out."
Howard admitted he's still in touch with Robbie, emailing once a month now he's "grown up": "I email him once a month to see how he's going when he's in Vegas, and what else he's been doing. That's one of the beautiful things about Robbie, he's grown up a lot compared to how he was in the Nineties. Back then, he was a completely different person – he was a young kid. Whereas now, especially during the making of the Progress album, he really surprised me about who he was. Underneath the way he acts, there's a very mature person. And obviously he's a father now.
"Robbie's a very giving person when it comes to writing. He's very open and very giving of lyrics and music. He was a real pleasure to write the Progress album with."
This year, Take That celebrated their 30th anniversary with their Greatest Hits Live tour, and yesterday announced the release of an accompanying limited edition concert film DVD Odyssey: Greatest Hits Live, coming out on November 15th.
It was filmed It was at Cardiff's Principality Stadium in front of a 45,000 fans on the final UK date of the anniversary tour and will be accompanied by a CD, photobook and more.