Siobhan Kenny awarded Radio Academy Fellowship by Alastair Campbell at Radio Festival 2018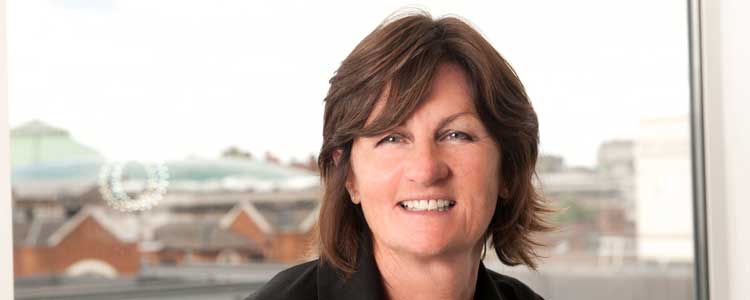 Siobhan Kenny, Chief Executive at Radiocentre, has been made a Fellow of The Radio Academy – the highest honour the Academy can bestow, reserved for those figures who have made an exceptional contribution to the radio industry.
Her fellowship was awarded by Alastair Campbell, the journalist, broadcaster and former Director of Communications at Downing Street, as well as a long-time friend and former colleague, at The Radio Festival which was held at the British Library.
Alastair Campbell said:
"I suspect that my presence here might offer a clue to the identity of the person to whom I am about to present the Radio Academy's highest honour. But I will try to do that thing of building up to a climax when I finally reveal the name.

A few clues. Female. So that rules out half of the contenders. Clever, witty, and very very nice to be with. That rules out a lot more. Very talented. A leader. A team player. And someone I have leaned on in the past and relied on for her energy, commitment and fresh thinking, qualities she subsequently took to your world.

And if you haven't guessed by now may I suggest you've stumbled into the wrong event.

She was one of the civil service team I inherited in the number 10 media team in May 1997. I realised she had real drive and talent and asked her to take on the task of non news media. That led to her becoming

close to Tessa Jowell and she would later work with Tessa at DCMS as part of the team that convinced the Government to bid for the 2012 Olympic Games.
So, having taught her everything she knew, and made her what she became, she took her expertise in political and strategic communications to media businesses going through digital transformation, including Disney and Harper Collins.
These experiences in turn have stood her in good stead for a period of unprecedented change and challenge in commercial radio.
For the past four years she has immersed herself in that world and helped to shape that change. Overseeing campaigns and research highlighting the enduring value of radio. Helping to support record advertising revenue and providing a credible and influential voice with Government and legislators in the UK and in the EU – and may I say totally sound on the issue of Brexit, a disaster for radio and every other sector.
She has transformed the image and approach of the industry body, by focussing on collaboration as well as competition.
As an ambassador for Time to Change I am particularly excited about Today's 'Mental Health Minute' bringing together BBC and commercial radio in an unprecedented way – it would not have happened without her vision and commitment.
She is a champion of diversity and inclusion – helping to drive that agenda in radio through her work with Creative Access and Speakers for Schools.
She is Chair of Radioplayer, the BBC and commercial radio joint venture, and serves on the Boards of the Advertising Association, Digital Radio UK and the literacy charity Beanstalk.
She is the Chief Executive of Radiocentre, the industry body for commercial radio – and now a Fellow of the Radio Academy. She is a fabulously worthy recipient of this award — please salute my friend and your colleague Siobhan Kenny."
At the end of the presentation both Siobhan and Alastair used the moment to pay tribute to their close friend, the late Dame Tessa Jowell.