Radiocentre commissions digital artist Nordacious to bring Generation Audio to life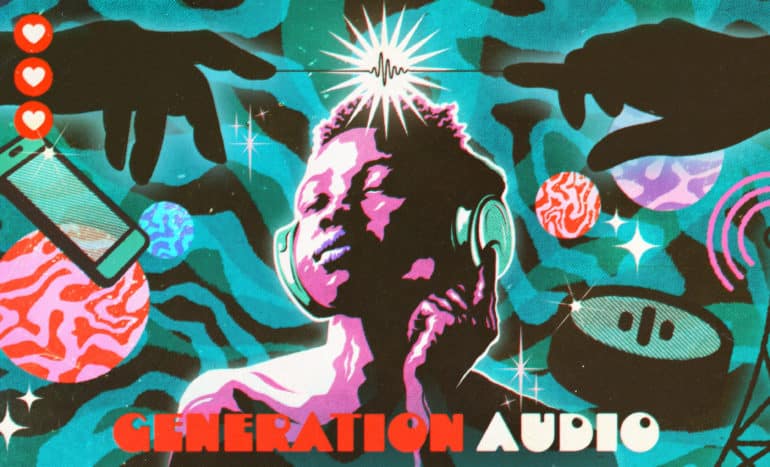 Radiocentre has unveiled new artwork for the front cover of its latest research project, Generation Audio, designed exclusively by digital artist Nordacious.
The striking image is an abstract celebration of modern audio listening, which will feature both in the research report and the supporting marketing campaign.
The Australian artist, whose real name is James Miller, specialises in portraiture and is famously behind the winning work selected for the cover of Elton John and Britney Spears' limited-edition single of Hold Me Closer. Some of his work also appeared at the COP26 Climate Conference as part of a campaign to draw attention to Australia's track record on climate action.
Client Director of Radiocentre, Lucy Barrett, said:
"Audio listening is growing but how, why and when we listen is also evolving.  James has perfectly captured the modern generation of listeners who are immersing themselves in radio and audio every day".
James Miller said:
"I wanted to convey that sense of transcendence, pleasure, connectivity, and escapism audio can give a listener. I injected my retro pop aesthetic with a bit more of an abstract, psychedelic vibe to help translate those themes in a digestible and cohesive way. I'm super proud of the outcome and hope it resonates with other listeners and lovers of audio".
Generation Audio, which explores the growth of audio listening in the UK and the opportunities this opens up for advertisers, will be launched on Wednesday 23rd November at Odeon Luxe West End in Central London. The morning event is free to attend for advertisers, agencies, and radio/audio entertainment providers. 
To request one of the last few remaining places at the launch, go to Radiocentre's website.