New partners amplify Radio Audio Week line-up
|
INDUSTRY NEWS RADIOCENTRE NEWS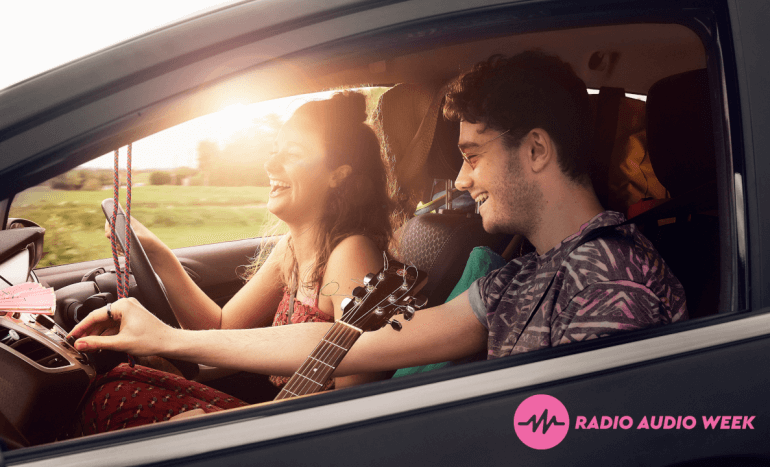 Radio Audio Week is gaining significant momentum in its second year, with additional events added to a strong launch line-up. The week will run 13 – 18 May 2019, bringing together organisations from across the radio and audio industries to celebrate the audio revolution.
Radio advertising specialist Radioville with Jungle Studios; RadioWorks's production arm Maple Street Creative, women's podcast festival ShoutOut Live from ShoutOut Network and Get Carter Productions with research firm DRG will join the series of events hosted by industry body Radiocentre, the BBC, The Radio Academy, the Internet Advertising Bureau (IAB) UK, the Institute of Practitioners in Advertising (IPA) and the British Podcast Awards.
Radio Audio Week will bring a diverse line-up of events celebrating the audio revolution, seeing record numbers of people tuning in to radio, the coming of age of podcasts and the evolution of voice-activated devices.
The new events join The Radio Academy's annual Radio Festival on Monday 13 May, Radiocentre's now sold-out Tuning In conference on Tuesday 14 May and the British Podcast Awards on Saturday 18 May. The afternoon of Friday 17 May sees the inaugural Young ARIAS Award ceremony, a partnership between the BBC and commercial radio recognising exciting young audio talent aged 8 – 18.
Radiocentre CEO Siobhan Kenny said:
"Radio Audio Week is powering ahead in its second year, bringing together stations from across the commercial and non-commercial sector, brands, agencies, industry bodies and policy makers to celebrate the power of sound.  With radio firmly at the heart of the audio revolution, we are looking forward to a bigger and better Radio Audio Week this year."
Liz Carter, Partner at Radioville, said: "After a brilliant Radio Audio Week last year, we're really happy to be involved in this one.  We'll be spreading the radio love by giving out some commercial production skills alongside our friends at Jungle."
Catherine Cribbin, Industry Initiatives Manager, IAB UK, said: "Given the huge interest in podcasts, streaming and personalised audio from advertisers and listeners alike, it's great to be celebrating audio as part of this week-long programme of events. Each year, our Sound Investment Seminar attracts hundreds of agencies and advertisers keen to find out more about the opportunities in this space. We look forward to welcoming Bauer, DAX, Acast and others as we prick up our ears and make some noise for audio."
Managing Director of RadioWorks Group Paul Cranwell, said: "We are thrilled to be teaming up with Radiocentre for Radio Audio Week to celebrate the irrefutable power and growth of podcasts. The age of audio is booming with podcasting share of audio listening expected to quadruple within the next two years. Podcasts are becoming part and parcel of the modern marketing mix yet some still question the benefits or simply don't know how to get started. So our production arm Maple Street Creative is joining forces with an exceptional panel of experts to answer the ultimate question, Podcasts; What's The Point?"
Imriel Morgan, CEO, ShoutOut Network, said "It's great to have the UK's only women's podcast festival be a part of Radio Audio Week. Last year Ofcom reported that women only occupy 37% of the senior roles in Radio. Then Ethnic minorities occupy just 6% of the entire radio workforce. It's time to create an inclusive audio landscape and being part of Radio Audio Week just gives us a bigger platform to make that happen."
Paul Carter, Founder and Creative Director, Get Carter Productions, said "We're delighted to host such an important session during Radio Audio Week 2019. Partnering with industry research leaders DRG, it's a chance for advertisers, media buyers and creatives to get the latest intelligence on how radio advertising effectiveness is measured – before AND after broadcast. We're particularly pleased to welcome the growing number of advertisers and stakeholders outside of London – from the Midlands to Scotland – before we take the presentation to the capital. Join us in Newcastle for what promises to be a fascinating evening."
Radio Audio Week will take place at locations across the UK 13–18 May 2019 and consist of both ticketed and free events.
The week will also be documented by a podcast series – the Radio Audio Week Podcast in association with Radio Today. For the full line-up, and to sign up to the Radio Audio Week podcast, visit radioaudioweek.co.uk.
If your business is interested in hosting an audio event as part of the week, please contact info@radioaudioweek.co.uk.