Radiocentre News
15 June 2022
Lucy Barrett speaks at CEO and Top Exec's Summit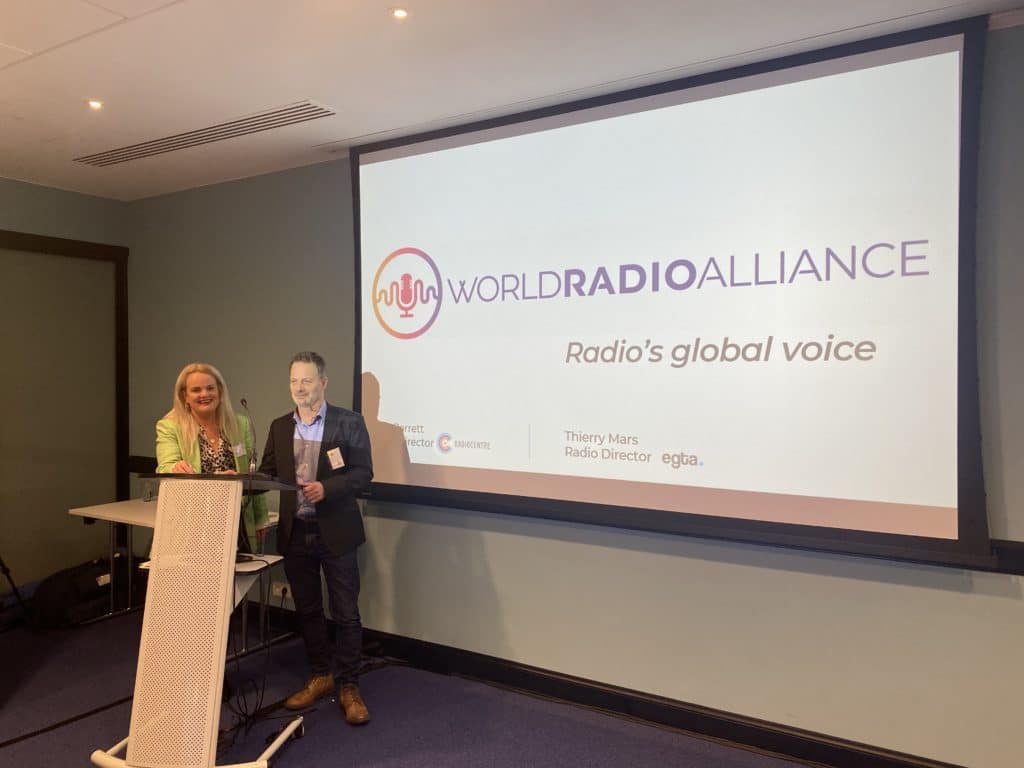 Radiocentre's Client Director and President of the World Radio Alliance Lucy Barrett was in Brussels last week to talk about radio's global voice, at egta's CEO and Top Executives' Summit.
Lucy presented alongside egta's Radio Director Thierry Mars, to introduce the purpose of the Radio Alliance to a room full of top executives from across Europe. The alliance was formed earlier this year, and is a group of 14 trade associations representing radio broadcasters and sales houses in Europe, the USA, Canada and Australia.
The associations joined forces to raise the profile of radio to advertisers, working together to promote the power and value of radio and audio with a unified voice by promoting and sharing best practice, research and compelling reasons for advertisers to use the medium. Speaking at the event Lucy said: "We have seen the rapid rise of more commercial audio formats such as music streaming and podcasts, yet commercial radio's dominance in the sector remains stable. But, as is so often the case in the world of media, expectations and perceptions relating to the growth of the new formats are disconnected from this reality. Media decisions are increasingly being taken across whole regions and continents, so it's crucial we come together to tell the success story of radio in a consistent and unified manner."
The two-day event is one of egta's four annual events and this year's topic was Architects of Change: Towards more automation, diversification and user centricity. Over 200 senior decision-makers – from all around Europe – who are all mandated to monetise content, optimise revenue and sell advertising on behalf of major broadcasters gathered at this event to understand the trends which are fundamentally transforming the TV and Radio industry and take home new business strategies and insights to impact their sales house's future.
As well as hearing from Lucy about how the radio industry is working together globally, attendees also heard from several senior industry figures including Valerie Morfitis, Global Media Director at Unilever, Tomas Lauko, Chief Executive Officer at Publicis Groupe CEE, and Vinted's Media Director Europe, Ahmad El Hamawi.