Keeping the nation smiling: the week in radio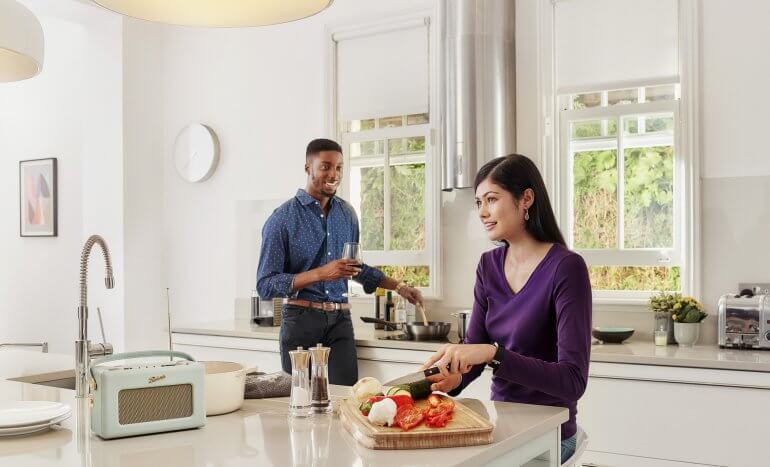 We're currently living through challenging times. Whether you tune in for the news, entertainment or a bit of companionship, it's never been more important for radio to support its listeners.
You might be working from home, social distancing, or on the frontlines. Radio offers audiences a few moments of distraction, a voice in the room, and a bit of joy in a time when it's needed more than ever. Some good songs, funny content and a few moments of collective positivity can all have an impact on your day.
Every week, we round up some of the best moments in commercial radio from the last seven days for your enjoyment. Whether you caught them live or want to listen back, check them out below.
Make some noise
For this morning's Mega Hard Super Quiz, combining the emergency fundraising appeal from Global's Make Some Noise and the fact that it's Father's Day this weekend, Martin Kemp made a surprise appearance on Capital FM's breakfast show, embarrassing son and host Roman with some hilarious anecdotes from his youth.
I'd like to personally thank @realmartinkemp for:
1?? Raising lots of money for @makenoise
2?? Humiliating his son, @romankemp

You can help support Global's Make Some Noise too: https://t.co/O6PNq1s8DE pic.twitter.com/lfAEckXOl4

— Capital (@CapitalOfficial) June 19, 2020
Stop and pause
On this week's KISS FM Breakfast, as they paid tribute to mark the anniversary of the Grenfell Tower fire, Swarzy asked listeners to stop what they were doing and join together to listen to the names, read out by Zeyad Cred, of the 72 people who lost their lives three years ago.
?@ZeyadCred who leads the silent walk joined @SwarzyMacaly on her show marking the 3rd year anniversary of the #GrenfellTower fire.

He reads all the 72 names of the people who lost their lives that day ? pic.twitter.com/Y2wX7SFrLN

— KISS FM UK (@KissFMUK) June 13, 2020
Driving future success
Racing driver and Disabled Motoring UK Ambassador Nicolas Hamilton was the latest guest in Fun Kids' Sports Squad (supported by the Audio Content Fund). As part of his interview, he talked about encouraging kids to think about their future and what they want to achieve or be when they're older, and how they can start down that path.
Racing Driver and Disabled Motoring UK Ambassador @nicolashamilton wants kids to think about their future…
Listen to the episode at 16:30 on Fun Kids ? ? DAB radio across the UK / ? Fun Kids mobile app / ? https://t.co/lRl2Q8Paqb / ? "play Fun Kids"@AyoAkinwo @chanelks_ pic.twitter.com/r0pPKqI21C

— Fun Kids Radio (@funkids) June 15, 2020
Locked in to a pub lock-in
Raising money for the emergency fundraising appeal from Global's Make Some Noise, to support those hit hardest by coronavirus, Radio X's Chris Moyles team – Chris, Dom, Pippa, James, Toby and Drunk Alan – brought back the pubcast, this time on Zoom. Alongside the drinking were some mystery guests, some risqué "Secret Santa" gifts, a special appearance by one lucky competition winner and more surprises. The pubcast and an unseen 'lock-in' are available to watch back for another day, so don't miss your chance.
The Chris Moyles Pubcast has gone to lock-in! If you missed the full drunken stream, you'll be able to get the catch-up PLUS the unseen lock-in next week… Here's how > https://t.co/fSoT0Www3Z#pubcast pic.twitter.com/63r0CH15Yw

— Radio X (@RadioX) June 12, 2020
What an Absolute-ly amazing line-up
In place of the real thing taking place this year, Absolute Radio held an Isle of Wight Front Room Festival last weekend, playing out performances from across the decades including George Ezra, Foo Fighters and The Who's iconic 1970 appearance. Listeners were encouraged to get into the festival spirit at home as part of a competition to win tickets to next year's event, and interviews and backstage footage from previous years added to the atmosphere.
Here's the LEGEND Roger Daltrey talking about what it was like way back when in 1970 at @isleofwightfest ?

Listen to https://t.co/VdbEL8MYNi RIGHT NOW to hear highlights from their iconic 50 year old performance ?#IOWFestAtHome pic.twitter.com/NgpMc0wkS3

— Absolute Radio (@absoluteradio) June 14, 2020
As announced by @bushontheradio & @RichieFirth during today's Hometime show, the winner is… @ClaireLp33! See you at @IsleOfWightFest 2021 ? pic.twitter.com/zc9I4Q9Gtl

— Absolute Radio (@absoluteradio) June 15, 2020
Has your station launched a new segment, had someone interesting on a show or done something else great this week? Let us know by contacting coral.williamson@radiocentre.org