Commercial radio's value recognised in parliament
|
RADIOCENTRE NEWS Daily Press Summary
The All-Party Parliamentary Group (APPG) on Commercial Radio were joined by veteran LBC presenter Nick Ferrari yesterday afternoon in Parliament for the launch of Valuing Radio, a new report revealing the economic and public value of commercial radio to the UK. Colleagues from all over the media industry joined MPs and the Radiocentre team for an afternoon reception in the Churchill Room in the House of Commons.
First to take to the stage was APPG co-chair Ed Vaizey, former Minister for the Department for Digital, Culture, Media & Sport, who spoke about the deep connection his own family has with radio, including detailing his childrens' favourite commercial stations. He went on to reinforce that the medium of radio was stronger and more relevant than ever – as demonstrated by a £1.6 billion return on investment to local advertisers annually.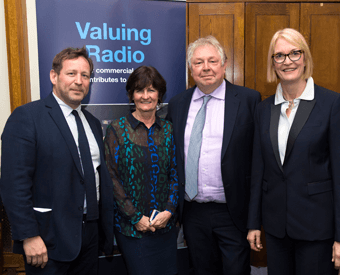 Next up Nick Ferrari gave a strident and characteristically entertaining endorsement of the power of commercial radio to lift the spirits in times of adversity, and commented on the brand new set of radio lifestyle images recently released by Radiocentre.
Margot James, Minister for Digital and the Creative Industries, next to address the guests, took the opportunity to point out that Nick Ferrari was proof of the 'power of personality' on the radio and reminisced about her formative experiences with radio, highlighting that personality and presentation can be just as important for young listeners as the music being played.
Finally, Radiocentre Chief Executive Siobhan Kenny made a quick appearance onstage to thank the APPG co-chairs – Ed Vaizey MP, Baroness Olly Grender and Steve McCabe MP – and Nick Ferrari, as well as thanking friends and colleagues who had attended to celebrate the launch of the report.
Valuing Radio is the first report of its kind from by the APPG on Commercial Radio. It includes new figures that show an estimated £1.6bn return on investment annually for local advertisers, which is particularly significant for small and medium sized enterprises (SMEs).  This is in addition to the public value of radio from news and information updates, charitable fundraising and education.
It also found that commercial stations provide an average of 10 hours of news, travel and weather output each week, made up of dozens of bulletins every day, contributing to radio's status as the most trusted medium for news.  This value is illustrated by examples of radio's reporting of emergencies and its up-to-the-minute coverage of local and national events.
The full report can be downloaded here.