Commercial radio worth £683m to the UK economy
|
INDUSTRY NEWS Featured policy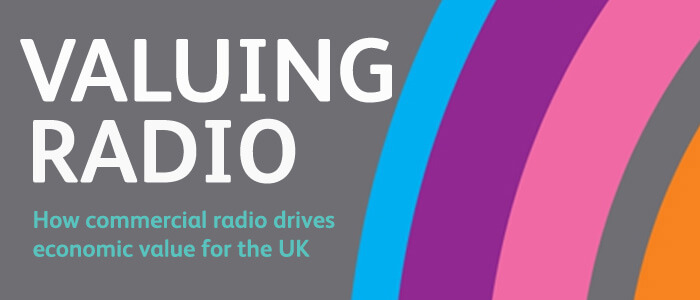 A new study commissioned by Radiocentre has found that commercial radio supports £683m in gross value added (GVA) to the UK economy.
The report prepared by Oxford Economics, the market leader in providing economic impact assessments, brings together a range of information for the first time in order to assess the economic contribution of commercial radio and the value it provides.
The key findings of the report are:
• commercial radio supported £683m in gross value added (GVA) to the UK economy
• 12,340 jobs are supported by commercial radio (including 4,410 direct employees)
• productivity is high, with each employee generating around £70,200 in gross value added
• value to advertisers is estimated at £4.6bn (based on an average return on investment of £7.70 for every £1 spent)
• value to music sales is estimated at £103m (plus around £50m in music rights payments)
• direct charitable fundraising is estimated at £25m.
Siobhan Kenny, CEO of Radiocentre said:
'Commercial radio's popularity with listeners is not in doubt with an incredible weekly audience of 34.3 million. However the economic activity it supports has never been examined in any detail. We thought it was about time to address this and gather comprehensive data on the value of commercial radio to the economy, advertisers and the music industry.
The results are impressive, but there is also the potential for even greater value if changes in regulation and a shift to more distinctive BBC radio services can be achieved.'
Welcoming the report Culture Secretary Rt Hon John Whittingdale MP said:
'It is hugely impressive to see the positive impact commercial radio has on the UK economy. Like many of our creative industries it makes a notable contribution to our GDP and employment. It also supports other sectors indirectly and is a fantastic promotional platform for the UK music industry.
This Government is committed to doing all it can to support the success of commercial radio so it continues to provide this value to audiences across the UK and advertisers now and in the future.'
The full report is available here.
A summary report, entitled 'Valuing Radio', is available here.
The key infographics from 'Valuing Radio' are below.