Commercial radio records its highest audience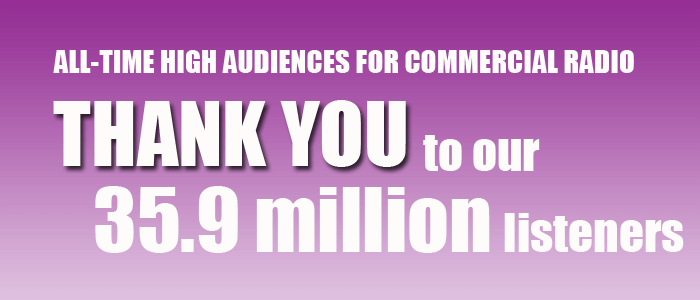 Commercial radio has posted its highest ever total audience of almost 35.9 million people in Q2 2017 surpassing the previous record of 35.6 million set in Q2 2016 according to RAJAR, the audience measurement body.
These new listening figures represent the latest good news from a buoyant commercial radio sector which earlier this year reported record revenues for 2016.
Commercial radio also extended its lead over the BBC in terms of total listeners. Total audience for commercial radio was 35.881 million compared to 34.945 million for BBC Radio – a difference of almost one million listeners (936,000). This compares to a lead of half a million (506,000) the same time last year.
However, the BBC retains a higher share of hours at 52.3% (compared to 52.2% in Q2 2016) with commercial radio's share remaining broadly flat at 45% (from 45.2% in Q2 2016).
Total digital listening is now 48.7%, up from 45.3% in Q2 2016. This growth has been boosted by investment in digital listening such as Radioplayer, the non-profit partnership between commercial radio and the BBC.
Siobhan Kenny, CEO of Radiocentre says: "This set of figures is encouraging for everyone working in the UK radio industry and it is cheering to see our medium going from strength to strength.  It is particularly pleasing to see the investment in digital is paying off and that we are attracting new audiences".
ENDS
For further information, contact Francesca Lewis on 07976 968936 or francesca.lewis@radiocentre.org