Commercial radio records highest ever audience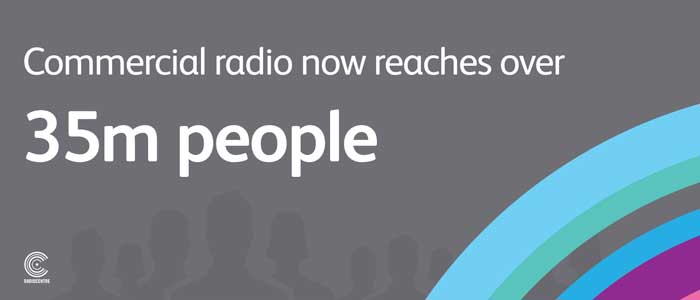 UK commercial radio stations have reported their highest ever audience, overtaking the BBC for the first time in 15 years according to new listening figures released by RAJAR for Q4 2015.
The combined reach of commercial stations was 35.1m, helped by significant year-on-year growth to national networks like Capital and Kiss as well as strong performances in key local markets.
The combined audience for BBC services was 34.9m.  The last time that the BBC reported fewer listeners than commercial radio was Q4 2000, well before the impact of Chris Moyles on broadening the appeal of Radio 1 and the growth in Radio 2's younger audience.
However time spent listening to the BBC is still greater than commercial broadcasters.  BBC stations account for a 53.5% market share of listening hours compared to 44.1% for commercial radio.
Radiocentre CEO Siobhan Kenny said:
"Commercial radio stations offer an amazing range of choices for listeners and advertisers.  It is great to see this reflected in record audiences. The next few months will see an even greater expansion of content with 18 new national digital stations being launched, providing a genuine alternative to the BBC across all kinds of music and speech radio and for audiences of all types."
Find full press release here.

Find Campaign's RAJAR coverage here.