Commercial radio calls for changes to protect public service role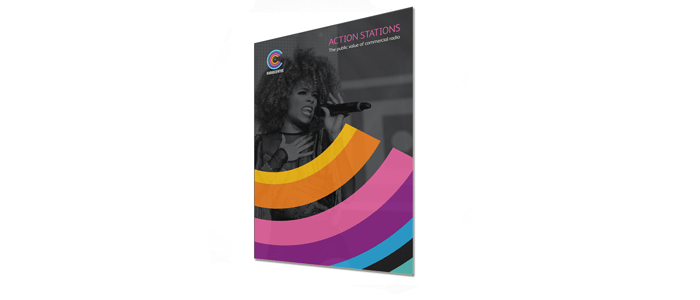 The Government is being urged to make changes to protect local radio and secure its significant public service contribution for the future.
The calls come following the publication of a new report by Radiocentre, the industry body for commercial radio, which highlights the important role of commercial radio stations in serving local communities across the UK.
The report Action Stations: The public value of commercial radio, was launched today (18 October 2016) at a reception in the House of Commons.  It found that commercial radio stations:
broadcast an average 13 hours 15 minutes of public service content each week (news and sport, travel, weather, charity appeals, local events)
provide 25 news and sport bulletins each day on average
attend more than 10,000 local events each year
raise a total of over £25m directly for charity
engage with listeners over one million times a day
support live music (90% of stations) and unknown artists (83% of stations).
However there is concern that this range of public service output could be under threat unless changes are made to rules on formats and local production quotas, so that radio stations have greater flexibility on how and where to produce their output.
At the beginning of this year (February 2016) Ofcom said that relaxing these rules would "make some stations more economically viable" and see greater investment in "producing high quality, locally-relevant content".
Therefore commercial radio has welcomed Government plans to consult on changes to these rules by the end of 2016, but is calling for changes to be made as quickly as possible to help shore-up local radio and its public service role.
Siobhan Kenny, Chief Executive of Radiocentre said:  "Action Stations details the many ways in which commercial radio is the lifeblood of communities, cities, towns and villages across the country.  We look forward to working with Government on the upcoming consultation to make sure that this value is not put at risk."
The Action Stations report is available in full here.