'Breaking News' Launches in Parliament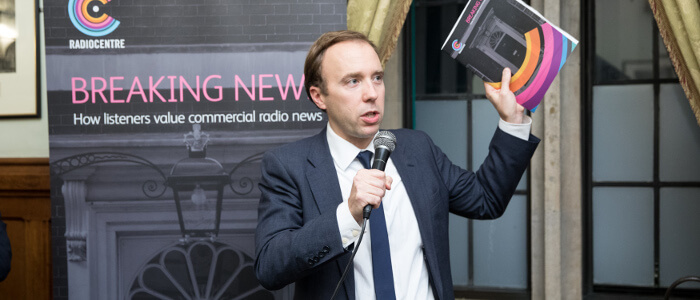 Radio news fuels democratic debate and protects the public from misleading stories, incorrect statistics and stories propagated on social media, senior politicians told a meeting in Parliament this week organised by Radiocentre.
Launching a new Radiocentre report titled "Breaking News – how listeners value commercial radio news," Minister of State for Digital Matt Hancock told MPs and Peers from all parties that the report demonstrated the vital role radio news plays in politics. He said radio is "an amazing medium" that is trusted implicitly by its audience and added: "We all knew that instinctively, but now we have the proof."
Hancock went on, "convulsions in the political debate" over the past two years demonstrate the importance of trusted and accurate news in encouraging democratic discussion and debate. "It turns out that the most trusted medium for that is radio," he told the meeting, which was hosted by Mims Davies MP, the Chair of the All Party Parliamentary Group on Commercial Radio and attended by around 40 MPs including former Lib Dem leader Tim Farron, Secretary of State for Northern Ireland James Brokenshire, and Labour MP Rosie Winterton. Senior radio industry figures from Global, Bauer Media, IRN, GTN, Celador, Lincs FM, KMFM and other independent stations also attended.
Hancock confirmed that the results of a Government consultation on removing "some of the arcane rules around radio" will be announced before Christmas. The consultation has looked at relaxing rules formulated in the 90s – before the internet – about what music radio stations can play and where they are allowed to produce their content. Hancock said the changes would need primary legislation and added: "I am determined to act."
Meanwhile, Radiocentre Chief Executive Siobhan Kenny said the new report showed that people were turning to radio for accurate information in the face of unreliable news on social media. This helped explain radio's strong recent performance, with 90% of the population tuning in, including some 36 million people listening to commercial radio every week and 26 million social media followers. Kenny said the research found that people turn to radio for updates on local and national emergencies, such as this year's terrorist attacks in Manchester and London and the Grenfell fire.
"8 out of 10 respondents told us what they really value about radio and commercial radio especially are the short, snappy updates, it keeps them up to date at key times of the day, first thing in the morning, in the car and critically when there are local emergencies."
Mims Davies, who worked as a local radio journalist and presenter before becoming an MP, said: "Particularly close to my heart is radio's capacity to keenly share what goes on in people's daily lives and that is very much the news." She said that in this era of fake news and "alternative facts", radio news was a key source of accurate and impartial information.
LBC presenter Nick Ferrari lamented the demise of local newspapers but said he believed local radio had a role to play in filling the gap. "Local news is so important. We hold truth to power," he said. He pointed to findings from the report that radio is the strongest medium for news updates throughout the day – identified by 38% of respondents, compared to 25% who rated TV as most important for regular updates. And radio was identified as the strongest news source in the morning, cited by 83% of respondents, compared to 49% for television.
The meeting closed with Mims Davies pointing out the importance of radio in female empowerment. She praised "the impact radio has on female listenership and decision-making when it comes to the commercial opportunity and the way we get across our messages." She concluded: "It is so important we have a strong commercial radio sector."
The full report and findings can be found here.