Radiocentre News
22 January 2020
Ann Summers, Beverley Knight and audio identities: here's everything you missed at Tuning In Midlands 2020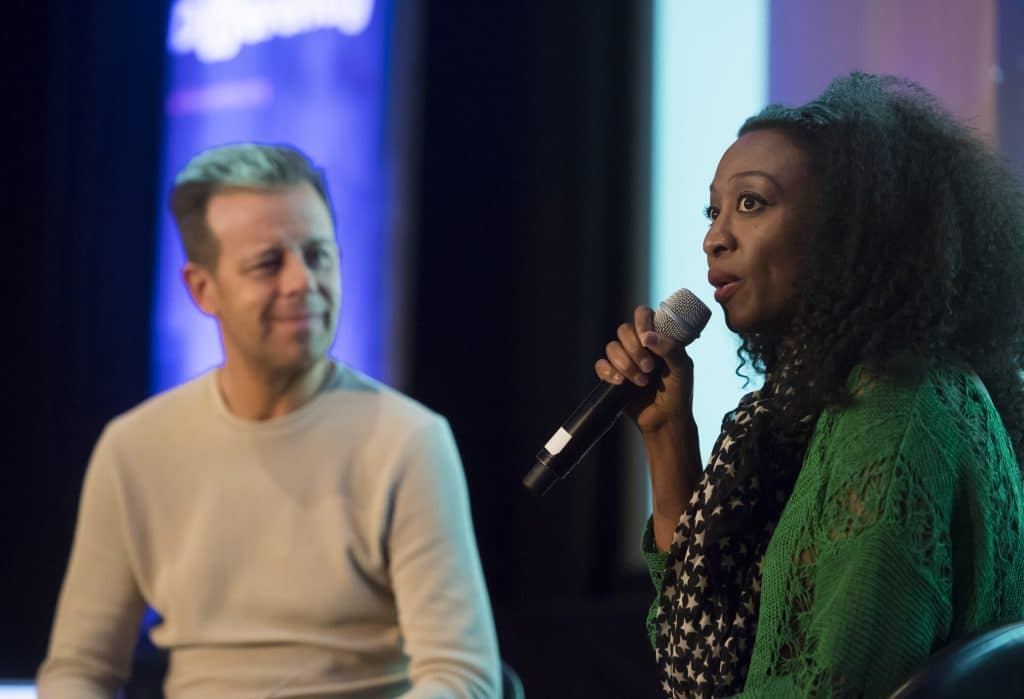 Radiocentre has started its new decade with a bang, returning to Birmingham for its first regional event of the year: Tuning In Midlands.
Taking place at the Mailbox Everyman cinema, the morning conference – attended by over 100 radio, media and advertising industry professionals – began with a keynote from Radiocentre CEO Siobhan Kenny.
Siobhan set the scene for the morning, talking about the key role of the Midlands region as a hub for radio, media and the creative industries. She highlighted the 18,400 people in the Birmingham area that are employed in the creative sector and the continuing strength of radio in the region.
Local radio advertising in the Midlands also generates a return on investment of £229.2m, according to Matt Payton, External Affairs Director at Radiocentre. His Valuing Radio presentation demonstrated how radio is a trusted medium, the influence it can have, and the good it can do for communities – from covering local news and events to charity drives. Radiocentre has a key role in bringing this all together to demonstrate radio's value, particularly when dealing with Government and a new Parliament.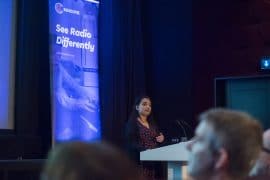 In one of the most riveting talks of the day, Pardeep Heer, Business Director at MediaCom Birmingham, presented MediaCom's audio strategy for a unique campaign for Ann Summers, My VIV – My Very Important Vagina, that is. It came about after Breast Cancer Care approached Ann Summers for support, as one of the unspoken side effects following breast cancer is that sex life can take a dive, because a woman's body doesn't feel like her own following chemotherapy and they often suffer from vaginal dryness. Straight away Ann Summers knew they needed a new brand, because despite all the amazing work the company does for women's self-esteem, the company has a misunderstood reputation.
So My VIV was born. A range of products from lubricants to vibrators, tastefully packaged and promoted to all different ages – sounds easy. But there was an issue to overcome, and that was how it was advertised using the V word. Ann Summers already struggles to advertise in digital and outdoor because it is a company based on sex. The agency came up with a powerful campaign spanning radio, digital audio and podcasts. Pardeep explained that the core of the campaign was radio and her client was most proud of it. It all promotes vaginal good health and results are stunning: 60% of Heart and Dax listeners reported having a better impression of Ann Summers after hearing the audio activity (vs. 28% of non-listeners) and twice as many listeners agreed that it highlights that every woman has the right to sexual wellness as non-listeners. It has also led to the products being listed in a famous retailer – whose name will be revealed next month.
Radiocentre's award-winning research, Hear and Now, demonstrates how targeting people at relevant times helps turbocharge ad effectiveness. Radiocentre Planning Director, Mark Barber, was on hand to showcase the research's findings. The research can be viewed here.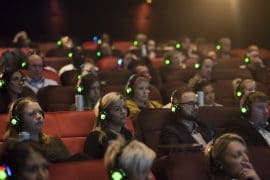 Two thirds of the current top radio spenders use a consistent sonic device, voice or music sting, including renowned brands like McDonald's, British Gas and Vodafone. With 2020 set to be the year of audio, Simon Forster, Regional Creative Director, Global, delivered a hands-on presentation demonstrating the exciting future of radio advertising, from innovative technologies changing the way we advertise to the new methods of producing award-worthy audio.
He explored how audio can help brands grow the personal connection to consumers, why having an audio identity is important for brands, and tips on how to create a distinctive sound. He also pointed out that back in 2017 only 17% of brands had audio guidelines, but in just two years this has risen to 52%. After giving the audience his checklist for creating an audio identity, he added:
"A brand's audio sound should be about the experience it creates."
Following Simon was Radioplayer's Laurence Harrison. He started with research which found that 82% of potential car buyers would never consider buying a car without a radio. As Automotive Partnerships Director of Radioplayer he is ensuring they get their way. To help keep radio strong in dashboards of the future, Radioplayer is partnering with car companies worldwide to improve their interfaces. He showed examples of how Radioplayer will play a pivotal role in ensuring radio stays "visually strong in car dashboards." Lawrence also told the audience that "the importance of voice is a match made in heaven for radio" as he discussed the future of voice and in-car radio.
Wrapping up the morning was the Queen of British Soul, Beverley Knight, in conversation with Greatest Hits Radio presenter Pat Sharp.
Beverley, who came ahead of flying out to perform at Davos tomorrow, is one of the UK's most successful R&B singer/songwriters. She chatted to Pat about the role radio has played in her success – she started out by doing the jingle for pirate radio – and all about it as a constant fixture in her life. She said "radio has changed but it is still a bedrock for me", adding that the fact radio collates music for its listeners means it is a joyful medium full of surprises. She said the radio industry was doing well at diversity offering listeners lots of choices but also warned that the music industry placed too much emphasis on new musicians adding: "British music is a broad spectrum so everything should be represented old and new."
She ended the session by telling the audience a charming story about how she worked Prince both here and over in the US. The highlight was when the artist asked her to sing at his Oscar party. She sung, he played guitar and Stevie Wonder joined them. But even singing for Hollywood royalty has not changed her and she wore her girl from Wolverhampton badge with Pride.
Radiocentre and Tuning In will return in May, in their biggest venue yet – Leicester Square's Cineworld IMAX. Tickets are available now.