Summary of Radiocentre CEO speech to European Parliament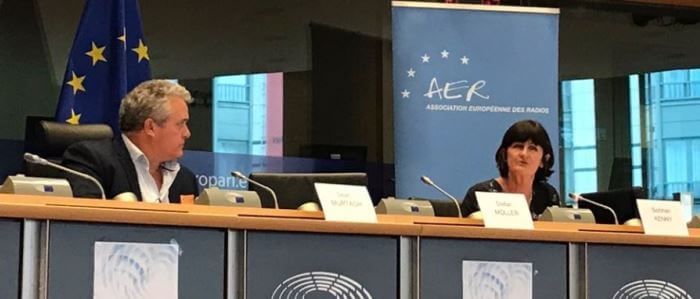 Summary of speech given by Siobhan Kenny to the Association of European Radios (AER) conference at the European Parliament in Brussels today.
"Today we are truly on the verge of an exciting era in the world of radio and audio. It is what the BBC's Director of Radio, Bob Shennan, recently told an international conference in Amsterdam, a new golden age of radio.
I want to discuss three topics today.
• The ways in which Radiocentre, as part of the Association of European Radios, contributes to the debate on valuing radio to our many audiences. Which includes politicians, policy makers and regulators.
• How we make the case for radio as the most trusted medium in an uncertain world.
• How the new wave of voice-generated devices will transform our listening lives.
Radio is thriving in the UK. Record revenues have just been posted for the commercial sector in 2016 and the course is set fair for 2017, at this nearly half way point. 89% of the population tune in to the radio every week in the UK, 85% across the whole of Europe. That is a remarkable record, considering the plethora of new calls on time and attention in the last decade alone. And Eurobarometer data shows that radio far outstrips digital competitors in terms of commanding trust.
As the original wireless medium, radio is the perfect medium in a multi- tasking, multi-media age. It can be on in the background for company or a musical addition, there to give you vital traffic updates in the car, or be a totally immersive experience as listeners to radio plays or Serial will attest.
Almost because of its enduring qualities, there can be a tendency to take radio for granted. It is the task of Radiocentre therefore to gather evidence, to remind both advertisers and policy makers that the medium is constantly adapting. That is why our strategic positioning is to persuade our audiences to 'See Radio Differently'. Advertisers need to know what it can achieve in a new audio age. And regulators need to understand how it is evolving in a new competitive environment.
One of the major societal issues facing us all is surely that of trust. As technology has transformed our lives at breakneck speed over the last decade, we have joyously embraced change and rightly celebrated the big technology companies behind it. That has all happened so quickly that only now some of the broader ramifications are emerging. These are big questions for everyone, but especially for media owners, content producers and Governments.
What can we trust in an online world? Eurobarometer data shows that every country in Europe tended "not to trust" social media. And yet so many people are avid consumers of it. Where is the line between the data big tech companies collect and our own privacy? How can advertisers guard against their brand being associated with unsavoury, sometimes extremist content? In this context, media literacy has never been more important. The ability to decode messages, understand their provenance and their motivation is a critical life skill.
A recent campaign run by The Times revealed respected brands finding themselves, among other things, in the company of ISIS recruitment videos. There are some really serious questions here for the big digital behemoths to answer. All of us content producers accept that we have responsibility for what we disseminate. Indeed, the law requires us to. It is no longer good enough for these companies to throw up their hands and say it is all too difficult to police their content, because there is simply so much of it. I doubt that argument would hold much weight if radio companies said that to Ofcom.
Theresa May told the G7 in Italy last week that internet companies needed to do more to prevent the spread of extremist material. I would go further and say it is surely time for national and international agreements on imposing sanctions on those who fail to take down offensive material within a pretty short timeframe. If anyone can afford to employ editors, the big digital giants can. It's really a question of will isn't it? There has been plenty about their willingness to be good citizens. Let's see some real action now or sanctions to follow in the form of big fines.
Sensible regulation in the UK has led to one of the most vibrant and creative broadcasting ecologies, which exports its content around the world. As in the case of the big digital platforms, sometimes regulators can struggle to keep up rapidly changing consumer behaviour. We are glad therefore that the Government has recognised the need to update some of the pre-internet regulation governing commercial radio. Their consultation on that has just finished and legislation will soon follow. Commercial radio plays a vital part in the lives of listeners, a source of trusted news and comment, aside from the BBC and the plethora of online content. Commercial radio broadcasts over 13 hours a week of public service content including news, travel, sport, community and charitable news. It is vital that it can remain competitive as so much changes around us.
The new range of voice-activated devices is already transforming the way people are listening. New research conducted by Radiocentre (with the Amazon Echo, the only device available at the time our research was carried out in the UK) shows that already nearly 10% of households are using the Echo and it is in many cases challenging the phone as the 'last thing at night, first thing in the morning' device. Interestingly, 77% of people are using the Echo to listen to the radio. Which, given its potential to recommend and change channels seamlessly using Radioplayer, points to an exciting future ahead for radio companies who seize the challenge.
That is just a quick summary of where we are today. I hope you will conclude with me that:
– radio is in excellent shape, an adaptable and trusted medium in an ever-changing world
– radio continues to deliver huge value to audiences and advertisers
– radio is proving to be one of the most resilient media and is reshaping itself for a new golden era.
We are indeed lucky to live in such interesting times."