Andy Street and Jamelia to headline Tuning In Midlands conference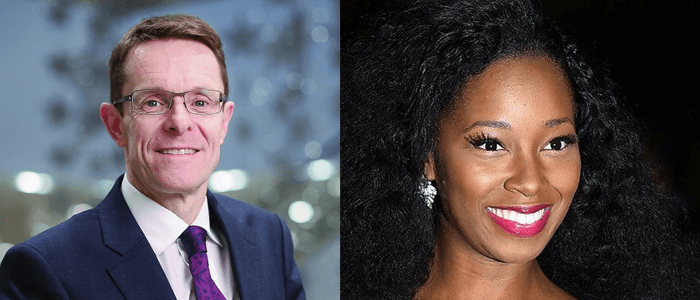 Radiocentre is coming to Birmingham's Everyman Cinema on Thursday 28 September for its latest Tuning In conference.
The event will be headlined by the first Mayor of the West Midlands, Andy Street, who will set out his priorities for the creative industries and media in the region. He will also look back on his time as Managing Director of John Lewis during the famous retailer's period of huge growth.
Pop star and TV personality Jamelia will also be speaking. The Birmingham born Superstar singer will talk about the importance of radio to artists and why diversity in media matters.
The conference will be opened by Radiocentre's CEO Siobhan Kenny giving an overview of the state of UK commercial radio and celebrating recent record-breaking revenues and audiences. The line-up also includes Simon Forster, Regional Creative Director at Global, who will demonstrate cutting edge binaural sound and its ability to transform radio advertising into a truly immersive experience.
Radiocentre will debut a new research project on radio's critical role during times of emergency, and present research study Getting Vocal which looks at the impact of voice-activated technology on radio listening and the opportunities for brands.
Tuning In Midlands begins with a networking breakfast at 9:00am and speakers from 9.30am to 12.00pm. You can sign up here.
The full line-up for Tuning In Midlands is as follows:
Siobhan Kenny, Radiocentre CEO
Andy Street, Mayor of the West Midlands
Jamelia in conversation with Ed James
Simon Forster, Regional Creative Director at Global
Michael Hill, MD of Radioplayer
Lucy Barrett, Radiocentre Client Director
Mark Barber, Radiocentre Planning Director
Michael Ireland, Radiocentre External Affairs Manager