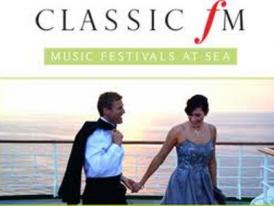 Global Radio's Classic FM, the UK's biggest classical music radio brand, has announced a partnership deal with P&O Cruises which will start on the station later this month. In addition to promotional activity, the deal will see the brands partner on a series of 'Music Festivals at Sea' during 2013 hosted by well known Classic FM presenters such as Nick Bailey. This is part of the first exclusive brand licensing agreement for a cruise advertiser by Classic FM.
The deal will include extensive Classic FM on air activity through promotions and advertorials, as well as online activity.
Global Radio's Managing Commercial Director, Mike Gordon said: "This partnership is a great brand match for Classic FM and P&O Cruises. We're very excited to be able to reach out to our listeners who also share a passion for travel."
Quote from P&O Cruises Managing Director, Carol Marlow: "We are absolutely delighted to be able to announce this Classic FM partnership in a year when we are celebrating 175 years of heritage. This will further enhance our already hugely successful Music Festivals at Sea programme andwe're hoping that the partnership will enable us to reach new customers who have a love of classical music and are inspired by combining it with a luxurious P&O Cruises holiday "
Classic FM Music Festivals at Sea will be on the following 2013 cruises:
• 17 night Central Mediterranean on board Aurora (R303), departing April 28, from £1,699pp
• 14 night Iceland on board Aurora (R307), departing June 4, from £1,699pp
• 16 night Baltic on board Adonia (D308), departing July 3, from £2,249pp
• 14 night North Cape on board Oriana, departing August 5, from £1,699pp
• 17 night Central Mediterranean on board Oriana (X320), departing September 20, from £1,699pp
Celebrating its 20th Birthday this year, Classic FM was launched in 1992 and now attracts an audience of 5.4 million people each week*.