Why people listen
Radiocentre's research project Audio Now looked at how the audio market is changing, offering some perspective on the role played by different audio services in people's lives today. We used video diaries to capture how, when and why people listen to audio through out their day.
The study – conducted by The Sound Research – established that the role for audio is created by the pressures of modern life.
In response to these pressures, people use audio to help them cope with life. But audio doesn't just fulfil one need: we identified six different need-states where audio played a role.
These six need-states are shown below along with a short explanation of how and why audio helps satisfy these need-states.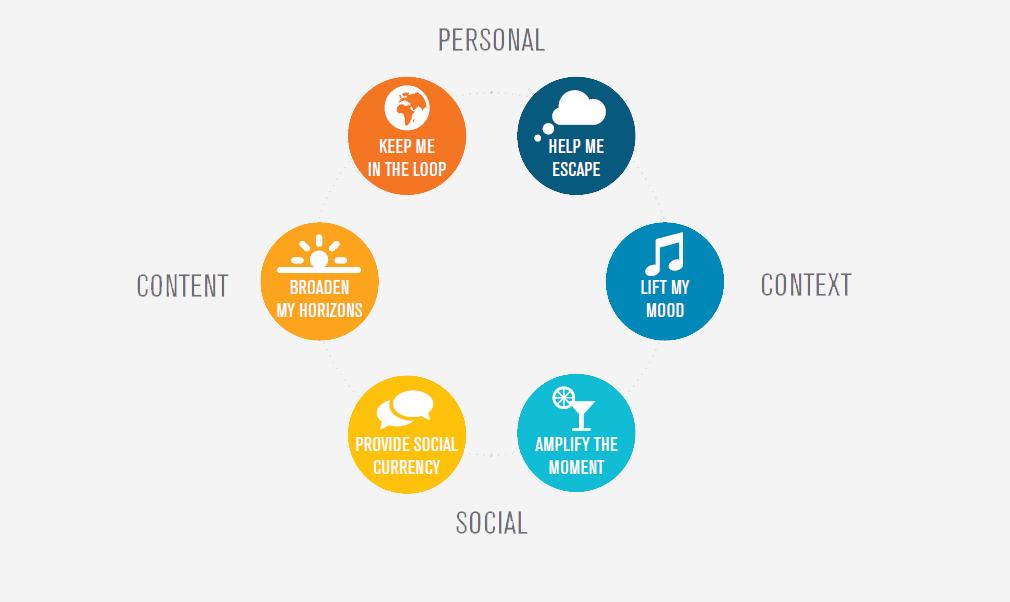 Help me escape
Life is noisy and complicated
– Audio provides a sanctuary from the outside world
– Blocks out external noise
– Me Time
– Helping to recharge
Amplify the moment
Be present in the occasion
– Brings people together
– Physically and emotionally
– Setting the tone
– Audio adds to the moment, memorability
Lift my mood
I need encouragement and support
– Fuel to keep going
– Audio accompanies an activity providing support
– Audio is also a 'pick me up'
– Combating loneliness
Broaden my horizons
So – surprise me
– Audio arrives unexpectedly
– Serendipitous moments can link to more
– It can also inspire a journey
– Allows listeners to keep it fresh and interesting
Provide social currency
Gives us something to talk about
– Allows listeners to connect with others
– Sparks conversations
– Know what's current
– Audio allows listeners to stay relevant
Keep me in the loop
It's easy to lose touch
– Audio plugs listeners into the wider world
– Stay aware and feeling informed
– In touch with reality
– Audio allows listeners to multitask